This archived news story is available only for your personal, non-commercial use. Information in the story may be outdated or superseded by additional information. Reading or replaying the story in its archived form does not constitute a republication of the story.
SALT LAKE CITY — Your stockings may not be hung by your chimney with care just yet, and jolly ol' Saint Nick is probably still resting all snug in his bed, but Macy's is bringing the Christmas cheer to downtown Salt Lake City.
In a tradition that dates back to the 1970s and the days of ZCMI, Macy's will unveil its annual candy windows Thursday evening. The windows will feature larger-than-life ornaments decorated by local artists with thousands of pounds of candy.
For this year's theme, the artists were tasked with decorating the 42-inch Styrofoam ornaments to reflect holiday traditions that bring families and friends together across the world. The artists drew from their experiences from childhood to adulthood to create the meaningful and unique designs that will hang in the windows at the Macy's City Creek Center until Jan. 1.
For artist Jennifer Vesper, it was her second year designing an ornament for the candy windows, and her experience making cakes at her business, Layers of Love, helped her in some ways. Still, she estimated the project took at least 100 hours to finish.
Vesper drew her inspiration from a tradition she and many families have, and those who see her ornament will likely recognize the familiar characters that adorn her creation.
"This year was super fun," Vesper said. "I was really excited about the theme — it was Christmas traditions — and of course, our Christmas tradition since I was a little girl was watching the Rudolph cartoon, so that was the first thing that came to my mind."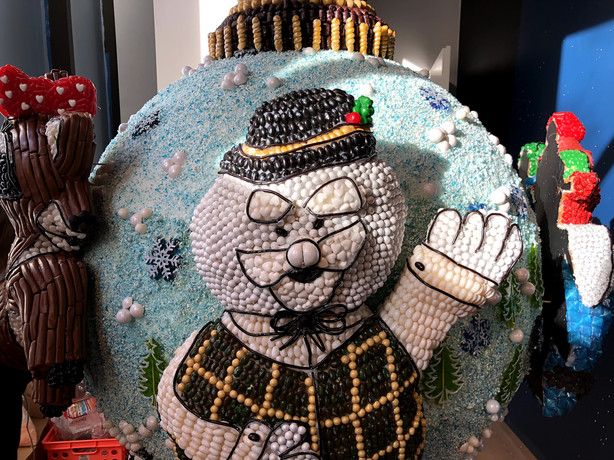 Artist Coreen McCuistion's ornament also features familiar characters and scenes like Santa flying through the air with his reindeer. McCuistion used color and movement to make her ornament come alive just like how her dad always made Christmas come alive when she was younger.
"When I think of Christmas, I think of my family and the warmness of homes, and of course, Santa and the reindeer," McCuistion said. "When I was younger, my dad would make it a point to bring the magic of Santa Claus coming. It was nice, and that's what I think of when I think of Christmas."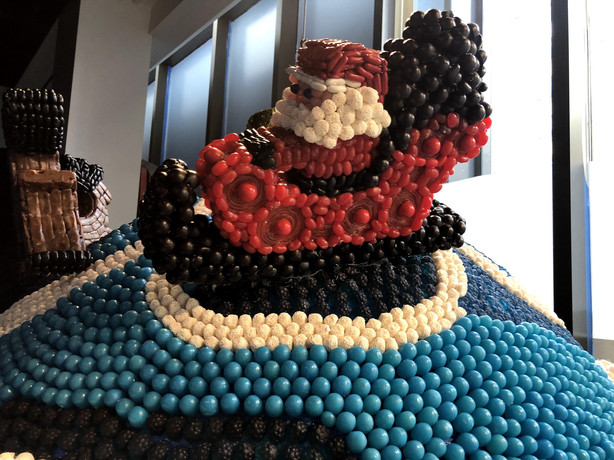 McCuistion, an artist who lives in Salt Lake City, got some of her creativity from her mom who passed away from breast cancer in February.
"She was my best friend and my partner in art, and so when I lost her, I stopped painting for a few months," McCuistion said. "Then I started painting again and I got lucky enough to be accepted into this, and I thought, for my mom."
McCuistion said her mom was a very creative person who would've loved something like the candy windows.
"She would've been proud. She would've said, 'you go in there and you do that — you don't let life get you down. You keep going.'"
See McCuistion's ornaments and more familiar holiday scenes like gingerbread houses, snowmen and the lights at Temple Square when the candy windows are unveiled outside the Main Street entrance of the City Creek Center Macy's at 6 p.m. Thursday.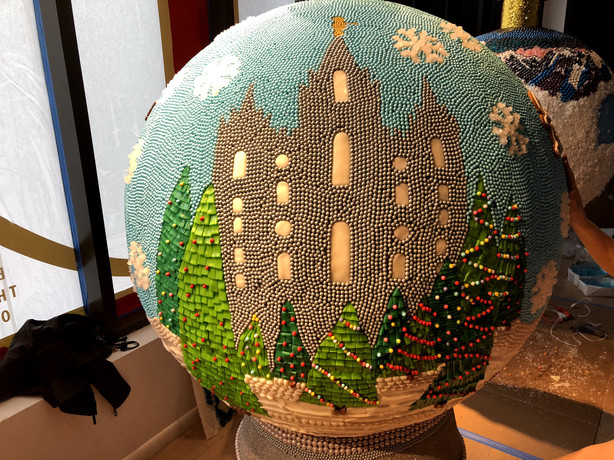 Festivities will begin at 4 p.m. with face painting and balloon art. The Davis High School marching band will perform at 5:30. Later, stick around for a chance to watch Santa arrive in City Creek Center's Regent Court.
×
Photos