This archived news story is available only for your personal, non-commercial use. Information in the story may be outdated or superseded by additional information. Reading or replaying the story in its archived form does not constitute a republication of the story.
PROVO — Dalton Nixon's role may be changing.
The former Orem High standout brought most of his energy off the bench a year ago as a sophomore, when he averaged 4.5 points and 4.0 rebounds while focusing on defense primarily with the second unit of the BYU men's basketball team.
In three games of the 2018-19 season, he's now started twice. Yet he's hoping to do the same thing.
Yoeli Childs had 18 points and 15 rebounds with three assists and two blocks, and Nixon tied a career high with 15 points to help BYU cruise to a win over Northwestern State, 82-57 Tuesday night at the Marriott Center.
"I just tried to be active on the offensive end," said Nixon, who also had 15 points against UT Arlington last November. "I knew they would put a lot of pressure, and some of those cuts to the basket is just something that was open."
TJ Haws added 12 points, six rebounds and four assists, freshman Connor Harding supplied 11 points and four rebounds, and Jahshire Hardnett had nine points and three assists for the Cougars, who improved to 2-1 on the season with their third game in eight days and first of a three-game, one-week homestand.
Ishmael Lane had 18 points and seven rebounds to lead Northwestern State (1-2), which got 13 points from John Norvel.
But the Cougars out-rebounded the Demons 41-32, including a 34-23 margin on the defensive glass, and assisted on 15 of 28 made buckets to just seven assists for Southland Conference foes.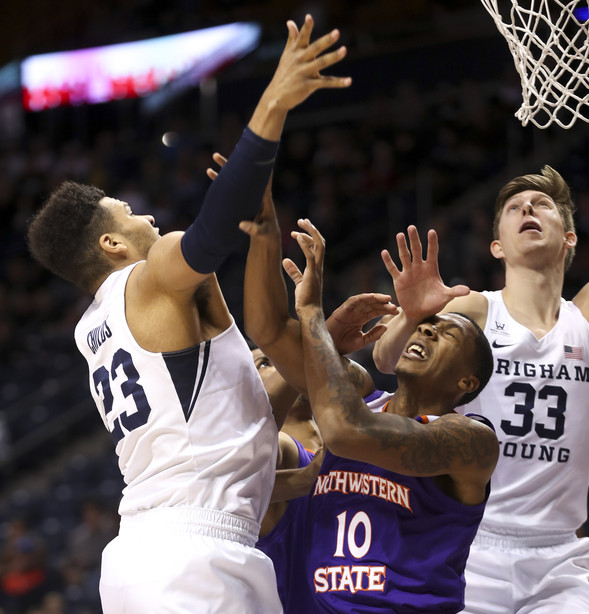 "They came in here with a good plan to distort our rhythm, and we never got in an offensive rhythm," BYU coach Dave Rose said. "We turned the ball over way too many times, especially in the first half, and we didn't get their half-court traps, zone defense or jamming the outlet pass. They did a nice job of trying to slow us down in transition."
BYU's 3-point shooting woes continued early Tuesday, whiffing on the first seven attempts from deep, and John Norvell drained the Demons' second triple with 9:35 left in the half to pull the Demons within one, 15-14.
Haws drained the Cougars' first 3-point shot of the night with 8:37 left in the half, and freshman Harding followed suit as BYU drained four-straight 3-pointers to lift the lid off the basket.
Just like that, BYU's scoring woes were over.
The Cougars used a 12-4 run to wrestle control back, shot 50 percent from the field in the first half, and led 42-25 going into the break.
"We've just got to see the first one go," Nixon said. "As a team, we've come out these first three games and struggled to shoot the ball in the first half. But I think each individual sees a few drop, and that really opens things up.
"That's something that we want to do better: shoot the ball well from three. That's who we are."
BYU opened the half on an 8-0 run to go up 50-25 on Nixon's score just under 90 seconds into the half, and the Cougars never let up, playing all 13 eligible players and holding the Demons to just 10-of-33 from the field in the second half.
"It was a lot better in the second half; more consistent, at least," Nixon said of the team's defense. "There were times where we were flat, but overall, I think we did a good job of sticking to the scouting report."
Tuesday's game was the first of the BYU-hosted Men Against Breast Cancer Cougar Cup charity tournament. The invitational continues Saturday at 4 p.m. MST against Alabama A&M, and includes bouts next week against Rice and Houston, Rose's alma mater.
"I like the format. Next year, we'll go to Maui and play Monday-Tuesday-Wednesday," Rose said of the three-games-in-five-days schedule. "This way, we can get in a game, then a day of prep, and repeat it. I think it can be really good for this group. Next week becomes more normal."
Next up
BYU hosts Oral Roberts (1-3) at 7 p.m. MST Thursday in the third game of a six-game homestand.
The Golden Eagles lost to first-year Division I foe Cal Baptist 70-69 Tuesday night.
×