This archived news story is available only for your personal, non-commercial use. Information in the story may be outdated or superseded by additional information. Reading or replaying the story in its archived form does not constitute a republication of the story.
SALT LAKE CITY — A pharmacy manager at Primary Children's Hospital reached out to tell KSL about a coworker whose mother has stage 4 brain cancer. That co-worker was back home in Portland with her mother and family. They're trying to raise money for one last special trip for their children.
"We're just making memories while we can," said Kira Bracken on a FaceTime call from Oregon.
Bracken was on leave from work at the pharmacy while her mother was on chemotherapy.
Her parents, Kimberly and Stuart Wall, have eight kids. They adopted four of them last September, ages 4 to 13.
"The whole goal with adopting them was to give them everything they deserved and more, because they've had such a hard life up to this point," said Bracken.
That goal was severely challenged exactly a year to the date from their adoption, which also happened to be the Wall's wedding anniversary. On Sept. 19, 2018, Kimberly learned, without warning, she had stage 4 brain cancer.
"My mom was in the hospital, unconscious, after having brain surgery to remove a tumor they found the night before," Bracken said.
Doctors told them the cancer was terminal. The tumor could not be removed because of its position in the brain. Ever since, she's been on radiation, which has been making her mother, Kimberly, miserable.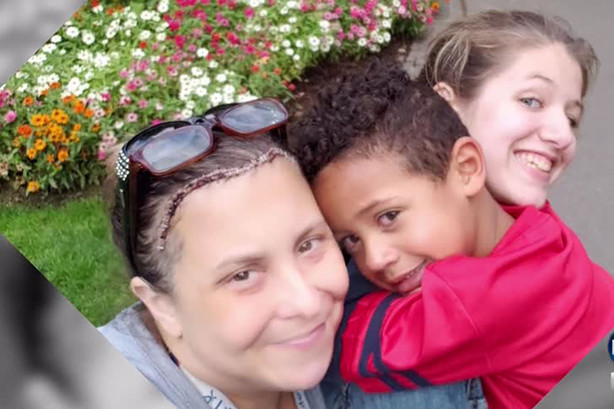 "I feel very, very loved," Kimberly said. "I have good family and good friends, and good kids. We're plugging through."
Her family has determined to raise money on GoFundMe* for a cruise and a trip to Disney World with the kids.
"They've had some tough times in their lives," Kimberly said.
As she gets sicker, she said she wants more positive memories for her kids. Her daughter has found support from her supervisor in Salt Lake City largely because of a common bond.
"I felt for her, because I had recently gone through the same thing with my own mother," said Bevan Jensen, Bracken's supervisor. Jensen's mother survived stage 4 cancer earlier this year.
"It rocked my world," Jensen said. "I instantly felt for her and her family."
She also wanted to help them make their trip. The family was grateful for the support of friends and strangers who have already helped them to one-third of their goal of $20,000.
"My mom really wants to have a last family trip with the kids," said Bracken.
Click for information about Wall family's Bucket List GoFundMe page*.
* KSL.com does not assure that the money deposited to the account will be applied for the benefit of the persons named as beneficiaries. If you are considering a deposit to the account, you should consult your own advisors and otherwise proceed at your own risk.
×
Photos