SALT LAKE CITY — In the end, the determining factor was Jonas Jerebko.
On a team that featured All-Stars like Steph Curry, Klay Thompson and Kevin Durant — not to mention rookie all-everything Donovan Mitchell and the NBA's reigning defensive player of the year Rudy Gobert — the ultimate decider in the Utah Jazz's home opener against the defending champion Golden State Warriors was a player the Jazz waived late in the offseason.
Joe Ingles scored a team-high 27 points, including seven 3-pointers, to go along with four rebounds and four assists, and the Jazz swished 19 3-pointers before ultimately falling to the reigning champion Golden State Warriors 124-123 in the home opener Friday night at Vivint Arena.
Donovan Mitchell added 19 points on just 7-of-23 shooting for Utah (1-1), and Rudy Gobert supplied 16 points, 11 rebounds and two assists, while Ricky Rubio had 13 points and 10 assists with three turnovers for a Jazz squad that had six players score in double figures.
But with a one-point lead and the clock winding down, Jerebko cut to the rim and finished with 0.3 seconds on the clock to give the Warriors (2-0) their first win in Salt Lake City in more than a year.
"Jonas made a great play," Utah coach Quin Snyder said of Jerebko, who finished with 10 points and six rebounds to lead the Warriors' bench. "I think Rudy and Jae (Crowder) both came over and we got hung up. There was no blown assignment; it was a tough rebound and he made a great play.
"Can you do a little bit more? Of course. But we competed. That's what I take from this game: we compete, we get beat, and we figure out why. We've got a team that can get better."
Jonas Jerebko makes game-winner -- for #DubNation -- in return to Salt Lake City, as Jazz fall 124-123 in home opener. #TeamisEverything

🎥 https://t.co/V8WqXeVfCBpic.twitter.com/evz66UJunM

— KSL SportsBeat (@kslsports) October 20, 2018
The Jazz have plenty of big games left in the regular season, but will rue a missed opportunity to send a strong message to the league in front of an ESPN-televised audience.
And perhaps that's all that mattered — one play that separated the back-to-back defending NBA champions with a squad of Utah misfits that went 3-0 against the Warriors in 2017-18, the only team in the league that claim such an honor.
Ingles had the hot hand, Utah couldn't miss from 3-point range in the second quarter, and the Jazz built up a lead as high as 16 points in the second half.
But Golden State rallied, and it all came down to Jonas Jerebko, a fan-favorite waived by the Jazz in July to save roughly $4 million in salary cap space, according to multiple reports.
Kevin Durant scored a game-high 38 points to go along with nine rebounds and seven assists, while Steph Curry added 31 points on 13-of-24 shooting, including 5-of-9 from downtown.
But all Ingles could think about on a night that included a career-high in points and 3-pointers was the last play and the ultimate result.
"Don't," Ingles said when asked if he cared about his 27. "I don't care. We lost the game."
The Jazz scored a franchise-record 81 points in the first half, leading the defending champs 81-69 thanks to a 3-point barrage. Utah out-shot the Warriors 11-5 from 3-point range in the first half, and scored 47 points in the second quarter — the most points allowed in the second quarter in Golden State franchise history.
It should've been a marquee night for the Jazz offense, a celebration of a team that prides itself on defense out-shooting the Warriors 11-5 from 3-point range in the first half.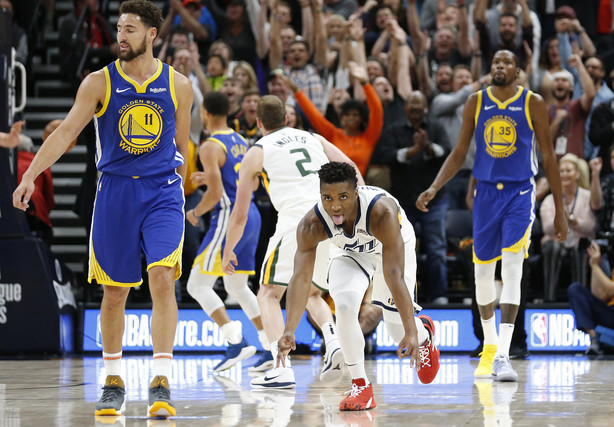 Instead, the Jazz became the first team to score at least 80 points in the first half to lose since Nov. 7, 1990, when Denver fell to San Antonio 161-153 despite a 90-point outing in the first half.
"I think we stopped pushing the ball as fast as we did in the first half," Rubio said. "Probably a little tired. But there's nothing more to say; they played better. They played more aggressive. They were the champs the last 2-3 years, so of course they were going to play like that."
Prior to Friday night, the Jazz had not scored 80 points in the first half since 1980 — against the Golden State Warriors.
With a sellout crowd of 18,306 in the building and a playoff atmosphere to welcome the return of NBA basketball to Salt Lake City for the 2018-19 season, the Jazz fell one point short of the best team in the league.
It all came down to one play.
"I think we played well, in patches, but obviously they are a good team," Ingles said of the Warriors. "They made some plays. I think we played a lot better than we did in Sacramento, but still lost the game."
Next up
The Jazz will look to rebound Monday night against Memphis.
Warriors make the short trip to Denver for back-to-back road matchups Sunday.
×
Photos