This archived news story is available only for your personal, non-commercial use. Information in the story may be outdated or superseded by additional information. Reading or replaying the story in its archived form does not constitute a republication of the story.
SANDY — Since the inception of the program in 2014, Corner Canyon's girls soccer team has come close to realizing its goal of a state championship.
But the final step has eluded the Chargers every single time.
Until Friday afternoon.
Megan Astle scored on a penalty kick, and Maryn Granger added what proved to be the match-winner in the first half as Corner Canyon held against Murray for the Chargers' first-ever girls soccer state title, 2-1 in the Class 5A state championship at Rio Tinto Stadium.
"I turned to my teammates and opened my arms," Granger said. "It was so exciting. Finally."
Her teammates were equally astonished.
"It's unbelievable," said goalkeeper Haleigh Rasmussen, who made three saves in the final. "For the first time our school history, we made it this far and were able to come out with the win on this."
Sydney Wilcken scored for the Spartans (16-1-2), whose only two losses of the season came against Corner Canyon. Murray opened the schedule with a 3-0 loss to Corner Canyon back on Aug. 7 — but got better, and advanced to its first girls soccer state title match in school history.
"Who knew in day one that we'd be seeing each other again? We play Murray every year, Brady (Smith) and I have a great relationship as coaches, and we like our teams to play each other," Corner Canyon coach Krissa Reinbold said. "It's just fun to see the progress that both teams made. They've become a lot better, but so have we."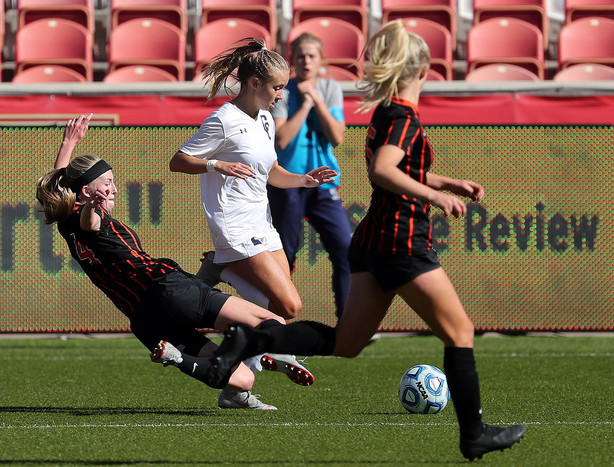 Astle opened the scoring with a penalty kick just 13 minutes into the half. The 5-foot-6 senior drove into the box and forced a foul in the edge of the area, then quickly and calmly slotted home a goal into the left side of the net — her 17th of the season — that gave the Chargers a 1-0 lead.
Corner Canyon doubled the advantage just two minutes later. Granger redirected a well-placed corner kick from Kenli Coon inside the far post with her head in the 15th minute, and the Chargers were out to a 2-0 advantage before half the stadium could fill up.
When Coon steps up to a corner kick, Granger said she knows she just has to get forward — and the lethal set-piece talent will do the rest.
"She's very dangerous," Granger said. "She can find me and other tall girls on corner kicks, and that makes us more dangerous. If we get a free kick, nine out of 10 times, it's in."
Still, Murray didn't let up.
Wilcken sprinted in from the top of the box after the Spartans played a short corner to the end line, and the junior roofed her 14th goal of the season into the top shelf to pull Murray within 2-1 at halftime.
Rasmussen and the Chargers' back line, including Makenzie Taylor, Kaytlyn Larsen and Macy Hart did the rest — including shutting down a late Spartan attack with less than a minute remaining to keep the one-goal advantage.
Corner Canyon didn't think too far ahead in the match. Short increments, short passes and short plays eventually led to a game-by-game approach that took the Chargers to the elusive title.
"Our mentality definitely changed; we took it one game at a time, one step at a time," Rasmussen said. "In years past, we've looked toward this game — and I think that's where our minds weren't (this year). We just took it game-by-game, slowed it down, and took it one step at a time."
After long practices dating back to July and a series of high-school sacrifices — every player on the team admitted to staying home from a party or a hangout or typical teenage shenanigans at least once — the Chargers finally laid claim to the ultimate prize.
"I think this year, the girls were truly committed to each other," Reinbold said. "In the years past, we wanted and each of these kids had a taste of (success) now, and they know what it is like to fall just a little bit short."
×
Photos