PROVO — BYU's 30-3 win over FCS McNeese State might not have impressed a lot of fans at LaVell Edwards Stadium on Saturday afternoon.
But it didn't hurt any national media's perception of the program.
The Cougars jumped up five spots in the latest Associated Press Top 25 poll Sunday morning, coming in at No. 20 after its 3-1 start.
BYU received 270 votes in this week's poll, nearly 200 more than a week ago when it barely edged into the Top 25.
While the Cougars held the Cowboys to just three points, the offense did just enough to win, scoring three touchdowns in the second quarter and pulling away on the strength of kicker Skyler Southam's leg and several big special-teams plays.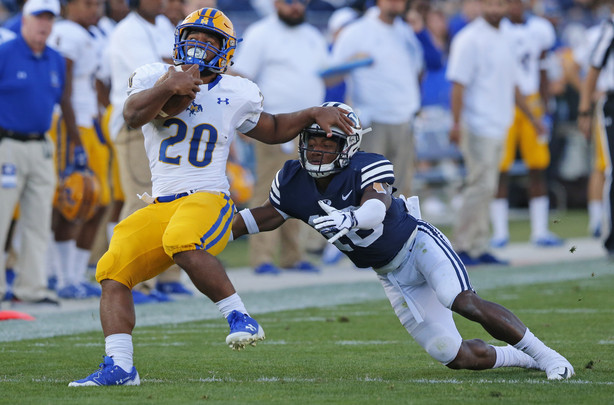 Meanwhile, BYU likely benefitted from losses by other teams around it on the fringe of the poll. Mississippi State's loss to Kentucky dropped the Bulldogs from No. 14 to No. 23, for example, and newcomers Duke, Cal and Texas Tech debuted inside the Top 25. Oregon's narrow loss to Stanford in overtime gave the Ducks a one-spot boost in the Top 25, edging BYU for No. 19 with 297 votes to 270.
Washington fell one spot to No. 11 in this week's poll after holding off Arizona State, 27-20 in Pac-12 play. The Huskies will host the Cougars at 6:30 p.m. MT Saturday in a game that will be broadcast on Fox and KSL Newsradio.
Utah, which had a bye last week after its loss to Washington, received nine votes Sunday to unofficially rank No. 40. The Utes play at Washington State at 4 p.m. Saturday.
In the USA Today coaches' poll, BYU finished with 151 votes, four points behind No. 25 Boise State for the last spot. The Cougars joined South Florida (83), Syracuse (83), Colorado (73) and TCU (67) on the fringe of the coaches' top 25.
×
Related Links
Related Stories