PROVO — It wasn't always pretty (did you see that first quarter?).
But No. 25 BYU improved to 3-1 on the season with a 30-3 win over FCS foe McNeese State at LaVell Edwards Stadium on Saturday afternoon.
Lopini Katoa and Squally Canada paced a ground game that eventually made up for an offensive early deficit, and the Cougars rallied off 30-unanswered points to get the win.
Now for the hard part.
But first, here are three thoughts on BYU's special teams-fueled victory over the Cowboys.
Special teams' spark
BYU needed a spark after trailing 3-0 in the first quarter — and the Cougars got it from a 6-foot-9 former basketball player who specializes in blocking field goals.
Corbin Kaufusi blocked the kick — Gunnar Raborn's third field-goal attempt of the day in just the second quarter — but the play wasn't done yet.
Troy Warner picked up the live ball, zig-zagged up the field until finally going down just past midfield, and Katoa punched in a 4-yard touchdown just eight plays later to give the Cougars their first lead of the game.
The play didn't lead to a touchdown. But it gave BYU all the momentum to shrug off a slow start.
BYU shrugged off a slow start offensively ... with some help from special teams in a 30-3 win over FCS McNeese State. pic.twitter.com/PjPCOlQ2aQ

— KSL SportsBeat (@kslsports) September 23, 2018
"We're strong believers that special teams is one-third of the game, and it's one of those times where big plays can be made," Kaufusi said. "Special teams is literally a big-play down — whether it's a field goal, a punt, a blocked kick. That's the time to make a big play."
In between Warner's scoop and Lopini Katoa's score, Squally Canada came back from his early fumble with a 10-yard run, Aleva Hifo hit the spin button for a 7-yard gain, and Mangum calmly directed a touchdown drive to jump-start the offense on a sleepy Saturday afternoon.
"I think that was a huge momentum shifter, and special teams made a great play," said Katoa, who had a game-high 64 yards and two touchdowns, of the blocked field goal. "We were able to capitalize on it, and that was what we needed as an offense to get going."
BYU also got another spark on special team's, via a fumbled punt return. After Michael Shelton forced the fumble, Sawyer Powell recovered with about one minute left, and Skyler Southam drew another three points with a 30-yard field goal as time expired to give the Cougars a 24-3 halftime lead.
Through four games, with a myriad of returns, stops and Southam's All-American leg, the Cougars are developing an affinity of special teams — and it's been key to their 3-1 start.
The "third phase" of the game is more than just time for younger players to acclimatize in Provo.
"The guys who have starting roles won't give up their special teams time, and I'm really proud of that. That means more to them than actually starting on offense or defense," BYU coach Kalani Sitake said.
"When you have guys who do that, who aren't cutting out on special teams, it sets the example for the rest of the team. Our guys want to get on special teams and stay on special teams. When you have that type of leadership, it really helps out."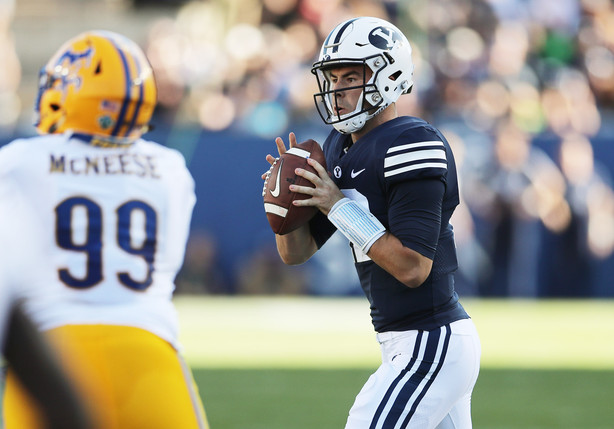 Slow startin'
If there were concerns in this game — it is an FCS team facing an FBS opponent, after all — they weren't quieted after the Cowboys out-gained BYU 97 yards to 25 and held a 3-0 lead after the first quarter.
But after the slow start and the momentum shaker of a special teams play, BYU went to the ground and out-gained McNeese, 112 yards to 53 in the second quarter — including 105 net rushing yards from Katoa and Canada.
"It requires 11 guys doing their job to be successful, and we weren't doing that," said quarterback Tanner Mangum, who threw for 118 yards and a touchdown. "We had to dial it in, and focus on being deliberate in our execution. But I thought we did a good job of pushing through it, and not letting it ruin the whole game.
"It's something we have to learn from. We can't do that one very game. We have to be able to execute from the start."
The late start was overcome by key special teams' moments. But the start is distrusting for the Cougars as they move forward to two-week stretch that includes a road tilt against No. 10 Washington and high-scoring in-state rival Utah State on General Conference weekend.
"We knew we would face some adversity in this game at some time. We just didn't know it would come that early," Sitake said. "It was nice to get that wake-up call, and I was pleased with the way they were able to hold strong in the red zone."
Next stop: the Dawg Pound
The first game for BYU hosted as a member of the AP Top 25 since 2015 has come and passed.
Next up might be the biggest opponent of the season, though.
The Huskies will interrupt Pac-12 play two games into their conference season, and any potential hope of impressing the College Football Playoff committee likely rides on finishing unbeaten in league play — and winning big in its final non-conference tilt.
BYU will likely be closer to full strength for that game — linebackers Zayne Anderson and Butch Pau'u and safety Dayan Ghanwoloku could return after missing Saturday's FCS affair — and it will take all hands on deck if the Cougars try to walk away from Seattle the same way they did Madison.
"It'll be nice to get some guys healthy," Sitake said. "But I was pleased with what I saw from Riggs Powell, Adam Pulsipher, and the safeties and defensive linemen who have been rotating in.
"I hope we can get Dayan back, but if he's healthy and ready to go, then he will have to compete with the other guys to get the starting nod."
×
Related Links
Related Stories