SALT LAKE CITY — It appears Salt Lake City Mayor Jackie Biskupski is already facing a steep climb to win re-election next year.
A new Utah Policy poll released Wednesday found more than half of Salt Lake City residents think Biskupski does not deserve a second term as mayor.
And as news of the poll spread, several potential challengers who have been rumored to be planning a run against Biskupski confirmed to KSL they're seriously considering a campaign — and one, though he hasn't formally announced, confirmed he's planning a run.
The survey of 203 likely Salt Lake City voters asked whether Biskupski should be elected to another four-year term or whether it's time to give someone new a chance to serve. The poll found that 56 percent said it was either "definitely" or "probably" time for Biskupski's time to end.
Of that 56 percent, 29 percent said it was "definitely" time to elect someone else, and 27 percent said it was "probably" time.
About 34 percent said Biskupski should be given another term, while 9 percent said they didn't know, according to the poll.
The Dan Jones & Associates survey was conducted Aug. 22 to Sept. 12, with a margin of error of plus or minus 6.8 percent.
Biskupski — who was in San Francisco on Wednesday representing Salt Lake City at the Global Climate Action Summit — did not immediately respond to a request for comment Wednesday.
In her almost three years in office after she defeated former Mayor Ralph Becker in 2015, Biskupski has been embroiled in several controversies — at times clashing with the Salt Lake City Council and other county and state leaders.
Those controversies include asking for the closed-door selection of the sites to build four new homeless resource centers in Salt Lake City; standoffs with state leaders, including House Speaker Greg Hughes, over the shutdown of Rio Grande Street to clean up the area around the downtown homeless shelter; and most recently a breakdown of negotiations with Gov. Gary Herbert over a special legislative session to make changes to the bill that created the controversial Utah Inland Port Authority.
Potential challengers
Even before Wednesday's poll, indications Biskupski would be facing a tough re-election have been brewing for months heading into 2019, fed by rumors that a crowd of potential challengers have been testing the waters.
Among those possible candidates, three confirmed to KSL Wednesday they're considering jumping in the 2019 race: former Salt Lake City Councilman Stan Penfold, David Garbett, of the Pioneer Park Coalition, and outgoing state Sen. Jim Dabakis.
But one — well-known Democrat and business consultant David Ibarra — told KSL in an email Wednesday "while I have not formally announced, I am planning to run for mayor."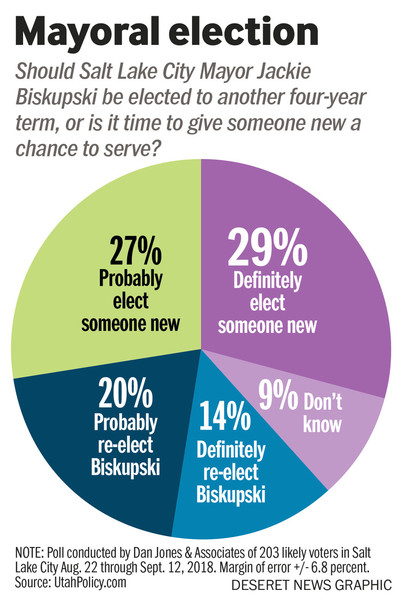 Noting he was on a flight, Ibarra declined further comment about the poll or why he's planning a run.
However, Penfold and Garbett, who both said they're "seriously" considering challenging Biskupski next year, said they weren't surprised by Wednesday's poll, noting they've been hearing rumblings of dissatisfaction from city residents for some time.
"I have been exploring it and I am very interested," Penfold said. "I am concerned about the sort of lack of direction or lack of vision for the city. I think residents deserve more than they're getting."
"It wasn't surprising to me because this is what I've heard from people as I've chatted out the direction the city is going," Garbett said, noting he believes issues such as homelessness and affordable housing haven't been adequately addressed.
Dabakis, who responded to KSL via text message only, said he's "considering options."
"I love Salt Lake City!" Dabakis said, declining further comment.
A 'tough' race
Acknowledging the 2019 general election is more than a year away, Jason Perry, director of the University of Utah's Hinckley Institute of Politics, said "almost no matter how you look at it," the poll "is a tough poll for Mayor Biskupski."
"She's had an embattled first term in office," Perry said, noting conflicts with her own council, the Utah Legislature and even the governor. "And the reality is, after you have that many battles, it starts taking a toll."
But Perry said "there's still a lot of time," and "at least she knows ahead of time" what areas she'll need to work on to gain support.
Judging from the poll's results — which showed 78 percent of Republicans said Biskupski should not be re-elected — Perry said Biskupski should focus on her own party to gain support.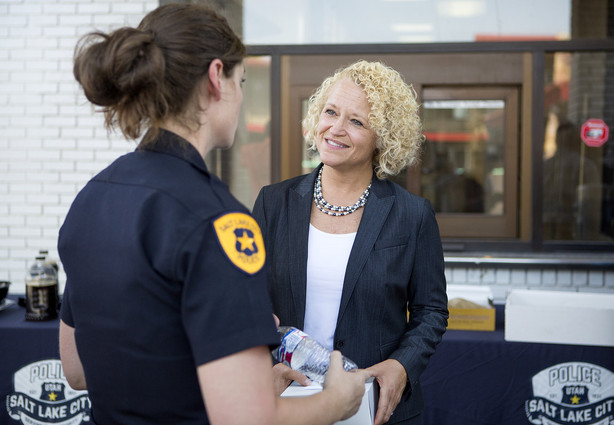 About 46 percent of poll respondents who said they were "very liberal" and 49 percent who said they were "somewhat liberal" said the mayor should get another term, according to Utah Policy.
"She really needs to spend some time with Democrats and her core supporters," Perry said.
"In politics, you never say it's too late," he added.
×
Photos
Related Stories