Estimated read time: 4-5 minutes
This archived news story is available only for your personal, non-commercial use. Information in the story may be outdated or superseded by additional information. Reading or replaying the story in its archived form does not constitute a republication of the story.
SALT LAKE CITY — At 15 years old, Malala Yousafzai was shot in the head by a member of the Taliban on her way home from school in Pakistan where the terrorist group had, at times, banned education for women and girls.
Two years later, she became the youngest person to win the Nobel Peace Prize.
Yousafzai has gone on to become a world-renowned activist who has pushed for women's education in her native home and around the world. She co-authored a book about her life titled "I am Malala" and began the Malala Fund which "works for a world where every girl can learn and lead without fear."
It seemed only natural, then, that Yousafzai would be the final headline speaker at Utah tech education company Pluralsight's annual conference in Salt Lake Thursday, where the company announced new initiatives to bring tech education opportunities to those in less-developed areas and emphasize tech in early education.
Yousafzai spoke of the importance of education in her own life and for women around the world, as Pluralsight CEO Aaron Skonnard asked her question after question — though he first pointed out that both he and Yousafzai had something in common: fathers who emphasized education.
"(My father) was not a feminist by name. He did not even know this word before when he was actually a feminist," Yousafzai said as both her father and Skonnard's stood and waved to the conference-goers who jumped to their feet to give the two men a standing ovation.
"He allowed me to speak out," she added. "I'm really grateful to him, and he believes in women, and then he shows that because he allowed his daughter to get education. He was the one who believed in me always."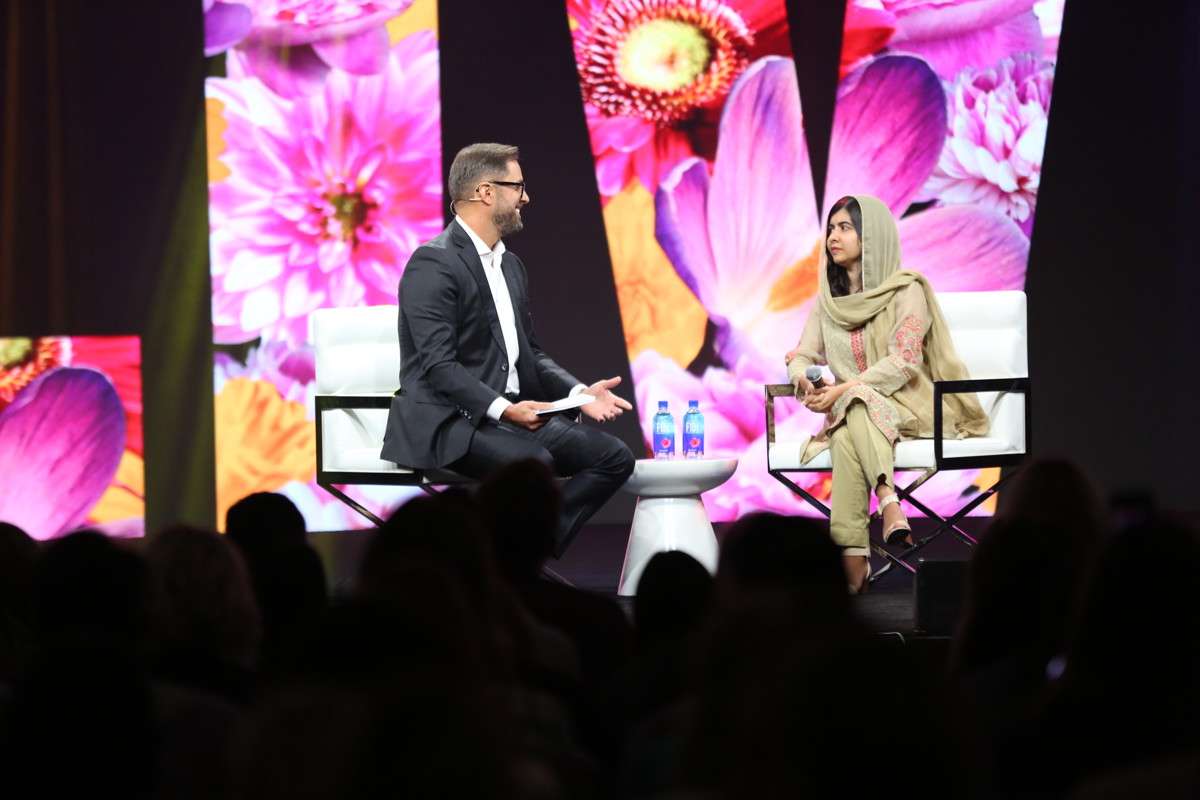 Yousafzai said education, to her, was more than just about reading and writing — it was about empowerment. When the Taliban banned girls from going to school, it was one of the worst times in her life, she said.
When the young activist was just 11, she and her best friend dreamed of the careers they would have, Yousafzai said. Her friend wanted to be a doctor, but, one day, disappeared from the classroom. Yousafzai didn't hear from her for another three years. When she was 14, Yousafzai received a call from her friend. She had been forced into marriage and had a son.
"She had a child when she herself was a child," Yousafzai said. "She had a dream, as well. She wanted to be a doctor. But she lost her dream, lost her future and now was only just known as a wife and was never able to make decisions on her own, go out of her house without permission or do something in her life."
The Taliban banned girls from going to school because they knew education was the way to empower women, Yousafzai said.
And she believes they were right about that — while Americans have fought extremism and terrorism militaristically, Yousafzai believes the best way to fight those evils is through learning.
The young activist was finally able to return to her home country of Pakistan in March after being forced to flee when she was shot. When she returned, many told her they had previously been afraid to send their daughters to school, but she had given them courage.
"Many women are actually not aware that they deserve equality. … That is how they are brought up," Yousafzai said. "We need to change that. We need to tell women they deserve equal rights … and that they should speak out."
Malala has also started a site called Assembly where girls can share their stories. "One girl who I met, she was forced to get married at 14." Instead, she ran away and walked miles to get to her school. "These girls are fighting each and every day to the right to education." pic.twitter.com/SSUfvtk18E

— Liesl Nielsen (@liesl_nielsen) August 30, 2018
When she was younger, Yousafzai said she used to believe in magic, and she wanted to invent a magic pen that could turn her drawings into reality. With this pen, she could redraw her city without pollution, without destruction, with more schools.
"Then I finally realized that the magic was in the pen … and the magic was in my voice," she said. "We all need to find that magic, which maybe isn't in the magic pen, but in the pens and pencils we use every day. And our voice becomes like magic."
Yousafzai is now on Instagram (where she tries not to waste too much time as a normal university student). Those who want to learn more about her mission can visit malala.org.
×
Related stories
Most recent Science stories