This archived news story is available only for your personal, non-commercial use. Information in the story may be outdated or superseded by additional information. Reading or replaying the story in its archived form does not constitute a republication of the story.
SALT LAKE CITY — Aaron and Nathan Frodsham are twin brothers.
One is a doctor, while the other is a data scientist who suffers from chronic pain from a degenerative disc disease.
Nathan Frodsham worked at Amazon in Seattle for years. His 60-hour weeks sitting at a computer became difficult as the pain in the back of his neck became unbearable.
The diagnosis was nerves constantly being pinched by bone on bone contact. The result was inveterate pain.
"Nothing worked," Nathan Frodsham said. "My doctor prescribed cannabis. I was very cautious. I started taking it conservatively for three weeks. The relief definitely didn't come overnight, but after weeks I started to feel better. I had a new lease on life."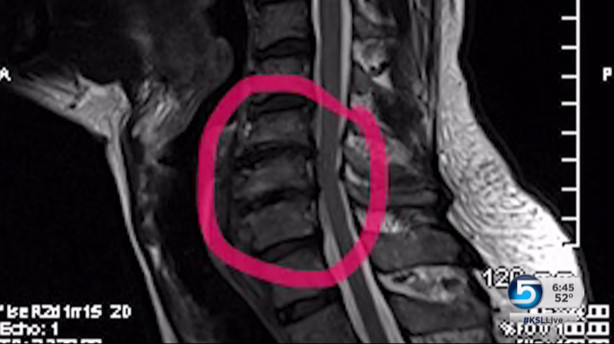 As a devout member of The Church of Jesus Christ of Latter-day Saints, the decision to take medical marijuana was not one Nathan took lightly.
Nathan consulted with local church leaders who advised him that "it was something between him and the Lord."
"I was very much against marijuana until I had a positive experience from it," Nathan Frodsham said. "It gave me a lust for life again. I lost 50 pounds. I was happier. Life just got better very quickly."
A job change moved Nathan from Washington State to Utah, where using medical marijuana is breaking the law.
"One day, 30 years from now, I will laugh with my grandkids as we talk about how plants used to be illegal," Nathan said.
After weeks of being in Utah, the pain started to return.
"Another way around it is to take opioids, but I really worry about that and don't like how I feel when I am on them," he told KSL TV. "I kept filling myself with hope that Utah could make some progress."
Two years later, and an advocate for legalizing medical marijuana, Nathan is part of the group LDS Medical Cannabis. He attended the press conference about Proposition 2 on Thursday.
Elder Jack N. Gerard, a General Authority Seventy with the Church spoke to a crowd: "The Church does not object to the medicinal use of marijuana if doctor-prescribed in dosage form from a licensed pharmacy."
Related:
Aaron Frodsham, a doctor who works with cancer patients, said this statement has reservations.
"We as physicians can't even suggest medical cannabis to a patient," Aaron Frodsham said. "We need to start looking at the bigger picture. In Utah, the only option we have are narcotics – that is a very dangerous thing."
While both brothers were pleasantly surprised by the Church's statement, they recognize the long road to find a solution.
"Right now there is no way for marijuana to be prescribed by a pharmacy. It's a leap of faith that this is going to work out," Nathan Frodsham said.
Members of the Coalition, including authorities with the Church of Jesus Christ of Latter-day Saints, urged voters to vote 'no' on Proposition 2 come November.
"There's a lot of LDS people who are affected by this," Nathan Frodsham said.
Nathan, who has been a tremendous supporter for Proposition 2, told KSL TV after attending the press conference he believes the coalition will put more thought and research into finding a solution.
"I believe they will form something even better than Prop 2. I am hoping we see a written narrative in the next legislative session and a new law by 2020," he said. "It's a misunderstood plant. But I feel inspired and believe change is coming."
×
Photos
Related Stories