This archived news story is available only for your personal, non-commercial use. Information in the story may be outdated or superseded by additional information. Reading or replaying the story in its archived form does not constitute a republication of the story.
PROVO — Every year, BYU has a handful of players who return from two-year Church of Jesus Christ of Latter-day Saints missions with "mission legs," making them prime candidates for redshirt seasons or at least slow acclimatization for getting back into shape ahead of the upcoming football season.
That's not the case with freshman quarterback Jaren Hall, though.
The former Maple Mountain star returned from a mission to California in the spring, and while he isn't necessarily battling with senior Tanner Mangum and freshman Zach Wilson for the starting job by Sept. 1 at Arizona, Hall has been able to hit the ground running and is making the group more competitive.
"Jaren came home in great shape," BYU quarterbacks coach Aaron Roderick said. "You rarely see a returned missionary come home who is in that good of physical conditioning. He was ready to play right away, physically anyway.
"He's accurate, and he's caught up quickly. He's fighting to be in the mix out there, and he's got a bright future."
Hall credits a unique influence for keeping his football form through two years of tracting and spreading the church's message — his own mission president in the Roseville, California mission.
"My mission president was a big BYU guy, so he managed to keep me on some bikes my last few months," Hall said with a laugh. "I haven't had to worry about as much, I guess."
He's also got the genetic history for athleticism. His father Kalin played running back at BYU, as did his older brother KJ, a junior on the 2018 squad.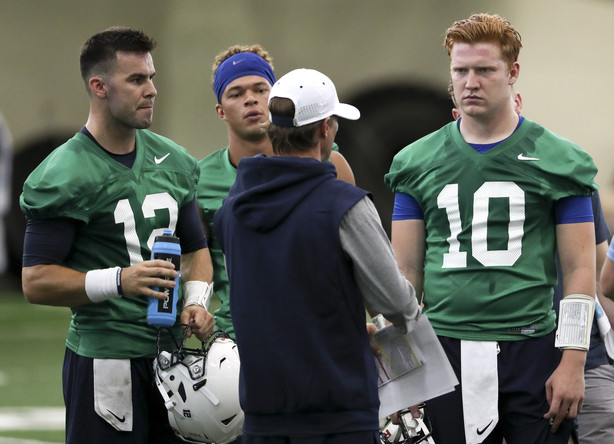 Jaren Hall was a star at Maple Mountain High School in nearby Spanish Fork. The 6-foot-1, 210-pound signal caller was an all-Region 8 first-team selection in 2014 and 2015, amassing 1,336 passing yards with 13 touchdowns as a senior while also playing basketball and baseball.
Hall could probably take his athleticism to several other positions on the field, but he says the thought has never crossed his mind. He's a quarterback, even if it means spending the year at third-string or lower.
"I guess I'm just an athlete, thanks to my wonderful mother and my father," he said. "Everybody gets (the rumors to move positions), no matter who you are. That's part of sports."
He said his next step is internalizing new offensive coordinator Jeff Grimes' offense, becoming a "wizard" at it — and pushing his teammates in the quarterback room, whether that includes Mangum, Wilson or other contenders like Joe Critchlow, Baylor Romney or Stacy Connor.
"College football is very different from high school football, so I'm just trying to learn from the other quarterbacks and the coaches," Hall said. "Coach A-Rod knows his stuff, and same with coach Grimes.
"I think I've progressed very well," he added. "College is a lot faster pace, but it's still football. Just go through your reads and keep it simple."
Baylor-ing out
Roderick said the quarterback room can never get too crowded for his own liking, and doesn't expect another player to make a move soon like former quarterback Beau Hoge did in switching to running back.
Time will ultimately be the determining factor for position changes, of course. But the former Utah offensive coordinator sees a place in his offense for each of his current crop of signal callers.
"This may sound crazy, but Baylor Romney is also a very good player," Roderick said. "He's right there. Sometimes we just have to make tough decisions, because there aren't enough reps to give everybody reps every day.
"The gap from the top guy down the list, the margin is pretty narrow. These guys are good players, and it's fun to coach them."
BYU will host its final scrimmage of fall camp Thursday morning before beginning game-week ahead of the season opener Sept. 1 at Arizona.
And if Roderick's comments about Romney sound like coach-speak — well, take it from his younger brother, BYU freshman wide receiver Gunner Romney.
"I know Baylor has a lot of potential," said the former four-star commit from Chandler, Arizona. "He was a late developer, but he's growing and getting better. I think he's going to be really good when he reaches his potential."
Gunner Romney admits "big brother" played a key role in his recruitment to BYU, which he chose over offers from Arizona State, Boise State and Utah, among others.
"He's one of the reasons I came here, honestly," Romney said. "It's been nice to have him, to push each other, and it's nice having that brotherly bond to help you grow as a player and a person."
×
Related Stories