Estimated read time: 5-6 minutes
This archived news story is available only for your personal, non-commercial use. Information in the story may be outdated or superseded by additional information. Reading or replaying the story in its archived form does not constitute a republication of the story.
SALT LAKE CITY — Since the earliest traces of human civilization, the market has found a home in society. While it may be millennia removed from the Ancient Agora of Athens, the Downtown Farmers Market in Salt Lake's Pioneer Park is still a place where locals show up to peddle their wares.
Any old market worth its salt would include a soothsayer — someone skilled in the art of reading the future. Tucked away at the Salt Lake farmers market, in between the beets and cabbages, is a group of wise men who may not be able to see what's to come, but are still giving their best effort at helping passers-by chart a path forward.
"Anything. You can ask us anything," said Tony Caputo, somewhat of a leader at his unique booth. "We just make stuff up as we go. And the more outlandish your answers are, the more often they'll come to you."
Caputo and his friends sit beneath a banner that reads "Old Coots Giving Advice." Below that are the words: "It's probably bad advice, but it's free."
He sits in shorts and a black apron, leaning back in a collapsible chair — across the street from his deli and right next to his other booth, where a man is offering free samples of cheese. Part of Caputo's weekend routine involves handing out everything from relationship advice to his sentiments on whether Superman or Batman would win in a brawl.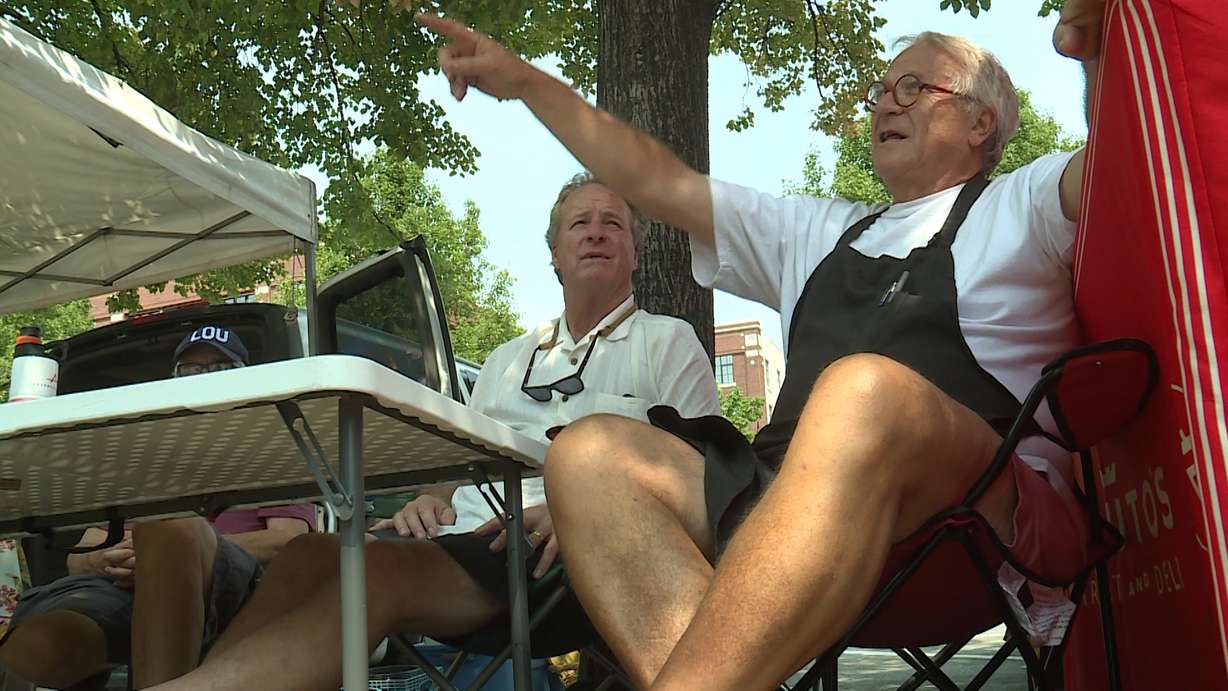 Caputo's fellow "coots" on this particular Saturday are Gus Wheeler, a retired teacher, Dr. Louis Borgenicht, a retired pediatrician, and John Lesnan, who once worked for human services.
"We tell them we're not qualified to do anything," Caputo said, gesturing toward his banner. "Like it says, it's probably bad advice."
But if you ask Wheeler if he's "qualified," he turns the question back around: What makes someone "qualified" to give general advice?
"'Dear Abby' wasn't qualified," he said. "Ann Landers wasn't qualified. People want outside information. Sometimes they just want their own thoughts reaffirmed, or hear new things thrown in the mix."
Caputo's three friends point to him when asked where the idea came from to set up camp behind a card table.
"We did this same thing every Saturday over at my store," he said, pointing across the street. "We called it the 'News Roundup,' for like 15 years. And then we decided, 'Wow, looks a lot more interesting in the park, let's go over there.' Now, we don't have to talk to each other, because we're a boring bunch."
---
We just make stuff up as we go. And the more outlandish your answers are, the more often they'll come to you.
–Tony Caputo, 'Old Coots' booth
---
The group welcomes questions on "anything," and they seem to relish the never-ending conveyor belt of conversational topics.
One woman asks how to stop her cat from relieving itself indoors: Borgenicht recommends a "cat psychiatrist" or a "cat medium," while Wheeler offers the more pragmatic guidance of visiting a veterinarian, after all four men have weighed in with their feelings about cats in general.
A man leans in to ask how he can help with the knee pain he's acquired from working on an oil pipeline. Borgenicht asks how much ibuprofen he's taking, while Caputo scolds the man for his choice of footwear in his time off work: "Flip-flops aren't going to be good for your knees."
Another woman says she just started a new job in May, and inquires about whether or not she should head to Taiwan on a trip. Lesnan says if she doesn't have enough vacation time, she could consider asking if she's able to take unpaid time off. Caputo decides that if she's going to be away from work, she should spend her time elsewhere.
"Go see your mother," he says. "You've got one mother, and I'm sure she's probably young, because you're fairly young. When you're 55 or 60, you're going to go, 'God, I wish I would've had more time with my mom.' And Taiwan's not going to matter diddly to you."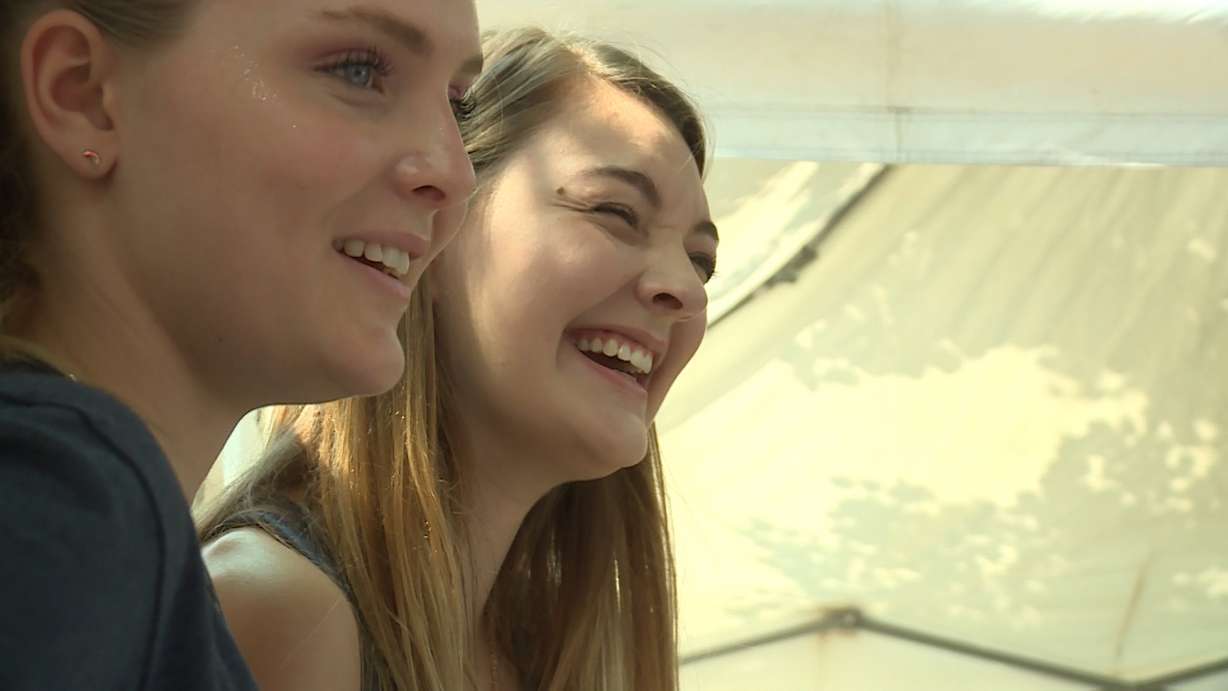 There seems to be no end to the topics the quartet is asked to tackle. But for Lesnan, one theme stands out.
"We get a lot of relationship questions," he said. "Something that I think's interesting. There are all these forlorn young women in their 20s who can't find young men to have relationships with."
Even those who don't stop to request input on dating, pets, joint pain or vacation are still interested enough to stop and point, or snap a quick photo. The booth attracts a fair amount of bemused glances, and Caputo readily admits the whole thing began as just a way to have fun; but over time, the men have learned that some questions are far more daunting than anything they'd expected.
"It started out as a humorous joke," Lesnan said. "But as this has developed, we get some real serious questions. One that sticks in my mind is an old gentleman who came up to us and said, 'What would you do for someone who's going blind?'"
Related:
For Caputo, the toughest question he's gotten was from a man who said he'd been seeing people.
"No one else saw them," Caputo said. "This guy was seriously frightened by this. And it's affecting his life. I mean, people ask us stuff that — what do you say? We try to give them good advice. This guy needed to see a therapist."
For some, maybe the advice itself isn't as important as just wanting to be heard.
"If I have experience in that, in either career or family, I try to share my experience," Wheeler said. "Other times, I just shake my head and say 'I got no idea. That's a good question.'"
In this small section of the farmers market, it might be more about sharing a smile and a comforting nod than it is about reading tea leaves — and Caputo and his friends certainly know more about ancient history than they do about divining the future. And as for general advice they'll contribute to anyone, Caputo only offers this:
"Don't go searching for happiness — because you'll probably step right over it."
---
Ray Boone is a photojournalist for KSL-TV. Contact him at rboone@ksl.com
×
Photos
Most recent Utah stories