Estimated read time: 2-3 minutes
This archived news story is available only for your personal, non-commercial use. Information in the story may be outdated or superseded by additional information. Reading or replaying the story in its archived form does not constitute a republication of the story.
SALT LAKE CITY — Utahns have certainly noticed the wildfire smoke hanging in the air the past few weeks, but an animation released by NASA Tuesday shows how carbon monoxide levels from California wildfires moved eastward into Utah and across the U.S.
The images were collected by NASA's Atmospheric Infrared Sounder on the Aqua satellite. The animation, NASA officials wrote in a post, show how the smoke from California's wildfires has affected air quality in other areas of the U.S.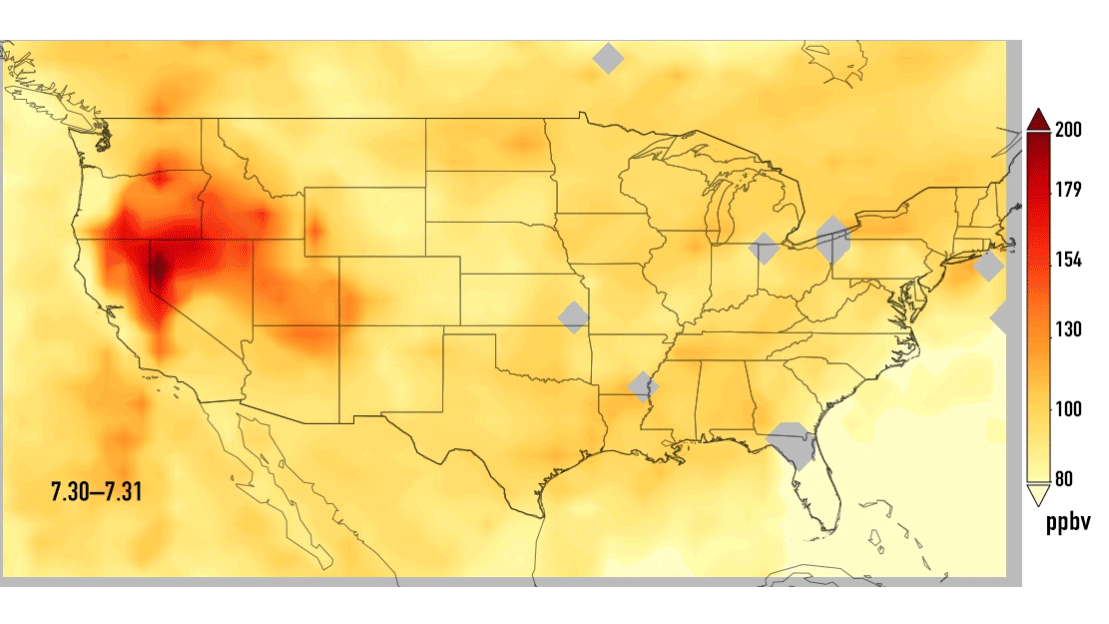 Credit: NASA
The images collected in the animation range from July 29 through Aug. 8. It shows heavy amounts of carbon monoxide centered in northern California — where the massive Carr and Mendocino Complex fires have been burning — and western Nevada.
The carbon monoxide buildup breaks up, but it remains strong as it moves eastward toward the northeast U.S. by Aug. 8. It also shows northern Utah had a strong count of carbon monoxide from the California fires from Aug. 3 through Aug. 6.
Utahns began visibly seeing smoke days before the animation, but the worst appeared to come from the timeframe after Aug. 8.
On Aug. 9, Spanish Fork's air quality index reached above 240 on KSL's Air Quality Network scale as the Coal Hollow Fire in Utah County burned. That meant air quality was deemed very unhealthy for all groups of people.
"This is about the highest number I have ever seen on our air quality scale," KSL meteorologist Grant Weyman said at the time. "We know we've got the fire in Spanish Fork Canyon. The winds, typically this time of morning, go downslope. It looks like we are getting some very, very bad air, no doubt, due to the smoke."
Some sporting practices were canceled or put indoors the following day because of the air quality.
Conditions have since improved. Air Quality Network stations across the Wasatch reported good to moderate air quality conditions on Thursday.
×
Related Links
Related Stories