SALT LAKE CITY — Former child actor Patrick Rena leaned in and stared into Tom Guiry's eyes, gave a sly wink, a nod, and then said it one more time.
"You're killing me, Smalls."
And just like that, after minimal contact over the past 25 years, the friendship was rekindled.
Rena's Ham and Guiry's Smalls were two of the favorites characters in "The Sandlot," the cult classic filmed in Salt Lake City which grossed just $32 million. The movie chronicles the rise of fictional Los Angeles Dodgers baseball player Benny "The Jet" Rodriguez from his neighborhood ball club to one of the most iconic brands in Major League Baseball.
Much of the cast of the film reunited Friday night at Smith's Ballpark prior to the Salt Lake Bees' home game against Tacoma. And while every one of them has aged, grown and begun to have children of their own, the "Sandlot" kids were doing things "Sandlot" kids do Friday night, as if they had never left.
"As soon as I got into Salt Lake this morning, you could just smell it in the air. There's something special about it," said Guiry, who is only marginally shorter than his fellow cast members now despite his character's nickname. "It's the first time I was back since I was 11 years old."
Members of the group have gone on to other things in their careers. Many continued acting, while some got into film producing and other ventures. Some got out of the business, like Mike Vita — better known as Benny — who became a firefighter.
But every one of them smiles with fondness when fans of the film come up to them — for some, multiple fans a day — and repeat the iconic one-liners that made almost any kid in the '90s feel the joys of friendship and summer baseball.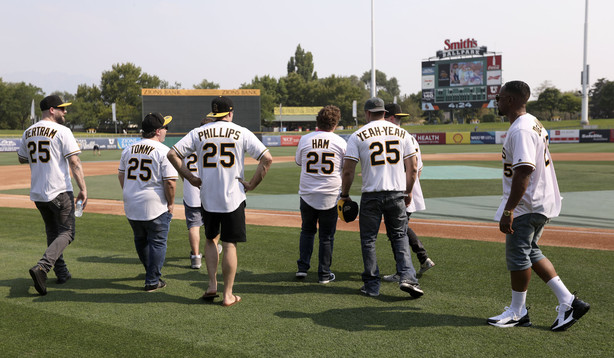 "It's amazing," said Victor DiMattia, who played Timmy in the franchise. "It's getting passed on to the next generation now and people are raising their kids on it."
Those raised on the film include many professional baseball players — even some with the Bees — who got into the sport because of "The Sandlot."
It also includes Smalls' children.
His own children quip "You're killing me, Smalls" at least seven or eight times per day, he says.
And Guiry plans to take them to that neighborhood sandlot at 1313 W. California Avenue on Saturday to watch the film with a few fans. Tickets are required for some of the festivities, while other events are free and open to the public beginning at noon.
"It's going to be really cool," he said. "There might be a tear in my eye."
Every child of the '90s has his or her own favorite "Sandlot" character. Whether it's Benny, Smalls, Ham, Squints, Repeat, Timmy, Yeah-Yeah or Wendy Peffercorn, something made "The Sandlot" a crucial part of growing up in a time before the internet, social media and Fortnite.
What was so special about "The Sandlot," though? Ham has a theory.
"It's Salt Lake City," he said. "When you film a movie in Salt Lake, it becomes a classic."
×
Related Stories