This archived news story is available only for your personal, non-commercial use. Information in the story may be outdated or superseded by additional information. Reading or replaying the story in its archived form does not constitute a republication of the story.
PROVO — As the BYU football team gets ready to open fall camp Thursday afternoon in Provo, one large question looms over a program with numerous question marks in coming off a disappointing 4-9 season.
But the one that stands out the most: Who is going to lead the huddle at a place once called Quarterback U.?
Four candidates seemed to emerge out of spring ball for BYU — senior Tanner Mangum, junior Beau Hoge, sophomore Joe Critchlow and true freshman Zach Wilson — but head coach Kalani Sitake wants to establish an order at quarterback as soon as possible.
"For us, I think it's as quickly as possible. Now when everyone finds out who it is, that's another story," Sitake said Monday night during the debut episode of KSL's Unrivaled. "But we're trying to find the best guy available who will make it work for us. We have a lot of great candidates … and I think it's up to us to provide enough reps to get the guy and work out a depth chart from there. It's impossible for me to put a time limit on it.
"There's a little bit of gamesmanship to it, too. We have a few ideas … and we knew who to give more reps to right now."
Sitake also confirmed what new offensive coordinator Jeff Grimes said during BYU football media day in June, that the Cougar coaching staff — with help from former offensive coordinators Aaron Roderick, Fesi Sitake and Steve Clark, who are all on staff at BYU — have narrowed down what was a wide-open competition already, and fall camp will help determine an order of dishing out reps to find the top QB prior to the season opener Sept. 1 at Arizona.
"I think within that first week, ideally, we narrow it down to two — maybe three," Grimes said in June. "And then by the end of two weeks, we should know who our guy is. If not, we'll let it go a little longer; but I would certainly likely to know who that guy is at the end of two weeks and be in position to play two weeks after that."
Mangum missed the final third of his junior season with a torn Achilles tendon, but the former Touchdown Club of Columbus freshman of the year has the experience and is amongst the favorites to earn the nod.
Critchlow, however, is also a strong option. The sophomore-to-be finished the 2017 season as the starter, completed 54 percent of his passes for 642 yards with three touchdowns and four interceptions in going 2-1 as a starter. He became the first true freshman quarterback in BYU history to win his first road start, 31-21 at UNLV — but also tossed four interceptions in a 16-10 home loss to UMass that was the low point of a woeful season.
The red-haired quarterback from Franklin, Tennessee, also seems to have a strong endorsement from associate head coach Ed Lamb, who recruited Critchlow to Southern Utah before the then-teenager served a two-year mission for The Church of Jesus Christ of Latter-day Saints in Montreal, Quebec.
Critchlow was also the most effective quarterback during the Cougars' spring scrimmage, completing 9-of-12 passes for 130 yards and a touchdown in rain-soaked conditions.
"Joe Critchlow is, I think, a big-time quarterback in every way," Lamb told a group of BYU alumni at an event in Cedar City last week. "I think Joe will be one of the great quarterbacks at BYU before it's all said and done."
Then there's the youth argument.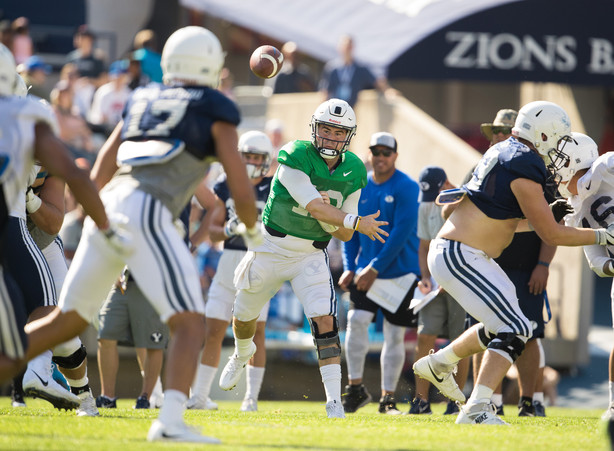 If the Cougars don't find an answer at quarterback early during the front-loaded 2018 schedule, there's a line of thinking that suggests Wilson could see extended playing time after the former Corner Canyon star skipped the final semester of his senior year to participate in spring camp.
He's certainly got the tools, too. The one-time Boise State commit threw for 2,986 yards and 24 touchdowns with just eight interceptions as a senior in 2017, despite missing time with an ankle injury.
But the quarterback competition isn't the only worry BYU will have. Jobs may be on the line as the Cougars try to bounce back from the absurdity of 2017, and there are still questions at running back, where Zach Katoa is among the challengers pushing senior Squally Canada for a featured role; wide receiver, where incumbent Micah Simon is challenged by Hawaii graduate transfer Dylan Collie; and tight end, where the Cougars may finally be able to play a two-tight end set pairing USA Today Freshman All-American Matt Bushman with recently healthy Moroni Laulu-Pututau.
It all starts Thursday — and BYU coaches and players can't wait to get started.
"I'm fired up," Sitake said. "It sounds so far away when you are in January and you get to spring ball. But now that we are right on the beginning of it, there's a lot of excitement. Our guys worked extremely hard and sacrificed a lot in this offseason. It's shown in the way they look, and I'm excited to get them on the field officially … and get them ready for Arizona."
×
Related Links
Related Stories