Estimated read time: 4-5 minutes
This archived news story is available only for your personal, non-commercial use. Information in the story may be outdated or superseded by additional information. Reading or replaying the story in its archived form does not constitute a republication of the story.
SANDY — Real Salt Lake took a 2-0 lead in the first 20 minutes of Saturday night's match against Rocky Mountain rival Colorado.
Then came the wind.
Then the rain.
Then the lightning — and an hour-long weather delay.
And finally, the Rapids' goals.
Damir Kreilach and Joao Plata each scored a first-half goal before Real Salt Lake settled disappointedly for a 2-2 draw with Colorado in the second leg of the Rocky Mountain Cup rivalry series Saturday night at Rio Tinto Stadium.
"At the end of the day, we got the point today — and a point for them is much bigger than it is for us," RSL midfielder Albert Rusnak said. "We feel like we lost two points at home. I have nothing to say other than that."
Jack McBean scored on a first-half penalty kick for the Rapids (4-11-5, 17 points), which have lost the annual fan-made rivalry series nine times in the last 11 seasons.
Dillon Serna equalized with two minutes remaining in regulation. The Rapids substitute followed up Edgar Castillo's saved shot in the 88th minute with a left-footed strike that sailed inside the far post to tie the match, 2-2.
Nick Rimando made four saves for Real Salt Lake (9-9-3, 30 points), which drew its second match at home during an 8-1-2 run across the 2018 MLS season.
Jefferson Savarino nearly equalized on a header in the final minute of stoppage time, but his attempt sailed inches wide of the post as both teams finished in a tie.
Kreilach opened the scoring for Real Salt Lake, heading home Aaron Herrera's cross inside the box to give the hosts a 1-0 advantage just 10 minutes into the match.
The 6-foot-1 Croatian, who has played anywhere from defensive midfielder to target striker for Salt Lake, scored his fourth goal of the season to go along with his team-best six assists.
Plata doubled the lead just seven minutes later, sprinting onto the end of Jefferson Savarino's cross toward the middle of the box for his team-high sixth goal of the season.
But things changed after a lengthy weather delay for storms and lightning in the area.
After head referee Baldomero Toledo awarded a penalty kick to Colorado following video review that showed a foul by Kreilach in the box, McBean pulled one back for the Rapids in the 32nd minute of regulation.
The winger stutter-stepped his approach and put his shot into the lower left corner of the net, safely out of the reach of RSL goalkeeper Rimando to pull Colorado within a goal with just under 15 minutes remaining in the first half.
"I couldn't see it. I asked the assistants," said RSL assistant coach Freddy Juarez, who filled in for head coach Mike Petke during a two-match suspension levied by Major League Soccer. "He went to VAR, so hopefully when you go to VAR, you are getting it right. I haven't seen it at all."
McBean nearly equalized for the Rapids just before the hour mark, but Rimando lowered his palms for a point-blank save to keep Salt Lake ahead in the 55th minute.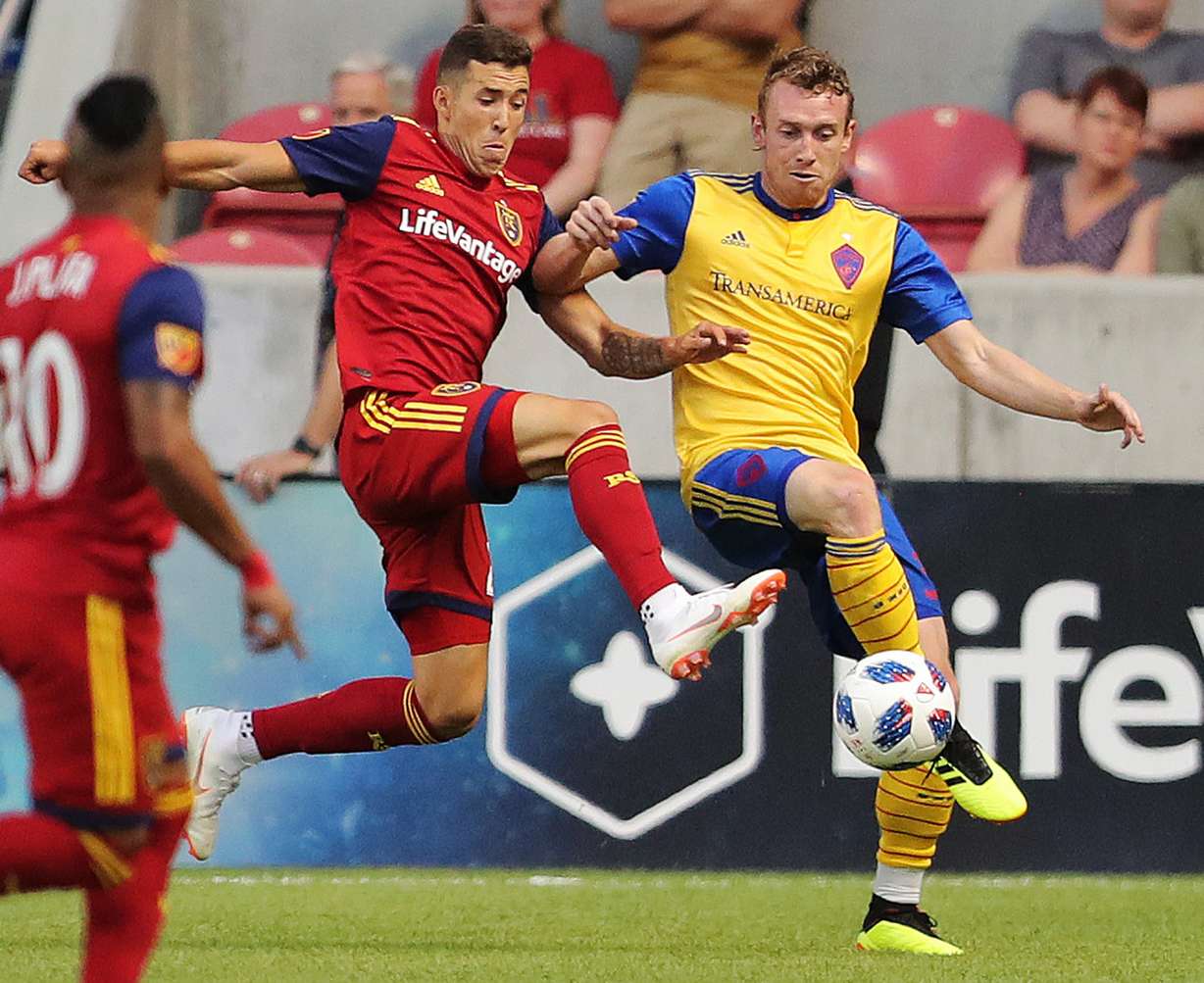 "It was just strange that within 20 minutes, we were 2-nil up, and were it not for that break, it might've been four at halftime," Rusnak said. "But that's stuff that you can think of now — if this, if that. At the end of the day, there was a break and it helped them.
"They adjusted, and came out with some fire after the break. We didn't."
Instead, it was Serna who scored the equalizer in the waning moments of the match to sneak a point out of Rio Tinto Stadium.
"We dominated early, and the only thing they changed was they added a bit more bite. We didn't handle it well," said Petke, who watched the game from the press area. "I say 'we' because we're all in this together. We let two points slip away … and now we're going to refocus and get ready for San Jose."
Next up:
Real Salt Lake plays Saturday, July 28 at San Jose. The match, which will kick off at 8:30 p.m. MT, will stream live on KSL.com and the KSL TV app.
×
Photos
Most recent Sports stories