This archived news story is available only for your personal, non-commercial use. Information in the story may be outdated or superseded by additional information. Reading or replaying the story in its archived form does not constitute a republication of the story.
SANDY — Mike Petke's epic rant about the use of video-assistant referees and other officiating concerns in Major League Soccer will cost him two games on the bench — and a hefty hit to his bank account.
The league has suspended Petke for two games and fined him $10,000 for his pointed comments about officiating made during the postgame television broadcast Saturday following a 3-2 loss to Minnesota United FC.
Petke, who revealed the fine and suspension during his weekly radio spot, will not appeal the decision.
"It was a bit more than I expected," said Petke, whose team is 8-1-1 at home and 1-8-1 on the road in MLS play. "But it is what it is.
"In the proper way, I'm going to continue to push for these things: transparency, accountability, consistency. Those three key words, especially. I'll do it, and I'm going to attempt to do it in the best way that I can to do it."
🔥 🔥 🔥 from @petkemike tonight. pic.twitter.com/Nq8x87LEaX

— KSL SportsBeat (@kslsports) July 15, 2018
Petke was fined $3,000 and suspended for one game a year ago for similar comments critical of league officiating during a post-match press conference. The extra game this year is for "on-field conducting during the match," according to a league statement. The Salt Lake coach was sent off for protesting what he deemed to be a foul against RSL defender Justen Glad during a play that led to Minnesota's Darwin Quintero scoring a goal that put Minnesota up 1-0.
After he was sent off, Petke kicked a chair while retreating to the locker room.
The league also fined the Real Salt Lake organization $10,000 for posting video on the team's "endorsing and amplifying "official Twitter handle that endorsed and amplified Petke's comments."
Petke will not be available on Salt Lake's bench during Saturday night's home match against Rocky Mountain Cup rival Colorado, as well as the road match July 28 at San Jose.
Lead assistant Freddy Juarez will serve as RSL's in-game coach in Petke's absence. Petke will not be allowed contact with his team during each game, and will be limited before and after each match as he watches the game from a box at Rio Tinto Stadium.
"I'll be up above, watching," Petke said with a laugh. "I'm pretty sure I'm not allowed to have any contact with the team, so perhaps I will go see the supporters before the game and then watch the game in peace."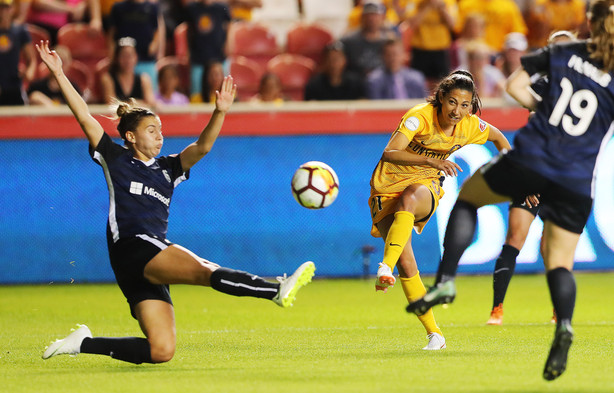 USWNT takes 9 players from Utah-North Carolina match
Utah Royals FC (5-6-6, 21 points) expected to miss a few players who U.S. women's national team coach Jill Elis announced her roster for the upcoming Tournament of Nations, which runs July 26-Aug. 3.
But they'll miss them a few days earlier than expected.
Utah captain Becky Sauerbrunn and forwards Amy Rodriguez and Christen Press have been called up to represent the United States in the Tournament of Nations, an "off-year" tournament that does not run during Olympic and Women's World Cup years that will pit the USA against Japan, Australia and Brazil in the round-robin competition.
The United States opens the tournament July 26 against Japan at Children's Mercy Park in Kansas City, Kansas. All three U.S. matches will be televised on Fox Sports 1.
Sauerbrunn leads the trio with 139 caps for the senior team, while Rodriguez (131 caps, 30 goals) made her return to the side this spring after recovering from an anterior cruciate ligament tear in 2017 while playing with the now-defunct FC Kansas City.
Press recently joined the "century club" with the USWNT, scoring 44 goals in 100 appearances that include the 2015 FIFA Women's World Cup title and gold medals in the 2013 and 2015 Algarve Cup tournaments.
In addition to the Royals trio, Utah's opponent North Carolina (14-1-3, 45 points) will miss six players to U.S. international duty for the same call-ups. Defenders Abby Dahlkemper, Jaelene Hinkle and Merritt Mathias; midfielders Samantha Mewis and McCall Zerboni; and forward Crystal Dunn were also among the 25 players called into camp.
Royals' Gorry joins Matildas
Utah's Katrina Gorry will represent Australia at the Tournament of Nations. The 5-foot-1 midfielder will join the team immediately following Friday's club match.
The Courage and Royals kick off at 8 p.m. MDT Friday at Rio Tinto Stadium. The game will be streamed live on KSL.com and the KSL TV app.
×
Related Stories