This archived news story is available only for your personal, non-commercial use. Information in the story may be outdated or superseded by additional information. Reading or replaying the story in its archived form does not constitute a republication of the story.
SALT LAKE CITY — Utah health and law enforcement officials demonstrated Tuesday a new safety device intended to prevent the deaths of children in hot cars.
Primary Children's Hospital will begin offering a bright yellow lanyard, resembling police tape with a car seat buckle at the end, as a visual cue for parents that their child is still in the car.
In black, bold lettering, "Baby In Car" is repeated across the lanyard, called Baby Safety Snap.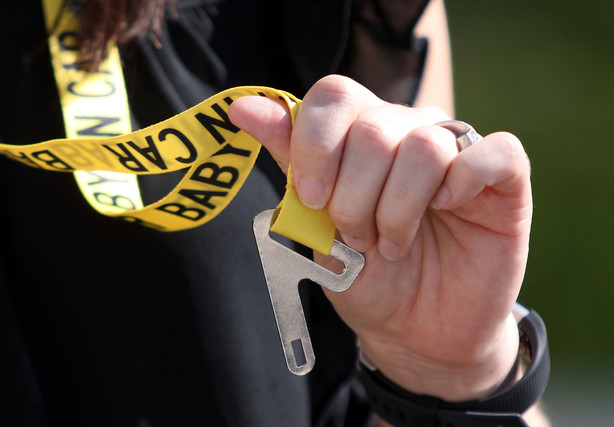 "We were so impressed with the simplicity of the design that we wanted to make it available to families in Utah and the Intermountain West," said Jessica Strong, community health manager at the children's hospital.
When not in use, Strong said the lanyard should be buckled into a car seat. After a child is buckled in to the car seat, the driver will wear the bright-colored lanyard around their neck. If the driver forgets the child, the lanyard will act as a reminder for them or for passers-by.
So far in 2018, 23 children have died in hot cars across the U.S., according to safety organization Kids and Cars. On average, the organization reports, 37 children die each year in hot cars.
In Utah, 12 children have died in hot cars since 1996, the hospital reported.
Strong said stress, fatigue and a change of routine have been known to push parents into "autopilot" and increase the likelihood of forgetting a child in the back seat.
"It's tragic whenever a child comes in critical condition, but when it's preventable, it's especially heartbreaking," said Chuck Pruitt, a medical adviser for child advocacy at Primary. "I've seen children come in with heat stroke — their bodies can't dissipate heat the way adults can."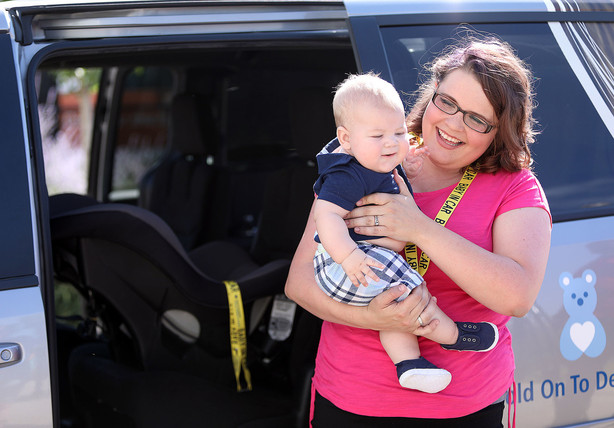 Pruitt said anything that acts as a reminder, like placing a stuffed animal in the front seat when the child is in the back seat, is critical.
"And I think the lanyard is another great reminder," Pruitt said.
Felicia Ellis, a teacher from Ogden, demonstrated the device with her 6-month-old son Sawyer at Tuesday's announcement. This lapse of memory can happen to anyone, Ellis said, and she knows firsthand.
After Ellis returned from maternity leave, she said she was driving her children to day care before work when an area under construction diverted her from her usual path.
"It was as simple as that," she said. "I was halfway to work when I realized that I had both of my kids in the back seat."
---
I believe 100 percent in this (lanyard). I think it's wonderful. It's a wonderful option to keep a baby safe.
–Felicia Ellis, Utah mother
---
Had she not realized her children were in the back seat at that point, Ellis said it would have been very likely that they would have stayed there as she went into work.
"I believe 100 percent in this (lanyard)," Ellis said. "I think it's wonderful. It's a wonderful option to keep a baby safe."
For Tuesday morning's demonstration, a van had been parked on a plaza of the hospital, a temperature gauge inside and out.
"Right now, outside, it's 89 degrees," Strong said, checking the gauge. "And inside, it's 102."
South Jordan Police Sgt. Sam Winkler, while wearing the lanyard at the news conference, noted: "This isn't even the hottest part of the day."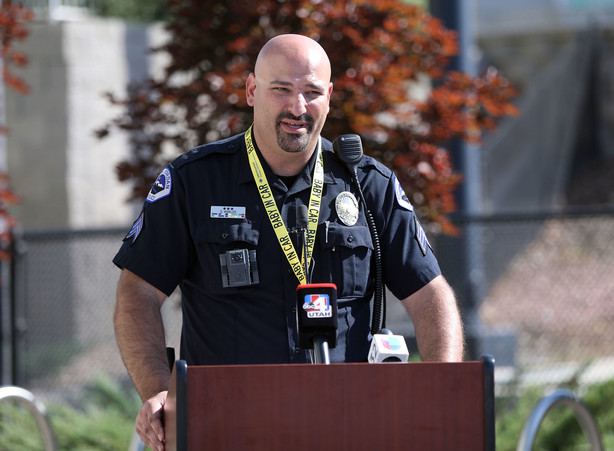 Winkler also advised against leaving a child inside a car with the vehicle running.
"Even though it might be cool inside the vehicle," he said, "a child may accidentally slip the vehicle into gear — the vehicle might roll away."
Winkler said the car could be broken into and stolen, all while the child is in the back seat.
"Which has happened several times in this area," he said.
The Baby Safety Snap is a cheaper alternative to other devices — like smart car seats and phone apps — intended to remind parents their child is still in the car, Strong said.
The lanyard was developed by Mike Hubert, an entrepreneur from Massachusetts, and first released at a children's product exposition last fall.
The hospital is offering the lanyard to patients and members of the public for free while supplies last. They are available on the hospital's website and at a car seat checkpoint on July 17, from 9 to 11 a.m. at Intermountain Medical Center's southwest parking lot.
---
Email: awilliams@deseretnews.com
×
Photos
Related Links
Related Stories