This archived news story is available only for your personal, non-commercial use. Information in the story may be outdated or superseded by additional information. Reading or replaying the story in its archived form does not constitute a republication of the story.
FARMINGTON — Preston Summerhays is going to have quite the story to tell when he gets back to high school in Scottsdale, Arizona.
The 15-year-old son of pro golfer Boyd Summerhays became the youngest-ever Utah State Amateur champion Saturday with a 3 and 2 win over Utah senior-to-be Kyler Dunkle in the 36-hole final at Oakridge Country Club in Farmington.
"I've wanted to win this tournament for the last three years. It means a lot to win it," Summerhays said. "It was the goal, to be the youngest-ever to win, and it means a ton."
With a full gallery that included his father, who flew to Utah late Friday night after spending the week at the U.S. Open coaching local golf pro Tony Finau, as well as his uncle (PGA Tour golfer Danny Summerhays) and others, Summerhays collected the historic milestone with the calm of seasoned veteran.
The teenager became the third Summerhays to win the state amateur, joining uncle Danny Summerhays in 1999 and 2000 and Champions Tour pro Bruce Summerhays in 1966.
"It was nice that it was here (at Oakridge Country Club). I think it was a little bit to my advantage, so that was good," Preston Summerhays said.
"For the moment right now, I'll take the bragging rights. For sure. For the moment."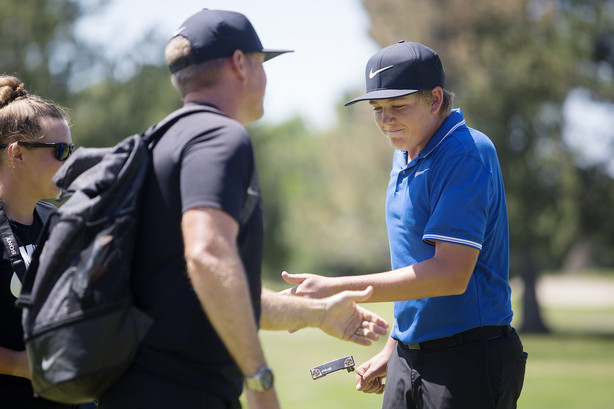 The youngster was confident. And why wouldn't he?
The sophomore-to-be at Chaparral High School was a playoff away from winning the Utah Junior Amateur a week ago at Oakridge, and carried that enthusiasm into the full amateur's match-play event that included wins over Dane Nelson, Jacob Wagstaff, second cousin Tyler Savage, and Utah State golfer Andy Hess en route to Friday's semifinals.
After holding off Dixie State's Jayce Frampton 1 up, the teenager prepared for his third-straight match against a collegiate opponent.
Summerhays went 2 up early in the second 18-hole portion of the championship round. Dinkler pulled one back and trailed by just one with six holes remaining, but the latest golfer to come from Utah's famed Summerhays clan pulled one back immediately and finished off the match with a birdie on the par-4 32nd hole.
"Today was pretty amazing, to see all of the hard work he's put in," said father Boyd Summerhays, who flew to Utah from the U.S. Open in New York for Saturday's final. "He had two of the worst shots I saw him hit, on 10 and 11 ... but he bounced back, and made incredible birdies on 13 and 14 to become the youngest winner at the state am."
15-year-old Preston Summerhays (yes, one of THOSE Summerhays) became the youngest Utah State Am winner in @UtahGolfAssn history with his 3 & 2 victory Saturday afternoon. #UtahGolf#KSLGolfpic.twitter.com/egiabAh0KT

— KSL SportsBeat (@kslsports) June 17, 2018
Dunkle will be a senior at the University of Utah, and looks to be a strong leader for the team just two years after transferring from Colorado State. And the Colorado native even had some help on the bag — his teammate Blake Tomlinson, who lost to Dunkle in Friday's semifinal, volunteered to caddy for the collegiate golfer's final 36 holes.
"I've gotten to play against some great friends of mine," Dunkle said. "Today was unbelievable. I would say it was a really good week, a confidence-building week, even though I wasn't able to finish it out."
×
Photos
Related Stories