SANDY — When the Los Angeles Galaxy signed world soccer legend Zlatan Ibrahimovic on March 23, the Swedish phenom took little time to make his mark on Major League Soccer.
Just moments after entering the rivalry match against Los Angeles FC, Ibrahimovic scored a stunning long-distance goal — his first of two for the day — to lead the Galaxy to a 4-3 come-from-behind win March 31 in "El Trafico."
Since that day, progress has been slower for Ibrahimovic and the Galaxy, who have won just three of 10 matches since the ex-Manchester United forward signed to play in Southern California.
The latest challenge will come Saturday when Real Salt Lake will get an up-close view of Ibrahimovic and the Los Angeles Galaxy at 8:30 p.m. MDT (KSL.com, KSL TV app).
Real Salt Lake (7-6-1, 22 points) is one of the hottest teams in MLS, having taken the maximum nine points in eight days, including the first road win of the season, 1-0 at Seattle on Bofo Saucedo's first goal of his MLS career.
"Three games last week, and we won all three of them and now have an opportunity to go to L.A. and get a result," coach Mike Petke said after Wednesday night's 2-0 loss to Sporting Kansas City in the U.S. Open Cup. "Most of the guys made it through last week, and they've been obviously a little bit tired."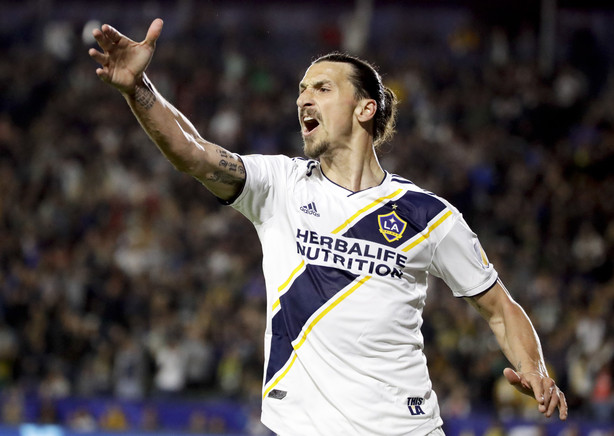 The Galaxy (5-7-2, 17 points) have hardly been MLS's best team since Ibrahimovic arrived. But don't pin all of the troubles on the 36-year-old veteran, RSL goalkeeper Nick Rimando said.
There is, perhaps, plenty of blame to go around a Galaxy side that lost as many as four-straight in Ibrahimovic's tenure, and has just two wins in the last four matches in MLS play.
"I think any player that comes over has to adjust to the team, the players, the league, the coach. A lot goes into it," said Rimando, a Southern California native. "You can't just put a finger on Zlatan for losing. There are always a bunch of decisions.
"I think it will take time to adjust to this league. They have a lot of players who can play, not just him."
The Malmo, Sweden, native's quality is still there, as he proved Thursday in training, scoring off a backheel volley that Ibrahimovic made look easy.
But don't expect RSL, which is the third-hottest team in MLS in points per game over the past month, to be starry-eyed as it travels to the StubHub Center, where it boasts a 7-10-2 all-time record against the Galaxy.
Just another day at training for @Ibra_official 👀 pic.twitter.com/Xvnci3TtTm

— LA Galaxy (@LAGalaxy) June 7, 2018
"When everybody's career is over, they'll look back and see how special it was to play against a guy like that," Rimando said. "But the message Saturday is to battle for 90 minutes.
"They're going to go out and play the game to get a result."
Salt Lake wants to keep its momentum going, as Petke made clear Wednesday after a 2-0 loss to Sporting Kansas City in the U.S. Open Cup. Petke played a mostly reserve side, calling up three players from the second-division Real Monarchs and left the game's third sub unused in the disappointing defeat.
"I love the U.S. Open Cup and what it stands for. I hope to win it one day. But we had three games last week, and L.A. is a big game for us in three days," Petke explained after the match. "I didn't want to risk any injury or tired legs.
"I'm weighing L.A. versus the Open Cup game … and I didn't want to put more miles or energy output before a big game in L.A."
×
Photos
Related Stories