SANDY — Real Salt Lake coach Mike Petke rolled the dice with a young lineup for the club's Lamar Hunt U.S. Open Cup fourth-round match, just three days after finishing a three-matches-in-eight-days stretch in MLS play.
Sporting Kansas City coach Peter Vermes also shuffled a young lineup. And Kansas City's youth won out.
Johnny Russell and Kharlton Belmar each had a goal and an assist in the second half to help Sporting Kansas City eliminate youthful rival Real Salt Lake, 2-0 Wednesday night in front of an announced crowd of 15,833 fans at Rio Tinto Stadium.
"It was an opportunity to get guys who don't get a lot of minutes some minutes," Petke said. "And I felt comfortable after the first 45. We got in a good shape and denied a lot. But the goal early in the second half killed us."
After a scoreless first half, Russell gave Sporting Kansas City's young squad the advantage three minutes into the second half, finishing off Belmar's cross from the end line with a header to go up 1-0.
Russell's goal was only the second shot on target of the match for either side — the first coming when the 28-year-old reserve put the ball down the middle of the box that RSL goalkeeper Connor Sparrow easily saved in the final moments of the first half.
"He's not the guy who I'm sure Peter wants pulling the strings," Petke said, referring to Belmar. "But no one collapsed on him.
"It could've been miscommunication or tired legs. But there has to be a point where we cut off his options and force him to a bad decision. We just didn't step to him."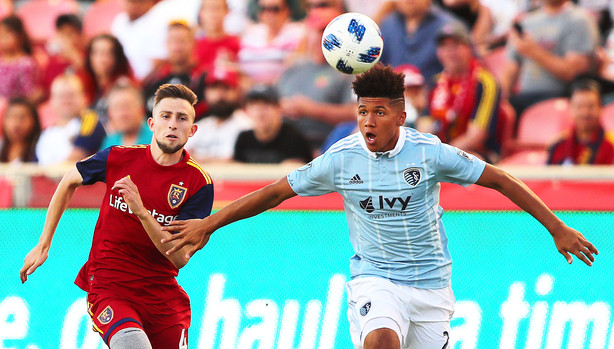 Russell returned the favor for the assist to Belmar in the 74th minute, sliding a ball from the end line to double the advantage on Belmar's goal with just over 15 minutes left in regulation.
Petke made wholesale changes to his side that beat Seattle 2-0 just three days earlier. Sparrow was joined in the back by Adam Henley, David Horst, Taylor Peay and rookie Aaron Herrera, who made his first start in an RSL uniform.
Starting midfielder Andrew Brody was called up to the first team from the second-division Real Monarchs, as were Monarchs goalkeeper Jake Leeker and defender Michael Gallagher.
"It's a little more difficult, but we're all professionals. We should be expected to perform, no matter who we put out there," said RSL midfielder Nick Besler, the Kansas City native who played his first-ever match against older brother Matt.
"We didn't quite click as quickly as we wanted to, and we're not advancing. Ultimately, that's on us as players."
Petke even used seldom-used Spanish striker Alfredo Ortuno, bringing the center forward off the bench just before the 80th minute. Ortuno, who has one start in three matches for Real Salt Lake since signing in January, entered the match to a chorus of boos crowd at Rio Tinto Stadium.
Brooks Lennon was the only RSL regular who made an appearance off the bench, entering the match in the 72nd minute for forward Ricky Lopez-Espin.
"We have an opportunity to go to L.A. and keep amassing points," Petke said. "This was an opportunity for me to see certain guys who have played with the Monarchs a lot, and see what they have.
Johnny Russell returns the earlier favor from @Kharltonbelmar with his own assist and Belmar muscles it in.

SK 2-0 RSL | #USOC2018pic.twitter.com/0jukhBgsoz

— Sporting KC (@SportingKC) June 7, 2018
"Most of the guys made it through the past week with three games unscathed, and they were a little bit tired. I didn't even want to put Brooks on tonight, but at 1-0 down, I threw him on for 20 minutes to see what happens."
Real Salt Lake wasn't the only team that made significant changes. Sporting Kansas City finished the match with four homegrown players on the pitch, including 16-year-old Busio Gianluca in his first start.
"He was very confident, and he made very good decisions with the ball," Kansas City coach Peter Vermes said. "He did really well with the start."
Next up
Real Salt Lake (7-6-1) will return to MLS play Saturday at 8 p.m. MT at the Los Angeles Galaxy. The match will be streamed live on KSL.com and the KSL TV app.
Kansas City (8-2-4), the defending U.S. Open Cup champion that also leads MLS's Western Conference, plays Portland at 8:30 p.m. MT Saturday.
×
Photos