SANDY — Amy Rodriguez took a second before she entered Thursday night's U.S. Women's National Team match as a second-half sub.
The night was special, not just because it was on her home pitch with Utah Royals FC.
Thursday was also a return for Rodriguez, who recently returned from a year-long knee injury to star for the newest expansion franchise in the National Women's Soccer League.
"It was everything I remembered, but it meant so much more because of the uphill battle I faced last year," said Rodriguez, who scored an international goal at Rio Tinto Stadium and the first home goal in Utah Royals history. "It's never easy to come back (from injury). I put a lot of tears and sweat into this, and it was great to be back tonight."
Getting a 1-0 win over longtime rival China helped, too.
Alex Morgan headed home the go-ahead goal, converting Megan Rapinoe's free kick in the 57th minute that sent the announced crowd of 13,230 fans into a moment of jubilation.
"We love playing here," U.S. coach Jill Ellis said. "The crowd is always very good, and they are knowledgeable about the game. We love coming here.
"I think we needed to be a bit more proactive about our game, and that brings the crowd into it. That's what we talked about at the half … because the fans are so important to us."
Just under 20 minutes later, the goal-scorer was replaced by Rodriguez, the new hometown girl who suffered a season-ending tear in her anterior cruciate ligament during her final season with now-defunct FC Kansas City in the NWSL prior to moving to Utah.
"It's so fun to play with this team," Rodriguez said. "It was just so nice to be back on the pitch again, and wearing the red, white and blue."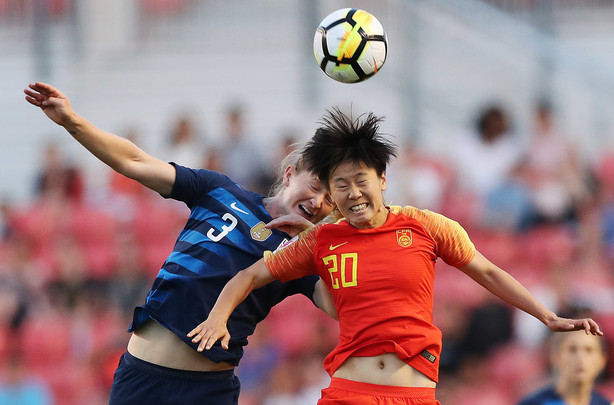 The goal was the 86th of Morgan's career, and was a common thread as Rapinoe served in ball after ball on set pieces to try to break after a scoreless first half that eventually pushed the United States' unbeaten run to 15-straight matches.
"I know 'Pinoe puts in a good ball, always," Morgan said. "You know that 95 percent of the time, it'll be an amazing cross in. That takes a little pressure off of us … but we also know we need to finish more of those.
"Hopefully we can have goals in the run of play when we play China next, in Cleveland. But just grinding out the win was important for us this game."
Rodriguez knew well the crowd and was excited to make her return to the national team in front of friends.
"It felt like home a little bit, and it's always nice to play in front of your home crowd," Rodriguez said. "I just wanted to put on a good show for the fans tonight. Hopefully, they had a good time."
The 31-year-old mother of two made her first appearance since April 6, 2017, but she made her return to Thursday night's lineup alongside Royals teammate Becky Sauerbrunn, who started at center back.
Utah Royals goalkeeper Abby Smith was on the bench for U.S. coach Ellis, who voiced her pleasure at seeing Rodriguez's return to her lineup before Women's World Cup qualifying commences this fall.
"It's remarkable, in terms of well she's come back," Ellis said. "I know doing that with two young boys is exceptional, but A-Rod's commitment and mindset is fantastic.
"She still has the same qualities, in terms of running at players. She's a great human being and great for a team's chemistry, as well."
Rodriguez nearly scored in the 90th minute, but her cross on a lengthy counter-attack was deflected just wide of the far post to set up one of 12 corner kicks on the night.
"They call them friendlies, but we know they aren't always friendly. These are World Cup qualifying preparation matches for us," Rodriguez said. "Right now, the team is gearing up and we've got a big task ahead this fall with the qualifiers."
Next up
The United States will play China in a second international friendly next Tuesday, June 12, in Cleveland. Most NWSL teams will observe the FIFA break until June 16, when the Utah Royals play at North Carolina at 5 p.m. MDT. The match will be available on KSL.com and the KSL TV app.
×
Photos