This archived news story is available only for your personal, non-commercial use. Information in the story may be outdated or superseded by additional information. Reading or replaying the story in its archived form does not constitute a republication of the story.
OREM — With his wife Lee Anne sitting at his right hand, (and at the explicit direction of outgoing Utah Valley President Matt Holland, who sat on the left) Mark Pope signed a six-year contract extension Thursday with the Wolverines, committing long-term to a program he has helped build with a lengthy run of transfers and incoming recruits to one of the top teams in the Western Athletic Conference.
"It's a great day for us. My wife is essentially running this entire program," Pope said with his traditional aura of candor, openness and humor. "It's been one of my honors the last three years to be able to work with this group, to follow their lead and to see their example.
"This day is really special for me because my whole heart is here at Utah Valley University. Over the past three years, both Lee Anne and I have fallen in love with this university. We're really proud of what we've accomplished over the last three years. This contract signifies what we believe — that we are barely scratching the surface of what can be accomplished here."
Details of Pope's contract were not immediately available, but a source confirmed to KSL Sports the deal is through the 2023-24 college basketball season. ESPN's Jeff Goodman first reported the coach's extension.
"We think there are great things here, as a university, as an athletic department and as a basketball program," Pope said. "This is a huge commitment by the university, and equally as big by myself, because we all believe there is a lot that will happen here."
In three years of his first head coaching job, the former NBA power forward has amassed a 52-46 overall record, including a 22-20 record in Western Athletic Conference play and back-to-back postseason trips to the College Basketball Invitational.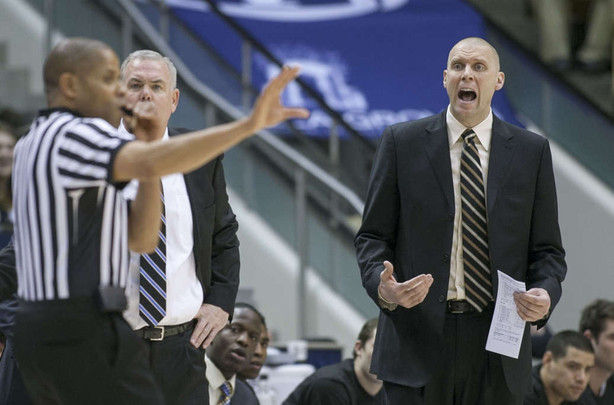 He immediately upgraded the Wolverines' schedule, too, setting up a back-to-back road trip with his alma mater Kentucky and college basketball power Duke in what he billed the "toughest 24 hours in college basketball history."
A graduate of Kentucky who passed on his final year of medical school to pursue coaching, Pope spent two seasons as an assistant coach at Georgia and Wake Forest before joining Dave Rose's staff at BYU in 2011. After ascending to Rose's top assistant, he moved the short drive north on University Parkway to succeed retiring basketball coach Dick Hunsaker at Utah Valley in March 2015.
His impact, vision and leadership made an immediate impact on the Wolverines — not just on the athletic department, but on the largest public university in the state, Holland said.
"We were lucky to get him on round one, and we're even luckier to keep him in a way that he is thrilled about and we are all about," said Holland, who is stepping down this summer at UVU to become a mission president for the LDS Church in North Carolina.
"We don't stop. Utah Valley University is on the move, getting bigger and better and stronger in everything we do. I can't wait for this program to move forward with this coach for another six years."
Pope joked that Holland's next role in life was to be "called by a higher power" to recruit North Carolina prep basketball players to UVU.
Whether the Wolverines open up a Charlotte-to-Orem pipeline is yet to be seen. But Pope appears to be planning to lead the basketball program through the middle of the third decade of the millennium.
"Athletics plays a crucial role on a university campus," Holland said. "It's not our main purpose, but we can't really be what we are supposed to be as a university without a terrific athletic program. I believe that to my core, and we've made this a real investment.
"Not only is this an affirming mark for the last couple of years, but it's a tremendous signal of where we are moving forward."
×