This archived news story is available only for your personal, non-commercial use. Information in the story may be outdated or superseded by additional information. Reading or replaying the story in its archived form does not constitute a republication of the story.
SALT LAKE CITY — Crowds crammed into Utah's national parks over the Memorial Day weekend, with visitors at Zion National Park enduring 1 ½ hour wait times for a shuttle ride on overcapacity buses.
Park officials say more than 30,000 visitors were logged on a single day over the weekend, possibly setting a record for the 2018 year.
Arches and Canyonlands also teemed with visitors over the holiday weekend, but Superintendent Kate Cannon said the park embraced an "all hands on deck," approach.
"I thought it went pretty well under the circumstances," she said. "Overall, given the number of people who came, we had a reasonably successful effort at managing the crowds."
Both Arches and Canyonlands are in the midst of a planning effort to cope with surging crowds, including a possible move to a reservation system during peak visitation months and times.
In an initial analysis of a visitor use management plan, officials at Zion rejected adding more shuttles to handle crowds.
The park shuttle service currently consists of 39 shuttles and 23 trailers. The shuttles pick up visitors every three to five minutes during peak summer hours. Although designed to transport 68 people, park officials say they're commonly filled with 95 to 100 people.
A 2015 analysis of the transportation system said it wouldn't be financially feasible or an improvement for the visitor experience to add more shuttles, which are already maneuvering through crowded shuttle stops.
Related:
Zion has experienced a 60 percent increase in visitation in 10 years, and the majority of those visitors spend most of their time in Zion Canyon, a 6-mile corridor along the Virgin River.
Officials also rejected implementing congestion pricing — charging more during peak season/times — due to it being incompatible with the park system's mission of being affordable to visitors across a wide range of financial status.
Cannon said possible implementation of a reservation season during Arches' busiest times is under consideration, with a final decision likely to be released this summer.
She said the park has been encouraging people to arrive earlier in the day, or later in the day to avoid crowds.
Staggered visitation improves the visitor experience, she added.
"Everybody comes at the same time and they travel in a big herd," Cannon said.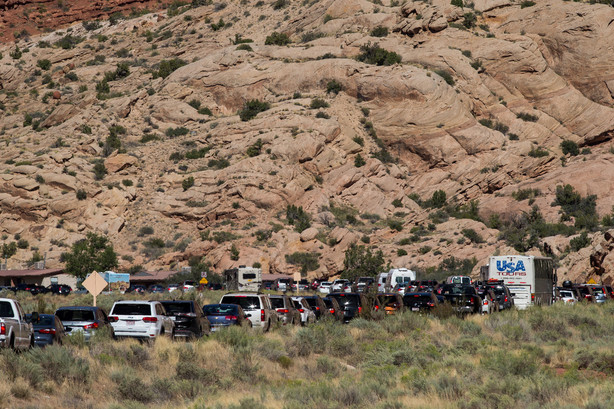 Visitation numbers for the Memorial Day holiday aren't out yet, she said, but in 2016, Arches saw more than 3,000 a cars a day on Friday through Sunday and about 2,700 cars on Monday.
The steady surge in visitors at Utah's national parks is not only tough on staff and tourists alike, but it puts a strain on natural resources as well, Cannon noted.
"We are not alone in having the challenge of dealing with these crowds. Most of the parks in southeast Utah are working hard to come up with good solutions," Cannon said. "There are not a lot of those to be had."
×
Photos
Related Stories