OGDEN — A Utah man returned home over the weekend after helping his family deal with the Kilauea volcano in Hawaii. He also used his drone skills to assist authorities in tracking the volcano's lava flows and pinpoint hot spots within the cooling magma.
Jon McBride, vice president of technology for Rocky Mountain Unmanned Systems in Centerville that builds and sells large-scale drones to emergency agencies, traveled to Hawaii as the lava began to spew out of Mount Kilauea earlier this month.
It's actually not the first time McBride's family has dealt with lava flows. The Ogden resident said his grandmother dealt with them in the 1955 volcano explosion and his extended family was around during the volcano explosion in 1983.
"They're far away from it now," McBride said with a sigh of relief. Many locals in the area, including his family, were required to wear masks because of toxic sulfur dioxide gas produced by the volcano.
"We still have people that we know that had to be evacuated down in that area," he added.
In addition to being there for his family, McBride also aided researchers, first responders and city officials by using drones.
He worked alongside Center for Robot-Assisted Search and Rescue — a group that also assisted emergency services after hurricanes in Texas and Puerto Rico last year — and assisted the Hilo Fire Department and neighboring agencies, while U.S. Geological Survey helped with feedback from the field.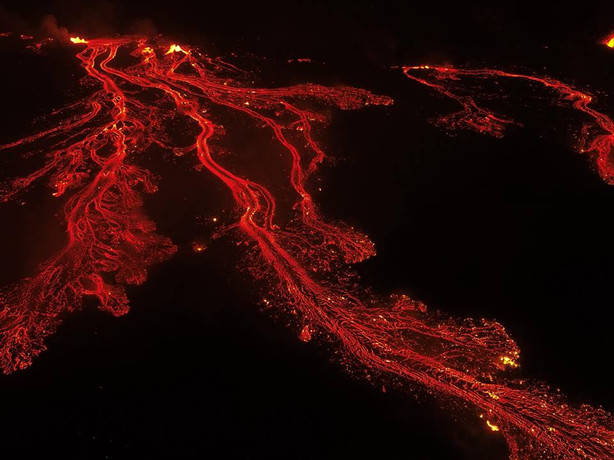 While aerial footage provided a grand view of the beautiful lava streams, it served a more profound purpose in helping authorities help find hot spots, where the lava was heading and how fast it was flowing.
Officials were able to track hot spots in areas where the magma was no longer glowing red with a thermal sensor attached to the drone and GPS positioning helped predict the speed of the lava. The data was quickly relayed back to incident command officials who could then make decisions for evacuations or other emergency decisions.
"There was a lava flow happening, but you can't always visually see it. You can see it from the air from a helicopter, but as activity got really moving along and the flows started to move quite rapidly, they were having problems figuring out where and how fast those were going," McBride said. "Having a thermal camera shows where some of the older flows are because they're still relatively hot — even though with your naked eye and looking across this hillside, you can't see them."
Drones also assisted in mapping out an older road no longer used as a possible alternate route in case the lavas took out the state's highways.
McBride returned to Utah last Saturday, as others took his spot tracking the lava. It's a trip he likely won't forget.
"To be humbled by the power and be very humbled by what happens down there and understanding how the local people deal with it and what they do," McBride said, "it's very eye-opening."
×