PROVO — Yoeli Childs found out it would be better for him to return to BYU basketball for his junior season rather than enter the NBA draft, and he announced his decision two days ago.
But the former Bingham High star doesn't begrudge anyone who chooses differently — and that includes former teammates Elijah Bryant and Eric Mika.
"Every single person in the program needs to do what is the best for them," Childs said during a 20-minute roundtable with local media after announcing his decision. "I think Eric made the right choice, no matter what people want to believe."
Mika, whom Childs referred to as "a big brother," was the first person the BYU junior-to-be called when he decided to test the NBA draft waters. They talked about workouts, NBA personnel and pro basketball prospects while Mika is playing in Italy, and spent nearly three hours on the phone.
In the end, Childs decided to return to BYU, where he will pair with embattled guard Nick Emery and TJ Haws, the other two former Lone Peak products who will be juniors in 2018-19.
Childs averaged 17.8 points and 8.6 rebounds as a sophomore for the Cougars, becoming the main focus of BYU's post play a year after Mika left to pursue his career overseas.
But Childs thinks the upcoming season could be even better, even without Bryant's return.
"I think being a part of BYU basketball is special," Childs said. "The coaches really care about you. That was the biggest thing throughout the whole process; the coaches were very supportive of me.
"Go all in, try to live your dream, and then talk about it. I talked to coach Rose a lot."
Neither the decisions of Mika and Bryant, nor the one made by Childs, should have a detrimental impact on BYU's basketball program, the Cougar standout added. Everyone is on a different path, with Bryant turning 23 years old, finishing his degree, and having recently been married.
Childs is younger than most BYU players — he just turned 20 in January — having not served a mission (he joined the LDS Church during his freshman year, thanks in large part to Mika) and can return to his pro prospects in a year. He's also still single and doesn't have a family to support.
"For our program, I think it's great for guys to go play professional basketball," Childs said. "It shows that BYU is a place where you can come and go make money playing basketball."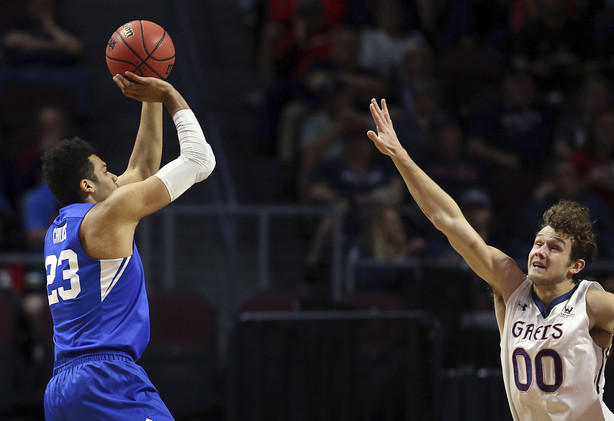 Childs is also excited to return to a squad that will welcome home former Timpview star Gavin Baxter and Idaho standout Connor Harding, who both recently returned from two-year missions for the LDS Church.
Childs played two years of AAU basketball with Baxter and Harding, on the same team as former Lone Peak star Frank Jackson, and said he envisions pro potential out of all three players.
"I'm pumped," Childs said when asked about Baxter's potential next to him as a 6-foot-6 forward. "I'm so excited.
"He's an electrifying player, so fun to play with. I remember all the time, I would do my jump hook and then air it out for him to go get. He's an unbelievable athlete. Seeing him work out and shoot so close off his mission, he can impact a game right now."
With Childs' return, BYU returns every player from last year's squad that finished third in the West Coast Conference and adds Baxter, Harding and Emery.
The biggest question amongst the returning players is BYU forward Braiden Shaw, who missed all but one game as a junior with injuries. The senior-to-be is said to be considering retiring for medical reasons, according to one source in Provo, though no decision has been made.
Childs is confident about the future as the Cougars look to end their three-year drought outside of the NCAA Tournament.
"I think it's going to be the best team I've played on in three years, by far," Childs said. "The guys we have coming back are older and more mature. We're no longer a young team.
"We have guys who will be coming off the bench this year that will play professional basketball."
×
Related Stories