Estimated read time: 3-4 minutes
This archived news story is available only for your personal, non-commercial use. Information in the story may be outdated or superseded by additional information. Reading or replaying the story in its archived form does not constitute a republication of the story.
SALT LAKE CITY — Concert venues and comedy clubs have been overwhelmed for years by a sea of smartphones, and classrooms have been battling against the constant distraction.
Increasingly, however, teachers and entertainers have been resorting to "bagging" the phones — entirely and literally — and the trend has extended into Utah.
Yondr creates sets of lockable pouches designed to block cell phone use during class time and show time.
"It's less about the product for us and it's more about the movement — which maybe it's part of a movement for people to spend less time living in front of a screen," Yondr founder Graham Dugoni said by phone. "It seems to help with whatever elements of the modern condition are making some people not feel so good."
The product has been adopted by artists, like comedian Dave Chappelle, and musician Jack White, who is slated to appear at Saltair on Aug. 9.
Yondr and Utah
At Brighton High School, advanced placement human geography teacher Monta Thomas saved up to purchase a classroom set.
"Once they close it, it's locked," Thomas said. "They put their bag back on the desk and they're good to go."
Thomas said the Yondr pouches — which came with a price tag of roughly $700 and included an unlocking station — have already paid dividends.
"(There is) definitely more engagement when you take away that distraction of the phone," Thomas said. "(It was) well worth it!"
Others, with larger venues, are taking a look at the product with price in mind.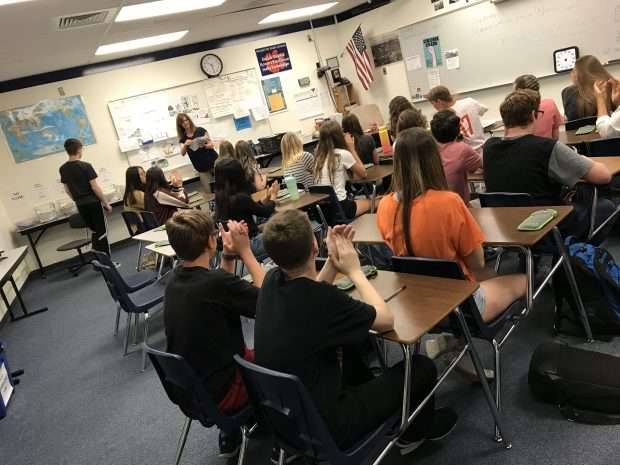 Wiseguys Comedy Club owner Keith Stubbs said it would likely cost him thousands of dollars to deploy Yondr sets at his venues.
He said he has considered making the purchase because distracted audiences have become a huge issue for many entertainers.
"I know it's aggravating for a singer, but I think it's more distracting for a comedian," Stubbs said.
Stubbs said phones can also be problematic when audiences post material to social media that comedians deem not ready for widespread public consumption.
It can also cost them revenue, Stubbs said.
"They say, 'Look, I'm working on this material, this is my material, and I don't need it on YouTube before the joke is done," he said.
Security
Audience members at a recent show at Wiseguys seemed resolute about the annoyance of phones held high during performances, but some expressed reservations about the idea of going phone-free by force.
"To not be able to be reached in case of emergency, I think, is a big issue," Jessi Ross said.
Dugoni said the company had contemplated the potential impact on security plans at venues "a lot."
"In case of emergency, the first thing everyone will tell you — and this is in all protocols — is to exit first, so everyone exits and then there are places to unlock cases outside the venue," Dugoni said.
Effects
Avery Holton, an assistant professor of communication at the University of Utah, said the product could lead to smart phone and social media "withdrawal."
"What that really does for a lot of people is create more anxiety," Holton said.
Holton said children might be the ones most deeply impacted.
"These are people that were born basically with a cell phone in their hands, and that's how they negotiate life and spaces," he said.
Still, Holton said he also saw potential value in Yondr and other products like it.
"Having a space where we can really, sort of turn that off and focus on a project and focus on each other — I think it's interesting," Holton said.
×
Photos
Most recent Utah stories