Estimated read time: 3-4 minutes
This archived news story is available only for your personal, non-commercial use. Information in the story may be outdated or superseded by additional information. Reading or replaying the story in its archived form does not constitute a republication of the story.
SANDY — For most, Real Salt Lake's 3-2 win over D.C. United will be remembered as Nick Rimando's 200th career win — a tribute to a major milestone for arguably the greatest goalkeeper in Major League Soccer history, who owns league records in every major statistical category for 'keepers.
But it might also be known for another player: the launch party of rookie forward Corey Baird.
"It's been an amazing run so far. I can't say this is what I expected; I didn't know what I was expecting, coming into the team," Baird said after the match Saturday. "I just wanted to work hard. Given my opportunities right now, I just want to work as hard as possible, do what Mike wants me to do, and help the team."
Baird signed with Real Salt Lake during the offseason, becoming the club's 15th homegrown signing in team history after leading Stanford to three-straight national championships.
The Escondido, California, native was initially signed to see some playing time with RSL's first team, while playing the majority of his time with the second-division Real Monarchs and spending his off-hours roasting his friends in chat while playing the massively popular shooter video game Fortnite.
Take the L, @dcunited. pic.twitter.com/wldhC8zB7e

— Real Salt Lake (@RealSaltLake) May 13, 2018
And he has been doing a bit of the latter; he even replicated the game's popular "Take the L" emote after his strike.
"I've had some buddies tell me I had to do it, so it's good to get that off my chest," Baird said.
But Baird has also helped Real Salt Lake to its 4-5-1 record, and Saturday's win put the team back above the playoff line in the hyper-competitive Western Conference, where standings change weekly.
Baird's goal-scoring ability thrust him into the starting lineup as a necessity. By scoring the first goal in RSL's win Saturday, Baird became tied for the club lead with three goals in 2018 — as many as Joao Plata and Albert Rusnak, and one more than fellow starting forward Jefferson Savarino.
Unlike the other two players tied for the team lead in scoring, Baird's goals have all come from the run of play (Rusnak and Plata have converted one penalty kick each).
That's not a surprise, either, said midfielder Kyle Beckerman. Baird gives Real Salt Lake a different look than their other options at striker, he said, without taking anything away from fellow strikers Luis Silva, Alfredo Ortuno and rookie Ricky Lopez-Espin.
"It's a different look," Beckerman said. "Luis gives us great stuff, too, so it's great to have both of those guys on our team. We'll need both of them going forward."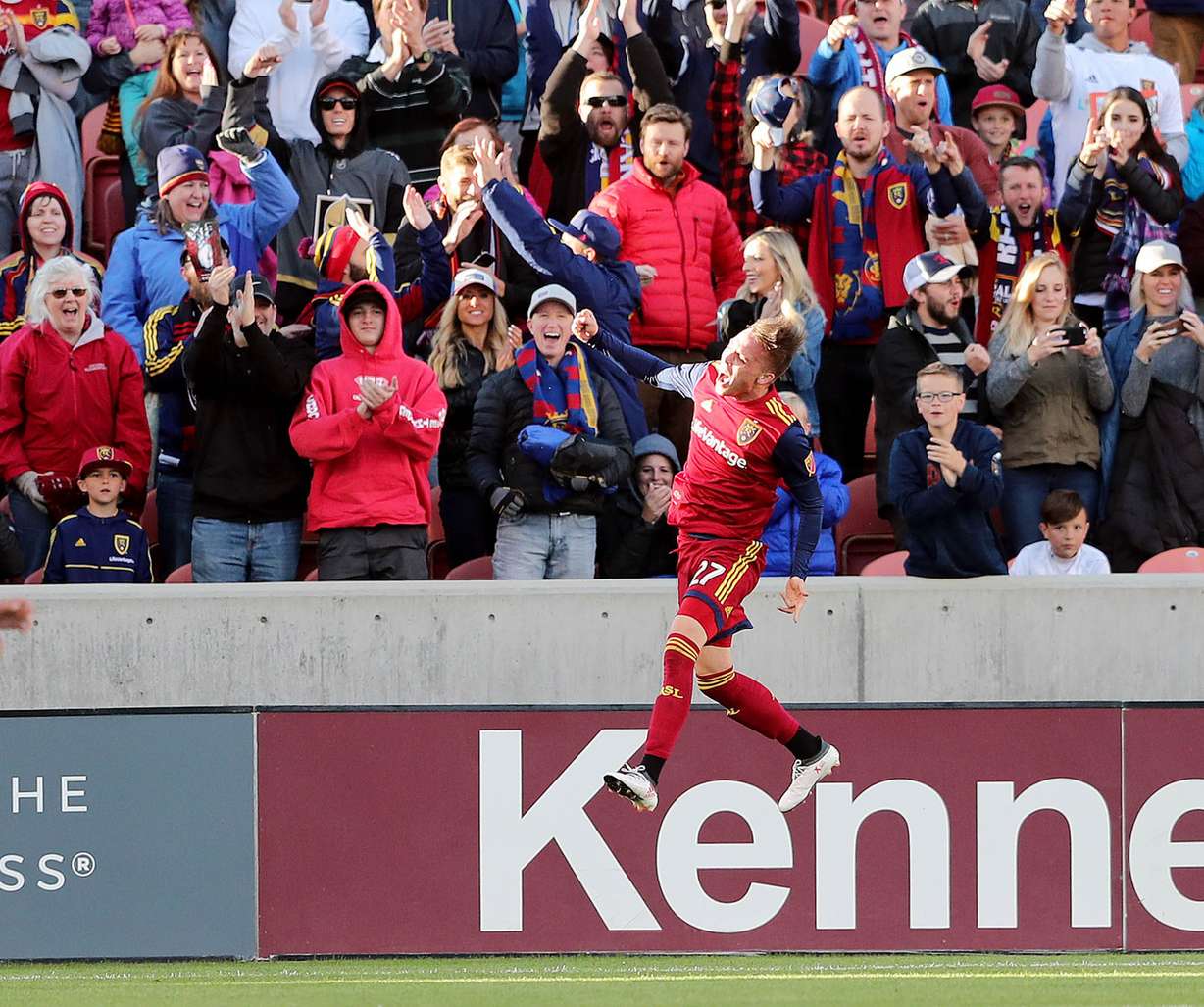 Those who followed his early career likely aren't surprised. A one-time U.S. U-20 and U-23 national team call-up in 2013 and 2015, Baird scored 16 goals with 28 assists in his four years at Stanford, a total of 77 appearances that include 69 starts.
His impressive resume speaks for itself. And teammates have noticed.
"He's a winner, and his whole college career he was a winner," said Beckerman, whom Baird described as a mentor through the preseason. "He's been huge for us now, scoring goals but also creating an opening defense. They have to respect his runs in behind. Once they respect his runs, they drop off and we can play a little underneath.
"He worked his butt off from preseason on, and when he's got his chance, he's really run with it."
Big No. 200
×
Photos
Related Stories