SALT LAKE CITY — With 15 spring football practices to use as evidence, the new BYU offensive coaching staff can draw closer to naming a starting quarterback.
Looking at the positive aspects of throwing, running and overall athletic ability, one quarterback appears to have a complete skill set. That player is Zach Wilson, only three months removed from high school.
Coming off an awful 4-9 season, which led to the dismissal of all but one coach on offense, third-year head coach Kalani Sitake presumably could be fighting to keep his job. Would first-year offensive coordinator Jeff Grimes have the guts to start a freshman at quarterback for the first game against Arizona in Tucson on Sept. 1?
"Absolutely. We'll start whoever the best player is," said Grimes, who pointed out he's started freshmen along the offensive line during his previous jobs as the line coach.
"Either a guy has it or he doesn't."
The coaching staff loves the all-around talent of Wilson, who had previously committed to Boise State before settling on BYU late in the recruiting process. But there is more to playing quarterback than raw ability.
Wilson, who prepped at Corner Canyon High in Draper, barely has any exposure to college football. The other three quarterbacks in the competition — Tanner Mangum, Beau Hoge and Joe Critchlow — each have started at least one Division I game.
In spring practice, Wilson "showed maturity beyond his years," Grimes said in an interview on 97.5-FM and 1280-AM The Zone. "However, maturity beyond a senior in high school doesn't necessarily warrant you getting on the field to play in Tucson on Sept. 1. He's got a ways to go in terms of maturity and just playing within the system, but he's got a lot of talent."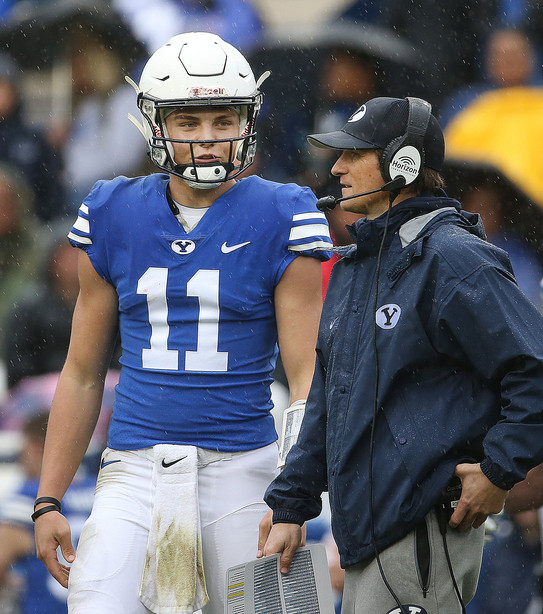 The good thing is, the other quarterbacks also have talent. Grimes views the quantity at the position as a strength, noting at some previous stops the team didn't have any quality quarterbacks capable of winning big games.
The problem is, none of the quarterbacks seized the position during spring practice, meaning the competition will extend into training camp in August.
"All those guys showed different skill sets," Grimes said. "The thing that at times made it a little frustrating, I guess for us as coaches, is one guy didn't necessarily step to the table. Certain guys had better showings on certain days than others. You've got guys with different skill sets that are in different situations."
During the radio interview one week after spring practice concluded, Grimes reviewed the other three quarterbacks, starting with Mangum. The most experienced starter, he is recuperating from an Achilles injury and did not participate in any contact drills during spring.
Mangum, who surprisingly struggled last season as a junior even before the injury, expects to be healthy enough to fully compete for the position during training camp.
"Tanner was limited but showed a real maturity and really good accuracy during the (drills) he had an opportunity to participate in," Grimes said. "I think he's in a good place moving forward and is ready to compete."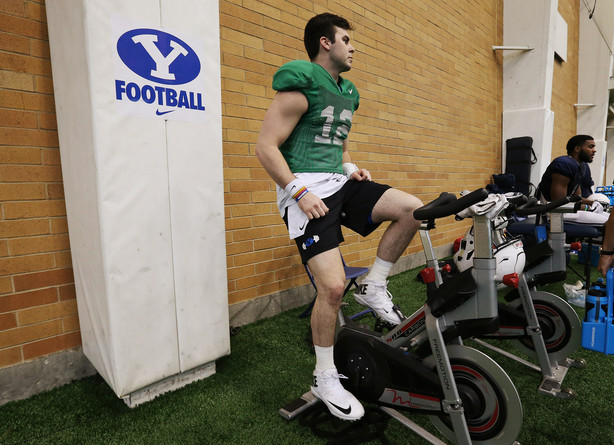 The No. 2 quarterback to start last season, Hoge flashed decent ability but also suffered a season-ending injury. A foot issue slowed him during the spring.
"I'm not sure whether we always saw him at his best (in the spring)," Grimes said. "But there were some times that he made plays not only with his feet but also throwing the football."
Barely removed from a church mission, Critchlow was forced into action as a freshman last season. For what it's worth, he took the first snap during the spring game.
"Joe has a fire and competitiveness to him that you kind of feel when he walks in the huddle, and that means something to me," Grimes said.
Along with the coaching staff risking job security by starting a freshman quarterback, BYU's front-loaded schedule is another problem. Rather than beginning the season against lesser competition, the Cougars play Arizona, Cal, Wisconsin and Washington in the first month.
Eventually, Wilson will become BYU's starting quarterback. The only mystery is when it will happen.
---
×
Photos
Related Stories