This archived news story is available only for your personal, non-commercial use. Information in the story may be outdated or superseded by additional information. Reading or replaying the story in its archived form does not constitute a republication of the story.
SALT LAKE CITY — This year the Utah Clean Air Partnership GREENbike station at Pioneer Park will eclipse 30,000 checkouts and returns, making it easier to get around Salt Lake City without driving.
The GREENbike program provides clean, alternative transportation to thousands of apartment dwellers, business owners and patrons as well as downtown event attendees.
"Community partnerships are essential when working toward any important goal. And it doesn't get more important than our air quality," said GREENbike Executive Director Ben Bolte. "I'm so incredibly grateful for UCAIR's continued support. The work they do is invaluable and they should be commended for their efforts."
UCAIR made a donation of $10,000 to the program on Tuesday during a press conference.
In the last five years, officials say the GREENbike program has offset more than 2.7 million pounds of carbon dioxide and other pollutants from entering the air, and avoided 3 million vehicle miles of impact to local roads. At the same time, riders burned an estimated 49 million calories.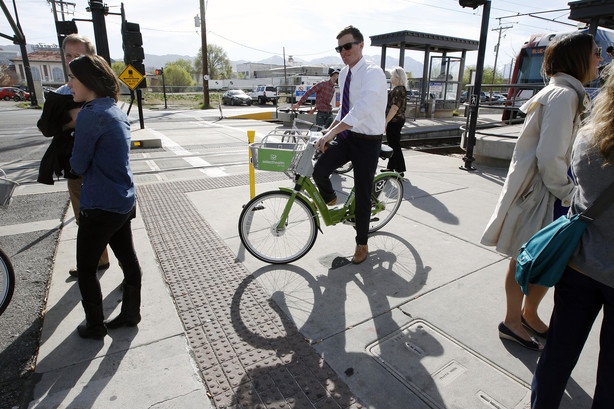 Thom Carter, executive director of UCAIR, said there are no perfect answers to cleaning the air, but there are some practical solutions that will help.
"What we love about GREENbikes is that it provides a practical solution for the people of Salt Lake City by giving them the ability to keep their cars off (the road) and reducing their personal emissions."
Bolte says it costs about $800,000 a year to operate the program system's 33 stations, 650 docking points and 350 bikes.
About 30 percent to 40 percent of the operating expenses derive from ridership revenue. UCAIR and other partners and station sponsors contribute about 15 percent to 20 percent of the money to cover expenses while sponsorship from SelectHealth covers the remaining amount, according to Bolte.
×
Photos
Related Stories