AMERICAN FORK — Aging often means slowing down, but not for one group of seniors. In fact, this group is doing the exact opposite.
Every Wednesday morning, senior aerobics instructor Shauna Golightly can count on about 50 students to join her senior aerobics class at American Fork Fitness Center.
At the beginning of class, Golightly asked, "We need to find out who is the wisest in years here?" The students started to yell, "Jim! Jim!" Sure enough, Jim Larsen is the oldest student in Golightly's class at 87 years old.
Larsen said the class keeps him young.
"It's helping me so I don't look so old and beat up as I look like I am," he said. "I'm trying to get my young age back. I got the old age. Now I need the young age."
The class works out to prechoreographed routines to keep their heart rate up and to strengthen their muscles. Golightly said her students also exercise their memory by trying to remember the routines each week.
Golighty's companion teacher, Markae Funk, has been teaching the class for about 15 years. She said Larsen has improved significantly since he started the class. When Larsen walked in for the first time, Funk said one of his family members had to help him sit down.
Two weeks ago, Larsen told his teacher, "I'm not using my walker anymore and I'm not sitting any of this class." Funk said he pulled through and finished the entire class while standing.
Funk said when people age, they tend to get scared to move. But, she said it's important for seniors to stay active. She lives by the motto, "You either move it or you lose it."
Funk said the aerobics class helps Larsen's balance and keeps his memory sharp.
Larsen said his teachers know just what he needs.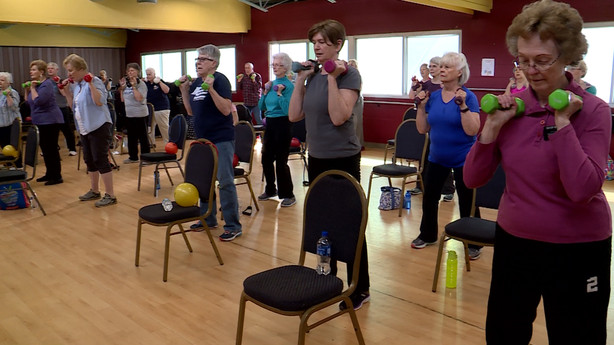 "Matter of fact, they'll come up and put their arm around me and say 'Now, this is what you're supposed to do!' and I'm fine with that," he said.
Golightly prepares her students for situations outside the classroom.
"They may need to get out of their car and their car is low to the ground. They need to know how to squat and stand up. Or, they may be in the grocery store, reach for something and catch their balance," she said.
"We often do balance exercises where we will stand on one foot and then we turn our head to each side while on one foot," Golightly said. "By coming here, they've just increased their lifespan."
---
I'm trying to get my young age back. I got the old age. Now I need the young age.
–Jim Larsen
---
Dr. Angel Lybbert, a geriatrician for the Intermountain Utah Valley Clinic, said exercise goes beyond physical benefits.
"We know that good brain health has to do with total body health also," she said. "It's never too late to start," Lybbert said, even at the age of 87. "You will see change and you will be really happy with that."
At the end of the class, Larsen enthusiastically yelled, "I'll come again next week!"
×
Photos
Related Stories