MIDVALE — Three men were arrested Sunday morning in connection with an alleged kidnapping and assault of a 30-year-old man who was able to escape by jumping out of a moving car and alert authorities over the weekend, police said.
Gilbert Garcia, 44, Jack Ables, 61, and Mitchell De Cora, 26, were each arrested and booked into Salt Lake County Jail on suspicion of aggravated kidnapping, aggravated assault, aggravated robbery and theft.
Police first received a call from a man Saturday night, who told authorities a security camera he and his wife owned had been stolen and that he saw his neighbors take it, according to a jail report.
Police responded to the report, but the neighbors were not home. Shortly after, De Cora and Ables arrived at the home and were interviewed by police, but were not arrested, the report stated.
The man who called police went over to the neighbors' apartment to speak with the individuals but when he went inside, the door was closed behind him and Garcia held a knife to his throat, the jail report stated. It added that the knife caused superficial lacerations to the front of his throat.
The men then told the man to empty his pockets and they took his phone. The man also told police he heard the men discuss a gun and other threats involving a knife, the report stated.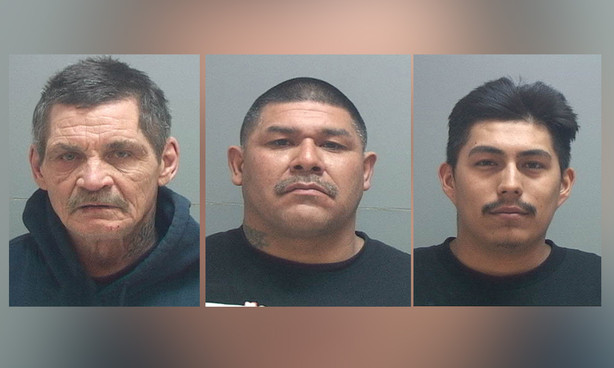 The man tried leaving the apartment at one point when Garcia left the apartment, but he told police that he was held back by the other two men. When Garcia returned, the man was forced into a rear seat of an orange Cadillac CTS, according to Unified Police Lt. Brian Lohrke.
The men then began driving and the kidnapping victim noticed a set of headlights from a vehicle behind him that appeared similar to the vehicle his wife owned. He then unlocked the back door and jumped out of the car and ran back toward his apartment, where he met up with his wife, who called authorities, the report stated.
The man suffered minor injuries during the escape, Lohrke said.
Police found the vehicle the man described at Wasatch Apartments in Midvale Sunday morning. Garcia, Ables and De Cora were taken into custody without incident, Lohrke said.
Court records show Garcia has a couple minor traffic tickets in Utah, while De Cora and Ables have no previous criminal history in Utah courts.
×
Photos