Estimated read time: 6-7 minutes
This archived news story is available only for your personal, non-commercial use. Information in the story may be outdated or superseded by additional information. Reading or replaying the story in its archived form does not constitute a republication of the story.
LAS VEGAS — BYU's Elijah Bryant was playing "like LeBron James" in the second half of the Cougars' West Coast Conference tournament opener Saturday, if you believe teammate Yoeli Childs.
But with the LeBron of Provo saddled on the bench with five fouls, Childs — who might play the role of Kevin Love in this scenario — and the rest of his teammates had to finish off the win.
Bryant poured in 27 points, including three 3-pointers, to help the third-seeded BYU men's basketball team shake off a slow start and hold off sixth-seeded San Diego 85-79 Saturday in the first game of the West Coast Conference tournament at Orleans Arena in Las Vegas.
Childs added 22 points and eight rebounds for the Cougars (23-9), and Dalton Nixon supplied seven points and six rebounds off the bench.
"That man was a beast out there, and I love watching him," Childs said of Bryant. "Sometimes I feel like a fan, just seeing the things he does. I swear today he looked like LeBron James, the way he was attacking and finishing at the rim.
"I'm so proud of my guy."
TJ Haws supplied 13 points and three assists for BYU, which shot 51.8 percent from the field despite going just 3 of 11 from 3-point range.
"Coach told us that we would have open shots, and open layups, and we just had to capitalize on those," said Bryant, who made 10-of-13 shots, including 3-of-4 from 3-point range, to go with four rebounds and two steals. "We did, and we were able to get that win."
Isaiah Pineiro had 21 points and eight rebounds to lead San Diego, which played under an interim head coach after Lamont Smith was arrested on suspicion of domestic violence a week ago in Oakland. Smith was released from police custody Wednesday, with an investigation into the charges still pending.
"From the moment we stepped forward into the past week, they've locked arms. It's amazing how God gives us greatest tribulations to his strongest warriors.
"It's been an emotional week … but we just love these guys," San Diego acting head coach Sam Scholl said. "At the end of the day, they (BYU) beat us. We weren't going to use last weekend as an excuse; if we lost, they would beat us. That's what happened."
Olin Carter III scored 20 points with four rebounds and three assists for USD (18-13), which got 13 points from Cameron Neubauer and 12 points from former Utah guard Isaiah Wright.
"I think as a team, the adversity that we had helped us to come together and share an even closer bond," Carter said. "Throughout all this, the relationships we made with our teammates is probably the greatest thing to take out of this.
"There's a group of guys in there, and we fought until the very end. That's all you can ask for."
BYU led by as much as 17 points in the second half, but Bryant fouled out with 2:06 remaining.
That's when BYU held San Diego without a make from the field during an 8-2 run that included 6-of-6 free throws to hold off the Toreros' final charge.
"We just had to step up," Childs said. "We came together, and knew if we guarded, we would win.
"Our mindset was just to lock in defensively."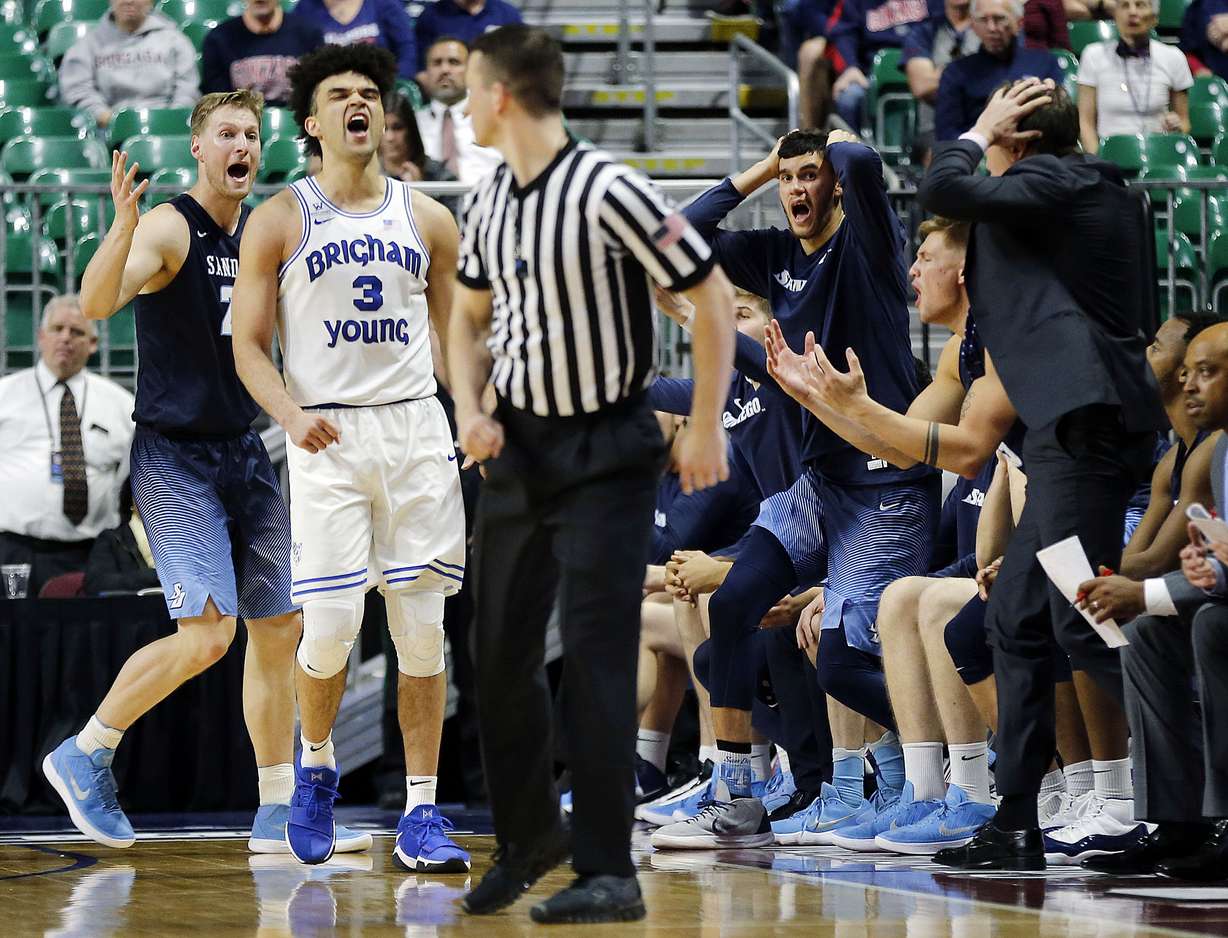 BYU missed its first seven 3-pointers, going without a make from beyond the arc until Bryant's triple with 15:12 remaining in the second half gave the Cougars a 52-43 lead. Meanwhile, BYU outscored the Toreros 38-18 in the paint and held on after San Diego tied the game on Carter's 3-pointer with 3:24 remaining.
San Diego hit its first three field goals from 3-point range, jumping out to an 11-8 advantage five minutes into the opening half.
The Cougars' struggles from deep continued, and the Toreros jumped out to an 18-10 lead on Wright's free throws with 12:56 left before halftime. Childs pulled the Cougars within one, 18-17 with his hook shot, and Bryant scored his sixth point of the 9-0 run from the free-throw line to give BYU its first lead of the game, 19-18 with 10:27 remaining.
"San Diego played with tremendous heart and tremendous grit, and it made for a really exciting opening game in the men's tournament (for BYU)," Rose said. "The beauty of the postseason is that there's a lot on the line, and guys don't quit. You saw it in both teams."
Nixon capped another 6-0 spurt to give the Cougars a 35-31 lead just 3:25 before halftime. The sophomore from Orem High had seven first-half points and three rebounds off the bench for BYU.
Both teams fought through five ties and 11 lead changes in the first half before BYU emerged with a 39-35 advantage. Childs added 10 points and five rebounds, and Bryant scored a game-high 12 points in just 12 minutes for the Cougars in the first half.
"I'm proud of our guys for how we hung in there after a tough run against us," BYU coach Dave Rose said. "I'm proud of our group, and how the bench came in and made some big plays to get a big win."
BYU scored 10 quick points, including a 6-0 run, out of the break to take a 49-40 lead on Haws' jumper with 16:29 remaining. The Cougars powered through a 17-3 run to take a 60-43 lead on Bryant's third 3-pointer of the game with 11:54 remaining.
More importantly, BYU held the Toreros without a field goal for four minutes during the run.
Carter scored nine during a 17-3 run for the Toreros to tie the game at 71-71 with just over three minutes remaining.
"You look up at the scoreboard, and you're down 17. But we were built for this," said Carter, who played after receiving tragic news that his grandmother died earlier in the week. "We handle adversity great, and we strive in adversity. We took it as a challenge to come out and play harder, to get the lead down. That's what we did — we just didn't have enough at the end."
The unlikely hero of BYU's win was Luke Worthington. The junior center finished with just four points, but went 2-of-2 from the free-throw line — a pair of crucial free throws after Bryant had fouled out that prevented the Toreros from taking the lead again.
"The last three weeks of practice, we end with our bigs making 50 free throws. At times, Luke is the last one finished," Rose said.
"But the last couple of weeks, he's been knocking those things in. It's repetition, it's confidence, and I think he knows how big free throws are for our team. As a leader of the group, I figured it would be really great if he made those."
×
Photos
Related stories
Most recent Sports stories