Estimated read time: 5-6 minutes
This archived news story is available only for your personal, non-commercial use. Information in the story may be outdated or superseded by additional information. Reading or replaying the story in its archived form does not constitute a republication of the story.
TAYLORSVILLE — Members of Bingham's girls basketball team average 5-foot-10.
But what Fremont gave up in size during Saturday's Class 6A state championship game at Salt Lake Community College, the Silver Wolves made up in Emma Calvert.
The freshman totaled 21 points and 10 rebounds with four blocked shots to lift Fremont to the inaugural 6A girls basketball championship with a 61-47 win over Bingham.
"This was our end goal, and I can't believe we got it," said Calvert, who was named All-Tournament MVP by the state's media. "I can't believe that we got it."
Calvert made 8 of 11 shots and added a 5-of-6 effort from the free-throw line as the Silver Wolves (23-2) went to her early, often and into the final moments of the game.
"I just tried my hardest to finish every time," Calvert said. "I know every basket counts, especially in these types of games."
On a young team with four freshmen who play significant minutes, Abbey Broadbent had 13 points and six rebounds — including four free throws to help ice the game in the final 90 seconds.
The senior guard swished a 3-pointer with 2:36 remaining to give the Silver Wolves a 54-47 lead, and the Miners never threatened again.
"The seniors have been so much of the heart and soul of this team," Fremont coach Lisa Dalebout said. "Even though they are a little bit limited in size and athleticism, they really care about each other.
"Everybody keys on Abbey and don't give her good looks from the outside, so for her to end on that was poetic and beautiful for her. She did a really good job mentally battling through some slumps, and staying with it."
On a team with so many freshmen and underclassmen — Calvert attends classes at the junior high that feeds into three-year Fremont — Broadbent took a profound leadership role, along with fellow co-captain Berkley Larsen.
"I will never forget this moment, ever," said Broadbent, one of six seniors. "Me and Berkley had to push this team, be good examples and let them look up to us.
"I even looked up to a lot of the younger girls … like Emma, every day at practice."
Haylee Doxey supplied eight points, seven rebounds, four steals and two blocks, and teammate Mazzie Melaney added six points for the Silver Wolves (23-2), who finished the regular season with a 12-0 mark in Region 1 and have not lost since Dec. 8.
"I'm speechless at this point," Dalebout said. "I'm amazed at how resilient they are. Thing happen, turnovers happened, but they stayed with it the entire tournament.
"Props to Bingham. They have great players and are going to be good for years."
Maggie McCord led Bingham (20-7) with 14 points, 10 rebounds and two assists and Shanyce Makuei added 11 points and three steals for a Miners squad that was making its first state championship game appearance since winning the title in 2007.
Calvert's bucket with three minutes left in the first half gave the Silver Wolves a 23-18 lead, the first multi-possession advantage of the game for either team as both teams struggled to pull away in the early game.
"She's amazing. Emma is already awesome, but by senior year, she's going to be outstanding," Broadbent said. "I can't wait to see what she accomplishes."
Fremont extended its lead as high as 27-20 on a pair of free throws by Calvert with 1:19 remaining in the first half. But Madison Jones drained a 3-pointer with 10 seconds on the clock to pull the Miners within four, 27-23 at the break.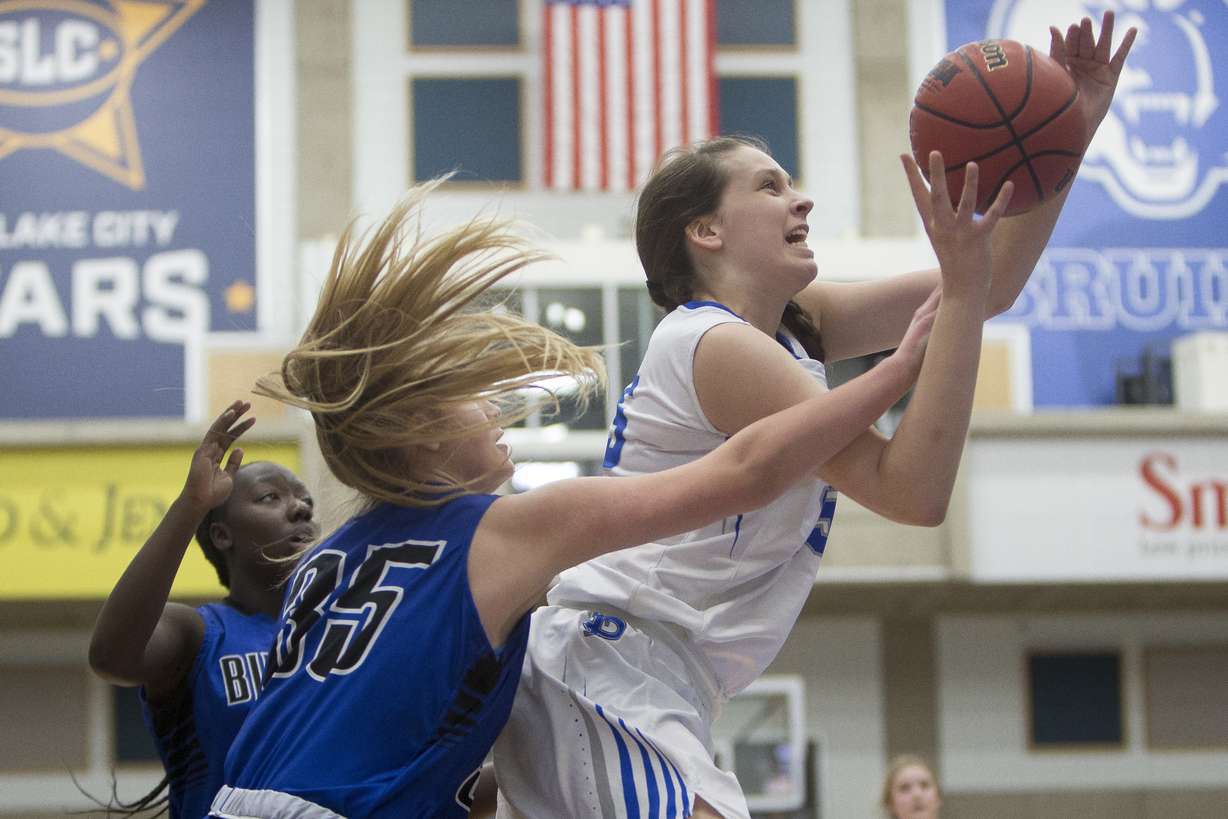 Makuei erased the Miners' deficit with a 3-point play, and Bingham opened the half on an 8-1 run to take a 31-28 lead with 5:21 remaining in the third quarter.
Fremont took the punch and responded.
"They had some really good adjustments, and we talked about the flashes they brought from the weak side and were really pounding it in the paint," said Dalebout, who won her second state title at Fremont and first since 2014. "When they do that, we needed to do a better job of not allowing the free cut through the paint.
"It wasn't surprising that Bingham came out and made a run at us. But I think the girls did a good job of handling the run when it happened. The nerves got to them a bit in the second half, but the deep three from a freshman — I love that kind of stuff."
Karlie Valdez, a senior who scored the game-winner on a buzzer-beater in the quarterfinals, scooped up a turnover and raced downcourt for the transition bucket — and one — to put the Silver Wolves back on top, 36-33 with 1:51 to go in the third. Fremont held Bingham to two field goals for the rest of the quarter, and Calvert drove inside on back-to-back possessions to pull the Plain City school ahead, 40-35 for the final period.
The freshman starter had seven points in the third quarter to help keep the Miners at bay.
"I guess we just came out hard," Calvert said. "We had nothing to lose; half of us are freshmen, and coming out hard was big.
"Our coach is so awesome, and I'm just so pumped."
Every time the Miners made a run in the final minutes, Fremont answered. If it wasn't Calvert, it was from deep. Broadbent's triple gave the Silver Wolves a 47-41 lead with 5:40 on the clock.
Of course the game couldn't end that easily.
Bingham went back inside, too, and Jaycee Lichtie's bank shot with 3:56 to go pulled the Miners within two, 49-47. But Fremont had one final run — until Broadbent's final trey, the last field goal of the game and final attempt of her high school career.
"We just worked so hard together, but we believed," Broadbent said. "I am so overwhelmed. We've worked so hard from day one until now, and this is unreal.
"I love my team. I'm so sad I have to leave them."
×
Photos
Related stories
Most recent Sports stories