Estimated read time: 2-3 minutes
This archived news story is available only for your personal, non-commercial use. Information in the story may be outdated or superseded by additional information. Reading or replaying the story in its archived form does not constitute a republication of the story.
SALT LAKE CITY — More than 67 percent of Utah students who took AP exams in 2017 earned college credit, which ranked fifth in the nation, according to data released Wednesday by the College Board.
Only New Hampshire, New Jersey, Connecticut and South Dakota had higher percentages of students passing AP exams, College Board data shows.
In Utah, 26,544 students took a total of 40,755 AP exams in 2017, with 67.5 percent earning college credit.
Among states with the highest percentage of public high school graduates scoring a 3 or higher on an AP exam, Utah ranked 12th at 25 percent. This was above the national average, which was 22.8 percent.
It also represents an increase from the previous year, when 24.3 percent scored 3 or higher, and a 4.2 percent increase over 2007 when 20.8 percent of test-takers scored 3 and above, according to the College Board.
State Superintendent of Public Instruction Sydnee Dickson, in a statement from the Utah State Board of Education, said students who earn college credit while still in high school are more likely to enroll in postsecondary education.
Moreover, they have smoother transitions to college and are more likely to achieve economic stability, she said.
"We are excited to see more students have access to advanced coursework like AP, concurrent enrollment and the International Baccalaureate Program. We appreciate the hard work our teachers and students have put in to succeed in these programs," Dickson said.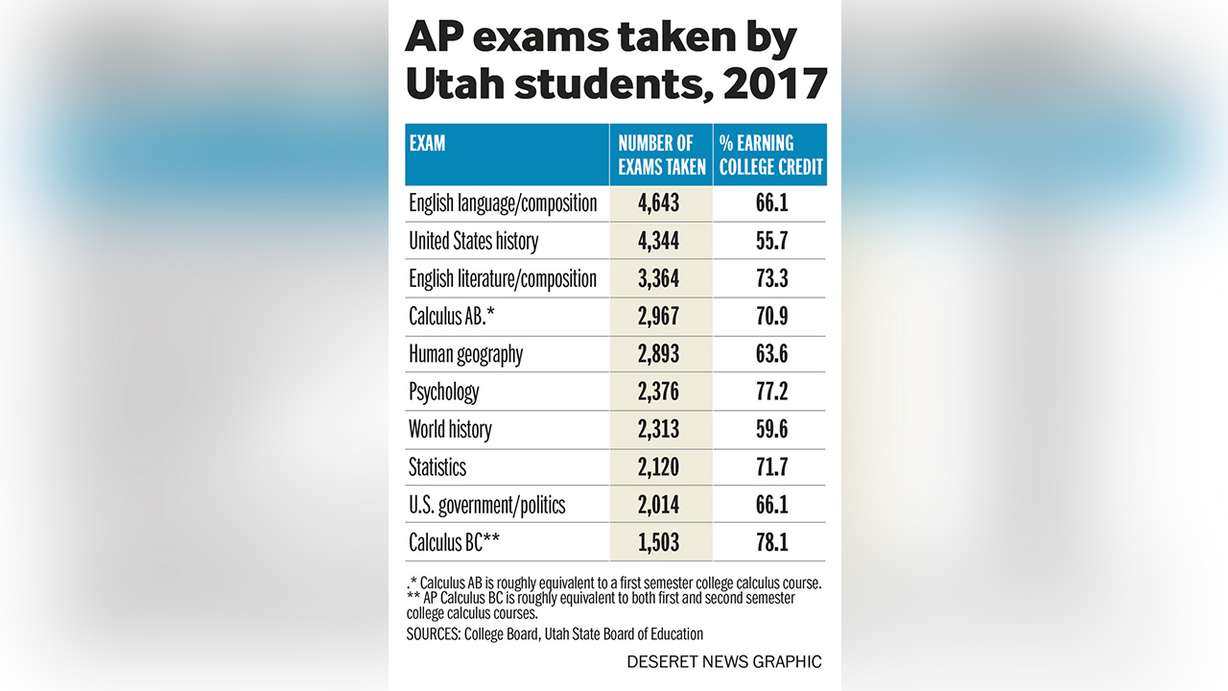 Over the past decade, the number of U.S. public high school graduates who have taken an AP exam increased by about 70 percent, according to newly released results.
Nationally, more than 1.17 million students in the class of 2017 took nearly 4 million AP exams in public high schools.
More than 711,500 students scored 3 or higher on at least one AP exam in 2017, compared to 423,067 in 2007, according to the College Board.
"The fact that student participation and performance are moving in tandem year after year is cause for celebration. In greater numbers than ever before, AP is clearing a path for students to own their own future," said David Coleman, president and CEO of the College Board, in a statement. Email: marjorie@deseretnews.com
×
Related stories
Most recent Utah stories