Estimated read time: 3-4 minutes
This archived news story is available only for your personal, non-commercial use. Information in the story may be outdated or superseded by additional information. Reading or replaying the story in its archived form does not constitute a republication of the story.
PROVO — Everything went right for the BYU women's basketball team Thursday night in a win over Pepperdine.
Saturday's afternoon tipoff against San Diego was the exact opposite.
Aubrey Ward-El had a game-high 16 points with two assists to lead San Diego, and BYU shot just 33 percent from the field en route to a 66-60 home loss at the Marriott Center.
"Tonight we did not play like we are capable of playing," BYU coach Jeff Judkins said. "It seemed like we were going uphill the whole game, even from the start and when we were ahead a little bit.
"We had opportunities to win this game, and just didn't make plays. There were a couple of plays we needed to make, but we didn't make it."
Maya Hood supplied 12 points, six rebounds and five steals, and Sydney Williams added 10 points and six rebounds for the Toreros, who improved to 15-12 and 8-8 in West Coast Conference play.
Cassie Broadhead Devashrayee had 15 points, four rebounds and eight assists to lead the Cougars, and Malia Nawahine and Brenna Chase added 10 points apiece for BYU (15-12, 10-6 WCC).
But the Cougars made just 22-of-66 field goals, including a paltry 6-of-22 from 3-point range, in falling to third place in the West Coast Conference with one week remaining in the regular season.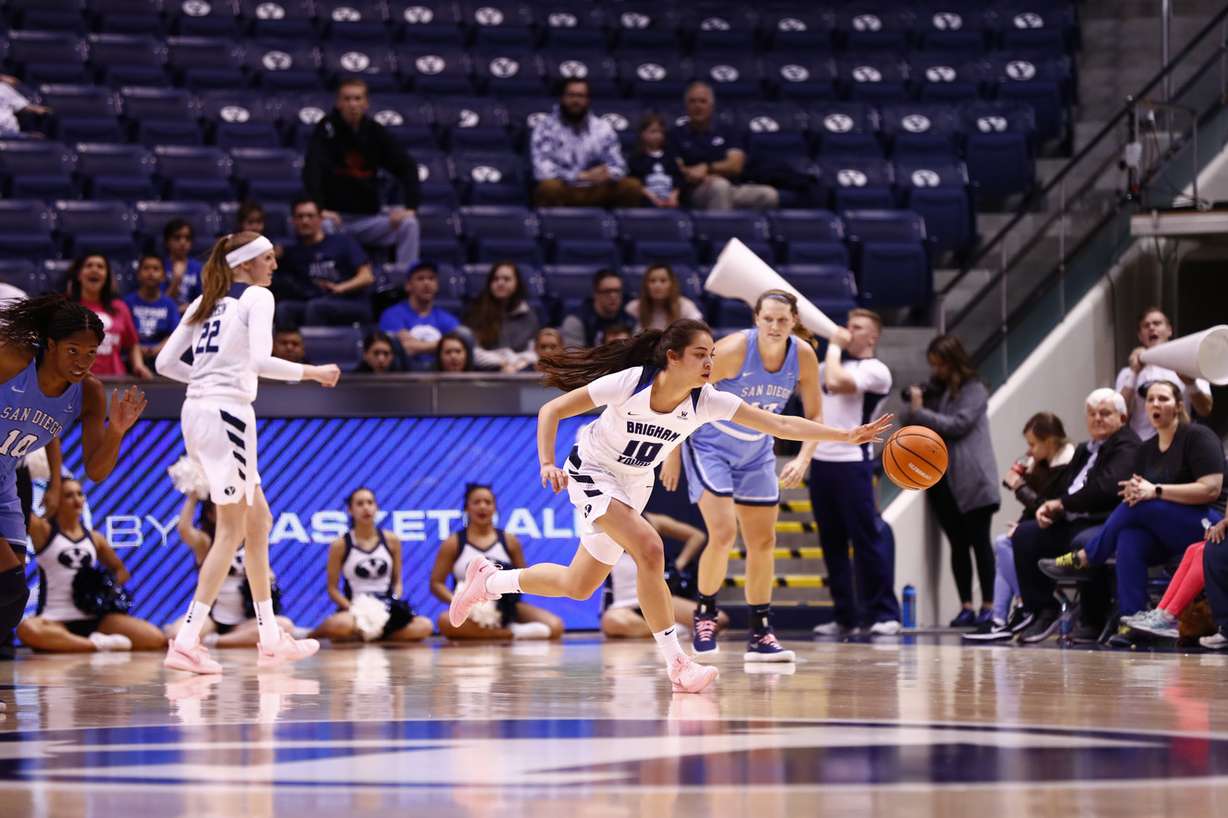 "We had a lot of open looks. They were might've rushed us on a few shots, but most were wide open.
"They hit threes early in the game to get us a little out of sync, but there's no question: if you make shots and make plays, it gives you momentum. We had many opportunities, down four or down three, or down one — and the last six minutes were like that."
San Diego used a 10-0 run in the first quarter, including back-to-back buckets by Ward-El, to jump out to a 15-12 lead early.
The Cougars trimmed the deficit within one multiple times, including on Nawahine's shifty cut to the rim with 4:24 left in the half to pull within 24-23. But the hosts could never regain the lead, and the Toreros pulled away for a 35-29 halftime advantage.
Sydney Shepard scored eight points on 3-of-3 shooting off the bench for the Toreros in the first half, including a 3-pointer for the final advantage with about a minute left before the break.
"They were on fire in the first half, and we weren't, and I think it really hurt us," Devashrayee said. "We weren't making shots that we normally make, and they had kids on their team step up and make shots.
"They killed us on the offensive rebounding, too."
Still, BYU had a chance to win in the end.
Chase made her first 3-pointer since the early stages of the first quarter with 1:21 remaining to pull the Cougars within one, 61-60.
Then, with one minute left and a one-point game, BYU's Sara Hamson swatted a ball on the edge of the perimeter. The 6-foot-6 freshman center cruised down the court in transition and dished the ball to Devashrayee, but BYU missed a pair of go-ahead field goals, including a potential gamewinner by Chase in the waning moments.
"That's a shot she normally makes, and it would've changed the game," Devashrayee said of Chase's 3-point attempt, which came from the same spot she had just drained a three. "But credit to (San Diego); they made shots and we didn't."
Hamson finished with six points, 13 rebounds and five blocks for BYU, which heads into the final week of the regular season with an eye on winning the West Coast Conference Tournament in Las Vegas.
"We need to go in and win the conference tournament," Judkins said. "That's our only way in (to the NCAA Tournament) now, for sure, and really it's the only way to salvage our season. The only way to feel good about things is to win that tournament."
×
Photos
Most recent Sports stories