This archived news story is available only for your personal, non-commercial use. Information in the story may be outdated or superseded by additional information. Reading or replaying the story in its archived form does not constitute a republication of the story.
SANDY — As Real Salt Lake turns the page on the first week of the 2018 preseason, head coach Mike Petke's first full preseason in charge has seen a few changes on the coaching staff.
No, there aren't new additions to announce, nor adjustments made.
Utah Royals coach Laura Harvey, Real Monarchs coach Mark Briggs and RSL Academy director Martin Vasquez have temporarily joined Petke's staff for the opening of Salt Lake's preseason at the academy complex in Herriman for a collaborative process to bring the three-team organization into one circle.
"I have a first-team staff, and that's the main role. But Laura, like Mark and Martin, has been assisting in whichever aspect I put them in on that day," Petke told reporters Monday morning. "In between sessions, we do a lot of collaborating. It's important to hear their voices. At that point, it's an open forum."
Petke worked with Briggs through the past season. Petke was originally the head coach of the Monarchs to start 2017. Vasquez, too, has been involved with Real Salt Lake in several capacities.
But Harvey's inclusion is new — mostly because the Royals are the newest team at Rio Tinto Stadium in Sandy, and the newest in the now nine-team National Women's Soccer League.
The two-time NWSL regular-season champion and coach of the year can carry more than her own weight among the coaches, though.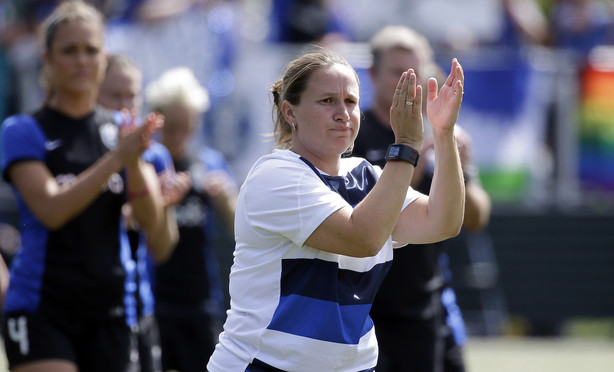 "She's a part of the family now, and I've enjoyed my conversations with her. I enjoy talking tactics with her," Petke said. "It's great to have them all under the umbrella. Laura is the new kid in town, she's been great, and we've enjoyed having her."
The coaching staffs will begin to go their separate ways, as RSL embarks on its next preseason leg in Tucson, Arizona, beginning Wednesday. The Monarchs open the preseason Feb. 5, and the Royals — whose season starts March 24 at Rio Tinto Stadium — open the preseason Feb. 19 in Herriman.
"There are only certain moments where you can fully integrate as a coaching staff, and I think Mike has done a great job," RSL and Royals general manager Craig Waibel said. "It takes a very specific personality to not be threatened, but also to be inclusive.
"I think right now is a pure representation of what we've tried to accomplish as this organization has grown: maintain a level of integration and inclusion that not only has our coaching staff on the same page, but players and fans."
Yura update
One face that has not appeared at training is that of Yura Movsisyan. One of four players on the roster who helped Real Salt Lake win the MLS Cup in 2009, Movsisyan has been mired in negotiations with his agent and the club regarding his next step.
The two sides may find an end to their relationship — and they may stay together. Nothing has been decided, Waibel said.
"We want to find the right situation for everyone here, and for everyone to feel good about it," Waibel added. "That could be him returning, that could be playing for someone else. But there are conversations, and we have had a lot of good ones.
"It's a healthy conversation, and it's a matter of when to get to the right point."
Movsisyan scored seven goals in 28 appearances for Real Salt Lake in 2017, returning to the club after an overseas spell in Russia and Denmark. A native of Southern California, Movsisyan is an Armenian international target forward who returned to Real Salt Lake as a designated player Jan. 15, 2016, and as re-acquired on loan nine months later.
In the most recent offseason, the club acquired former Spanish striker Alfredo Ortuno; homegrown product Corey Baird, who won three NCAA championships at Stanford; and Ricky Lopez-Espin, a 6-foot-2, 200-pound midfielder at Creighton who projects as a striker, via the MLS SuperDraft.
"We are working together with Yura and his agent to come up with the best situation for both Yura and the organization," Petke said.
Sunny update
RSL midfielder Stephen "Sunny" Sunday did not report to the opening day of preseason, which caused quite the stir within the organization and among fans.
But the issue seems to have been resolved; Petke said he and Sunny have had "two very good conversations" about his appearance, and he's now working with RSL director of physical performance Henry Ruggiero to regain his fitness levels to fit in with the team in preseason.
"It's not a punishment; we had a fitness test, and he was not here, so he did not pass the fitness test," Petke said.
Waibel added that Sunny's situation isn't a sign of internal conflict, either.
"There was some confusion," he said. "You work through these things as an organization, and very few times is it what it appears. It was a very simple solution."
In addition to recently re-signed club icon Kyle Beckerman, Sunny joins Luke Mulholland, Nick Besler and Monarchs midfielders Charlie Adams, Karsten Hanlin and Justin Portillo as a two-way midfielder during preseason camp.
×
Related Stories