This archived news story is available only for your personal, non-commercial use. Information in the story may be outdated or superseded by additional information. Reading or replaying the story in its archived form does not constitute a republication of the story.
SALT LAKE CITY — By the end of the first day at the Silicon Slopes Tech Summit, 130 companies had signed the ParityPledge — a promise to interview at least one qualified woman for every open position, vice president or above.
Former corporate executive Cathrin Stickney recently founded the Parity.org nonprofit to bring more equality to boards and business leadership in partnership with Silicon Slopes and other tech companies.
"Late last year, I heard from the World Economic Forum that it would take 133 years to reach gender parity at the very top. ... I thought, something has to be done quicker and faster," Stickney said.
Utah tech companies Qualtrics, Domo, Pluralsight and InsideSales shared their support for the initiative and took the pledge in September, followed by other local businesses. National companies, including Cisco, Ralph Lauren and Lyft, have also voiced their commitment.
At the start of the summit Thursday, 83 companies had committed to the pledge, half of them from Utah. By the end of the first day, that number had increased by nearly 50.
Almost a third of the presenters at the summit were women, including Code.org CEO Alice Steinglass, who advocated for more support for girls and women in STEM fields.
Middle school is often when girls begin to lose confidence and interest in computer science education, she said. Access to qualified teachers and programs is of key importance.
Both Steinglass and Pluralsight CEO, Aaron Skonnard, urged the audience to support efforts in encouraging K-12 computer science education in Utah.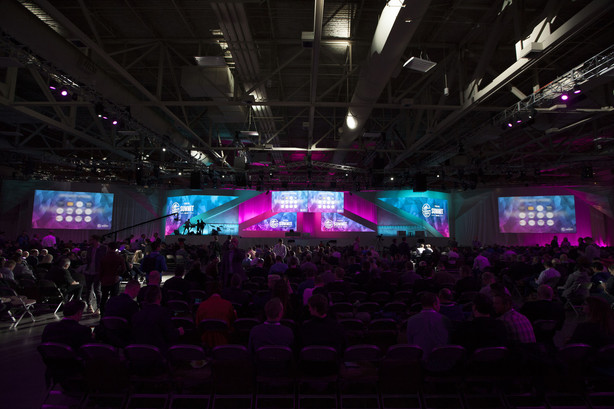 Former Google executives Kim Scott and Sukhinder Singh also acknowledged some of the difficulties for women to rise in leadership.
"They are the ones that not only have the big executive job but more responsibilities in the home," Stickney added, acknowledging the importance of negotiation and flexibility with corporations.
Both Scott and Singh encouraged women to negotiate with their employers, their partners at home and individually to balance work and home life. Singh had a position that required frequent international travel and negotiated with Google for her child and nanny to accompany her on those travels.
For companies willing to invest in women, there are definite payoffs, she said. Companies with women in the C suite are 15 percent more profitable, according to Stickney.
"Women are great at building relationships and communities," said Ashley Nelson, an acquisition manager for Entrata. "The more women you get at the top, the more you increase diversity in the workplace. Women bring a different touch."
But those at the summit know if change is going to happen, that change has to come from many areas.
"Increasing the number of women requires programming at every level from the boardroom to K-12 education," said Cyndi Tetro, President of the Women Tech Council. "As we have worked with tech companies on this problem over the last decade, we have seen that it requires organizations to have executive engagement, company programming, community investment and internal support. Companies who focus in those areas are seeing the greatest impact in their organizations."
The next Silicon Slopes Summit will be held January 17-18, 2019. To stay on top of updates, find more information here.
To learn more and sign the ParityPledge, details can be found here.
---
×
Photos
Related Stories