Estimated read time: 5-6 minutes
This archived news story is available only for your personal, non-commercial use. Information in the story may be outdated or superseded by additional information. Reading or replaying the story in its archived form does not constitute a republication of the story.
SALT LAKE CITY — Pinning down Bill Hadfield to ask questions about his business can be a bit of a challenge.
Since 1984, he's prided himself on good old-fashioned face-to-face communication. That means whatever he's doing comes to a halt when a customer walks in the door of The Lamp Company.
On this particular day, a discussion about his work comes to a halt when a couple strolls in, toting an aging lampshade. Hadfield spends several minutes measuring their shade and explaining their options.
"Our business is to do whatever's necessary so that Helen has the shade that she wants," he said, gesturing towards the woman who'd carried in her battered shade. "Otherwise you'd have bought one at Target, right?"
The couple wants a shade similar to the one they already have. Hadfield explains that the "mushroom pleat" fabric they brought with them isn't as popular as it once was, but still trots off to the basement to see if he has any in stock.
He emerges a few minutes later, triumphantly carrying a piece of the mushroom pleat in front of him.
"I think you are a lady that helps her neighbor," Hadfield said, speaking of her luck. "Does a little good in the world."
Hadfield's been doing this kind of work for decades. He speaks with a tone of disdain when it comes to the big box stores and online retailers he's found himself competing with.
"Go into Walmart and try and engage somebody in a conversation," he said. "'It's over there.' Pick it up, take it to the front, they'll scan the barcode, and you're out of here."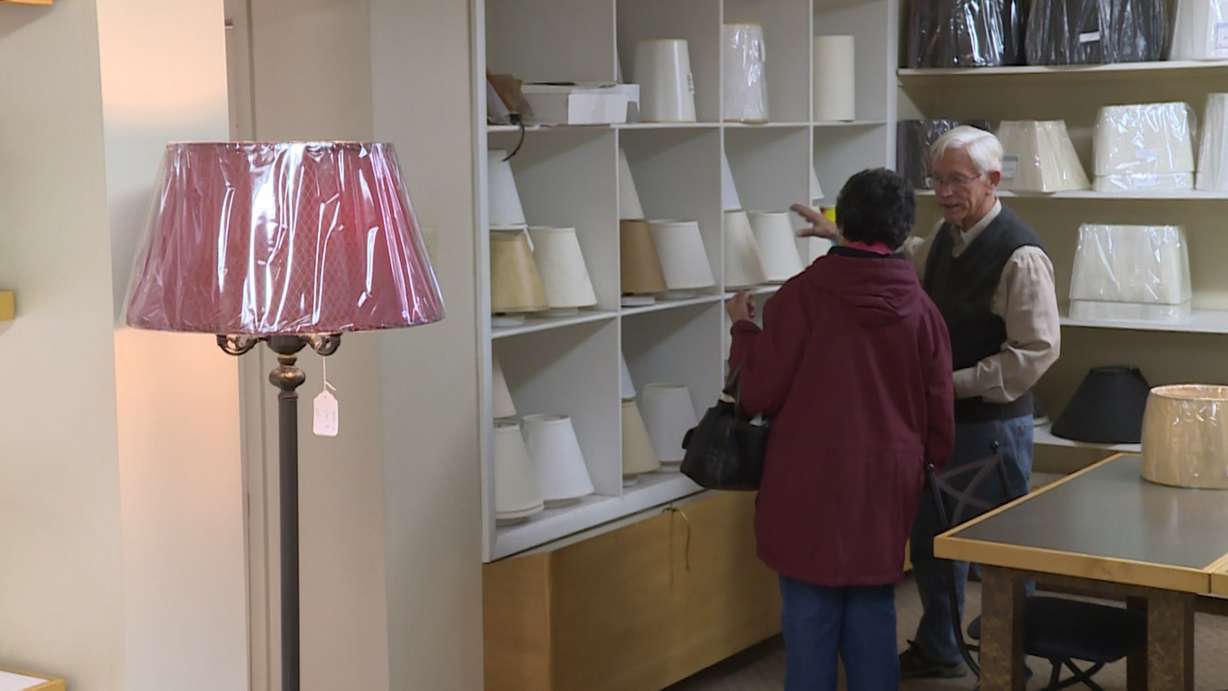 Originally a jeweler, Hadfield moved into his current building to help his dad's drapery business. Once his dad retired, Hadfield studied to become an interior designer — "I was a straight A student in interior design, but I wasn't a particularly good interior designer."
Since most lamp companies would only deal in large orders, Hadfield soon realized there was a market for individually customized lighting. While there's no doubt he enjoys the world of lamps, he's far more interested in keeping the idea of a small, customer-oriented business alive.
"I think it's kind of on the ropes, to tell you the truth," he said. "I don't know how much longer that you'll find simple, small service-oriented businesses."
But making small, customized orders is Hadfield's bread and butter. It's also the only way he would've been able to fulfill a request from his son — a request to create an item from the old holiday hit movie "A Christmas Story."
---
Yeah, it costs a little more to have human interaction, but it's a little more enjoyable.
–Bill Hadfield
---
"I said no," Hadfield said. "I said no, that's — I'm sure the movie's copyrighted. They'll swoop down, and they'll take the business and our home and everything else."
Of course, his son was talking about the infamous "leg lamp," a lamp shaped like a woman's leg, which was enshrined in the front window of the family home in the film. Hadfield says his son wouldn't let it go.
"So in my wisdom, I said 'OK, you find a leg, I'll make a leg lamp," Hadfield said. "He went to DI and found a full mannequin. Came back and got the hand saw out, cut the leg off and we made a leg lamp."
Mimicking the movie, Hadfield stuck the lamp in the front window of the business.
"A couple of weeks later, a lady walks in and said 'How much for the leg lamp?'" Hadfield said. "I said, 'Oh, it's not for sale. It's just a gag.' She said 'Mister, everything's for sale. How much for the leg lamp?' So I made it too expensive, and she said 'Fine.'"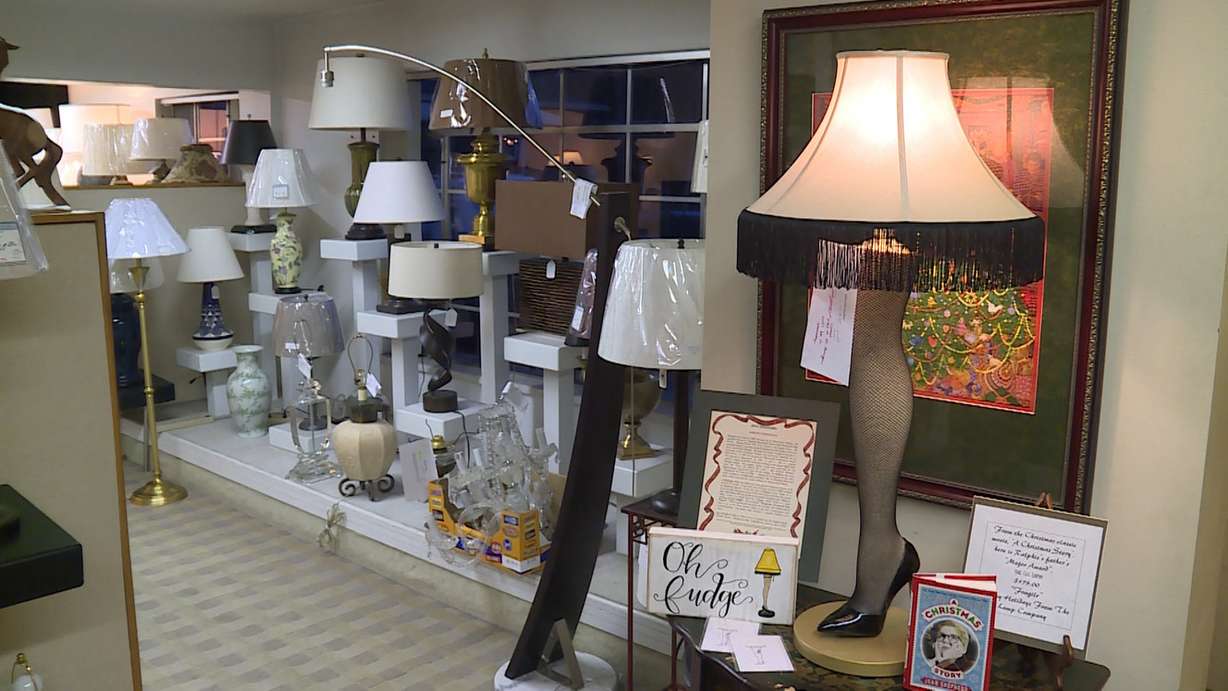 Hadfield delivered that lamp to the woman, who placed it in her front window as well. By the time he returned, his son had cut the other leg off the mannequin, and their latest creation was off and running.
Since 1990, Hadfield has sold hundreds of leg lamps to Utahns looking for their own "major awards" — without a single lawsuit to be seen.
"Apparently they don't care, because we're not the only people to make leg lamps," he said. "I guess in the end, it fosters interest in the movie. It's a win-win. We sell a leg lamp, they sell a copy of the movie."
But this will be the last Christmas you'll find Hadfield's leg lamps here.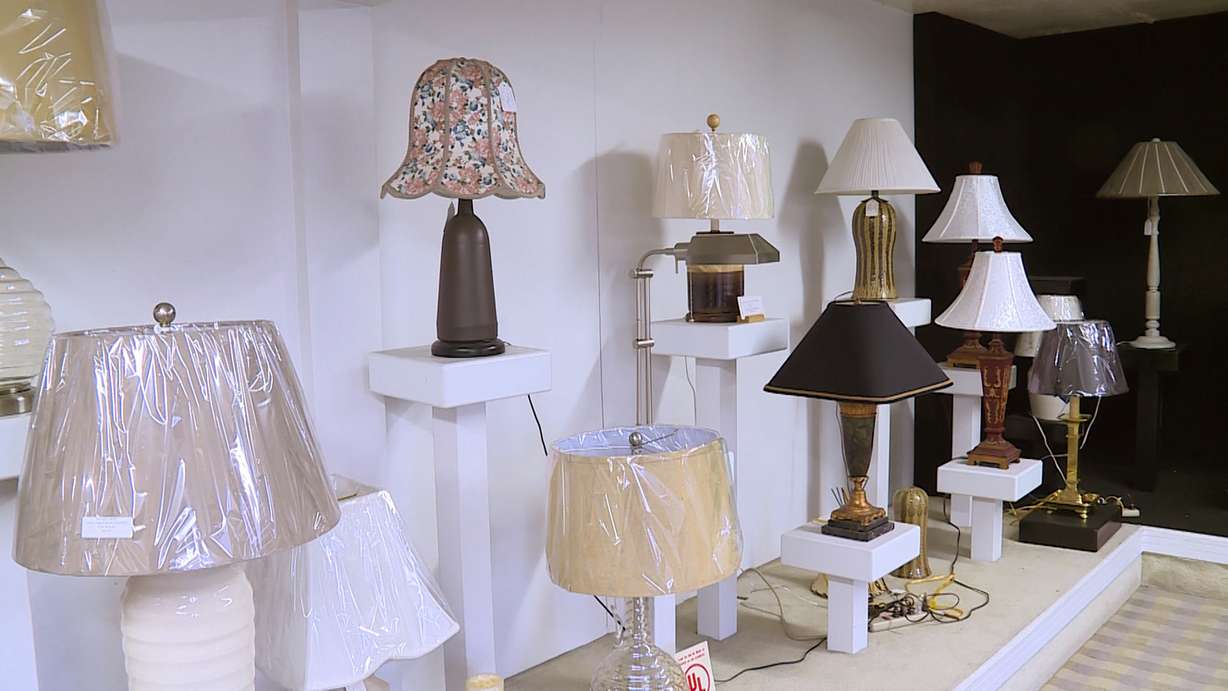 "We've sold this building," he said. "I'm 73 at this point. Do I need to work six days a week, which has been my pattern for years and years and years?"
But despite the pressures of Walmart and Amazon, Hadfield has no plans to lay down his lamp shades. He said he wanted to sell the building while the market was high, but figures he has another six to eight years of work left in him — he'll soon be packing up and moving to a warehouse space.
Of course, he won't be on the heavily-trafficked 700 East anymore, which means he may not have as many passers-by taking pictures of his leg lamp in the front window. But in the end, despite his delight at creating such a popular item that's brought so many smiles, what he really wants to be known for is making every customer feel special.
"Yeah, it costs a little more to have human interaction, but it's a little more enjoyable," he said.
×
Photos
Most recent Utah stories