Estimated read time: 3-4 minutes
This archived news story is available only for your personal, non-commercial use. Information in the story may be outdated or superseded by additional information. Reading or replaying the story in its archived form does not constitute a republication of the story.
TWIN FALLS, Idaho — Churches should share their concerns and safety plans with each other and with law enforcement, police said during an active shooter training Monday.
It was the second time the Twin Falls Police Department has met publicly with local religious organizations this fall after leaders posed questions following church shootings across the nation. With more than 100 places of worship throughout the Magic Valley, law enforcement hoped to help religious organizations learn to identify, respond to and mitigate threats of violence, the Times-News reported.
Almost every workplace in Twin Falls has had a workplace violence issue in the past 10 years, Police Capt. Matthew Hicks said. The best practice for churches, he said, is to establish a zero-tolerance policy toward violence and threats of violence toward or by members.
"There is no organization that is immune from this, whatsoever," Hicks said.
They should also have a system that trusts the instincts of members and empowers them to report suspicious or unusual behavior. One of Twin Falls' major employers has a policy that prohibits employees from calling 911, Staff Sgt. Brent Wright said. This could be a major liability.
Police also stressed that communicating with law enforcement and other churches could help them identify trends and address issues.
Several dozen people attended either of two training workshops on Monday, but police also planned to host more Place of Worship Safety Training sessions at 1 p.m. and 6 p.m. Thursday inside the College of Southern Idaho's Health Science and Human Services building.
Some churches are already developing safety plans and training for members. About half a dozen members of the Heritage Alliance Church planned to attend training Monday, said Jim Evans, the church's senior pastor.
Learning to intervene when something doesn't seem right is a little difficult, Evans said.
"When you're a faith-based organization, you're told not to be judgmental," he said. "But you have to make a judgement call."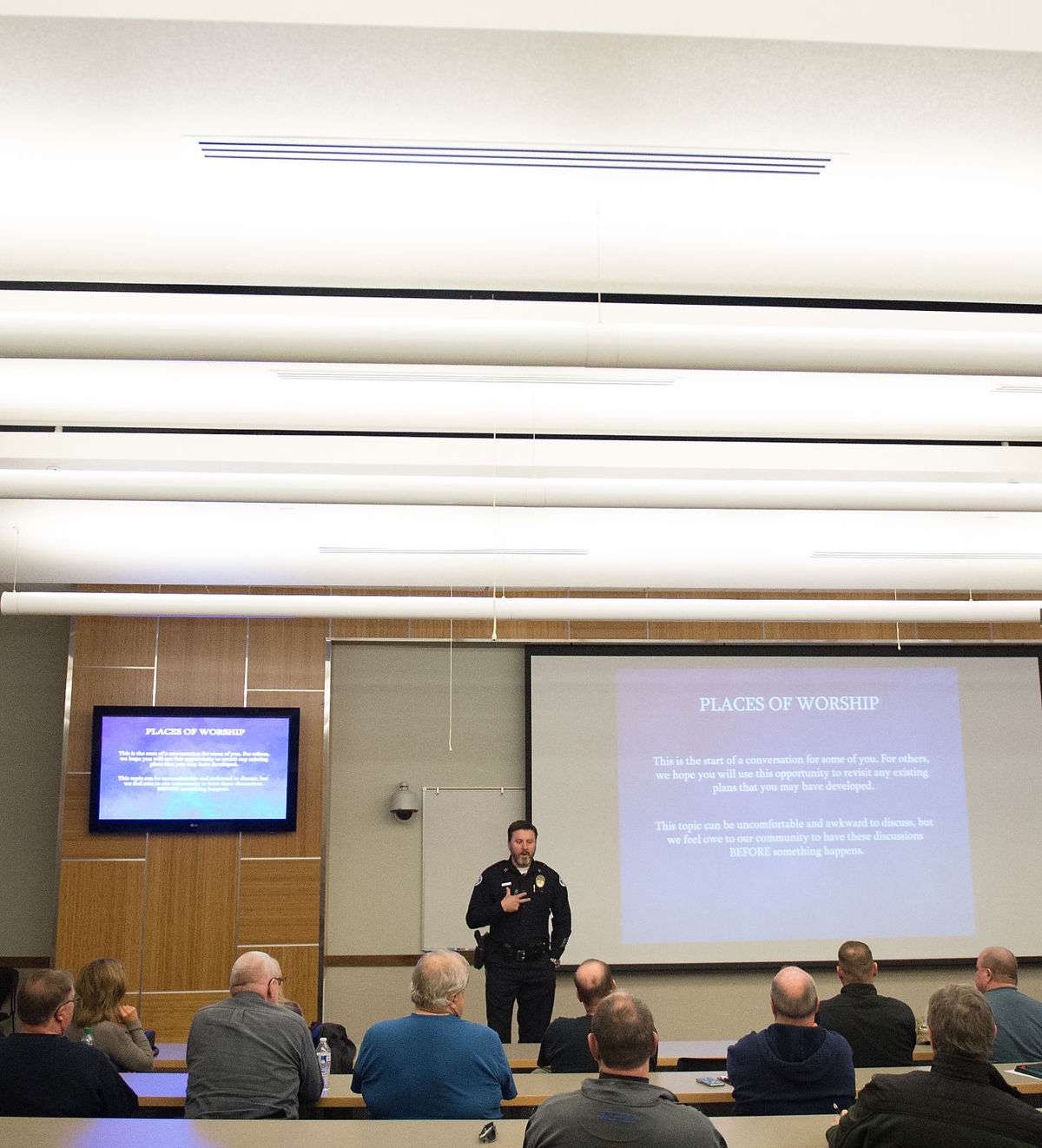 A couple of months ago, church members witnessed a man trying to break into a car, he said. The man was injured and disoriented, and they called police after one member approached him.
"I'm very glad they did," Evans said.
The man ended up getting medical help. Heritage Alliance Church has a safety program in place, but Evans said it's good to get more training and repeat the information to members.
The first part of the police training Monday focused on recognizing potential threats. Common pre-indicators of violence shared by the U.S. Department of Homeland Security include a person:
Expressing suicidal tendencies
Talking about previous violent incidents
Having an unsolicited focus on dangerous weaponsv
Having paranoid thinking
Overreacting to workplace changes
Feeling depression or withdrawal
Having unstable, emotional responses
Feeling arrogant and supreme or powerless
Showing intense anger or hostility
Increasing their use of alcohol or drugs
Violating company policies
Having increased absenteeism
Exploiting or blaming others
"Just because you display one or more of these behaviors doesn't mean you're going to become violent," Wright said.
Places of worship need to establish a baseline for normal behavior in their organizations, and use that to determine if there is a threat.
Churches can reach out to police with concerns using the email address wps@tfid.org.
"If there is an immediate issue, they need to call our dispatch and have our officers respond immediately," Officer J.P. O'Donnell said.
In the case of an active shooting, Wright recommended the "run, hide, fight" approach.
"If you can get out, that is the preferred response," he said. "Because you will survive if you're not there."
×
Most recent Idaho stories