Estimated read time: 5-6 minutes
This archived news story is available only for your personal, non-commercial use. Information in the story may be outdated or superseded by additional information. Reading or replaying the story in its archived form does not constitute a republication of the story.
PROVO — With all the talk of punches, win streaks and hiatuses, the actual basketball game between the state of Utah's two premier programs (with apologies to Utah State, UVU or Weber State) finally got back to hoops Saturday night.
Sure, there were the hard hats, the reflector tape and the chants of "that's not safe" and "safety first" directed from the BYU student section, referencing a statement produced by Utah coach Larry Krystkowiak (or his sports information director, as he quipped during the week) after the Utes bought out the last game in Provo following Nick Emery's heated on-court exchange with Krystkowiak and former Utah guard Brandon Taylor two years ago.
But the veteran Ute coach from Montana even played his part well during Saturday night's 77-65 loss at the Marriott Center. When students heckled him for his comments and actions two years prior nearly two hours before tipoff, he didn't raise a glance or a fist or even flash "the U" at his team's traveling supporters, most of whom were confined to the northwest corner of the building.
The most reaction he gave the college students was a sly grin.
The rivalry is back and — for once — cooler heads have prevailed. BYU improved to 130-128 all-time in the men's basketball series, but Utah's back-to-back-to-back wins (combined with a seven-game win streak in the football series) had called for many fans on The Hill to ask for a lengthier hiatus on further games against BYU.
In the end, Saturday night presented a great opportunity for a really good college basketball game between two good teams — without the rest of the distractions.
"I thought it was a great college basketball game, and both teams played well," BYU coach Dave Rose said. "I think we are two good basketball teams and it came down to a few players here and there."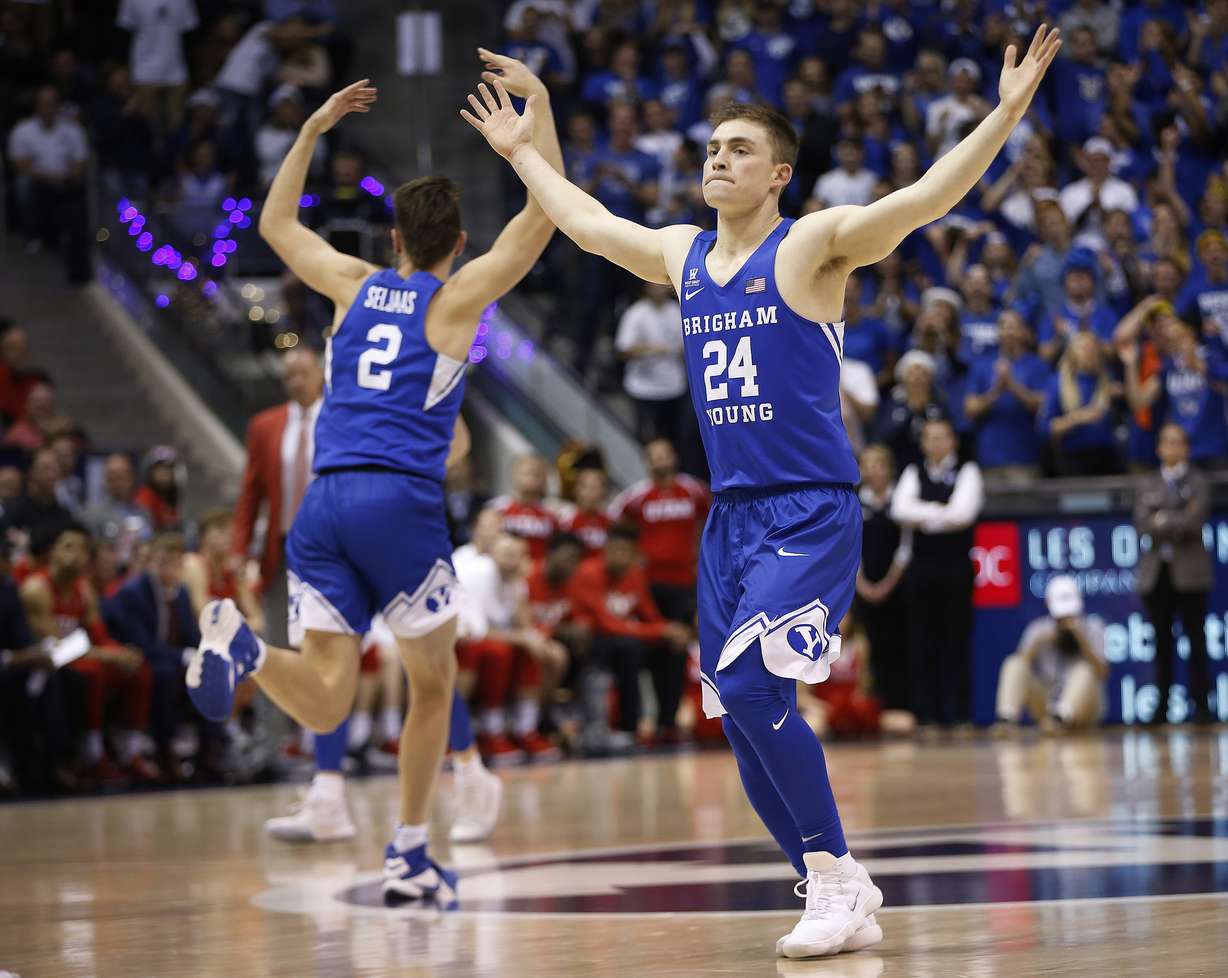 Krystkowiak was even complimentary of the BYU students who packed the Marriott Center, signs, hard hats and all among the 16,272.
"Look around. This is what it's all about," he told reporters after the game. "It's a cool setting. You've got to be good to win in a place like this."
There were no on-court altercations, no mean-spirited or hateful comments directed towards one another in the stands, and no "extra-curricular" comments directed from one side to the other. The snidest comment from the hosts toward the visiting team came in the final minute of the game when BYU fans told the Utes to "drive home safely."
On the court, sportsmanship was on display, as well. When TJ Haws fell to the floor after a 3-point attempt in front of the Utah bench, three Utes jumped up to help him to his feet — with no sense of malice or irony. Krystkowiak received a smattering of boos from the crowd when the team was introduced, but taunts and jeers were clean in nature and stuck to his presumed role in the one-year hiatus.
Utah players weren't mocked by the BYU fans, either; during pregame introductions, students held up newspapers, feigning indifference, rather than boo or taunt David Collette or Sedrick Barefield out of their team huddle.
It was just a clean, spirited, emotional rivalry game — what the series' 269th all-time meeting has proven to be more often than not. BYU rose to No. 65 in the KenPom rankings, a critical number as the Cougars try to put together a resume to be included in the NCAA Tournament's field of 68.
Utah moves on to a final non-conference date against Northwestern State before opening Pac 12 play with plenty to prove and even more gains that can be shown in a conference loaded with UCLA, Southern California and a resurgent Arizona State that has proven to be one of the top teams in the nation.
Those "few plays" to which Rose referred were about basketball, specifically, the 3-point line, where the Utes were just 5-of-22 and BYU was 10-of-20, including an efficient 5-of-7 performance from Cougar star Elijah Bryant.
Bryant, a native of Gwinnett, Georgia, who started his collegiate career at Elon in North Carolina, tried to gloss over his own feelings for the rivalry game that was once called the "Holy War" but has always been known as "BYU-Utah."
"For me, I'm not from Utah, so I don't feel the big rivalry," Bryant said with a smile. "I just approach it like every other game and try to stay calm. But I know Payton has been ready since he was three. It was a big one for him, and a lot of the guys from in-state were emotional."
Even the one-year hiatus may have proven in BYU's favor. Only two players on BYU's squad had faced the Utes, with both Zac Seljaas and Luke Worthington coming on as reserves in both instances. Utah's David Collette was the only Ute who had faced the Cougars prior — before his transfer from Utah State, no less.
"I think it was an advantage for us because we played at home. It reminded me a bit of the Utah State game," said Rose, whose team improved to 4-0 against in-state competition since a trip to Orem to open December. "I was really happy when we got to 10-up in the game because it was the same thing. None of our guys had played up there."
Both teams played shorthanded, though Utah's loss of Donnie Tillman may have far-ranging consequences. Krystkowiak was non-committal about the chance of his budding freshman star (and top-3 scorer and rebounder) returning soon from a foot sprain, but also said the difference in the game wasn't an absence — it was turnovers.
BYU, on the other hand, was playing its second-straight game without Dalton Nixon, the Cougars' sixth man and stretch-four off the bench who has provided a meaningful lift — that, in addition to missing forwards Ryan Andrus and Braiden Shaw, who have missed most or all of the season to date.
But those turnovers? Most of BYU's 13 turnovers forced against the Utes came as they settled into a 2-3 zone and tried to protect a 10-point lead through much of the second half.
"Our guards did a good job of dropping down and bothering the post guy on the dribble," Rose said. "The guys really executed well."
×
Photos
Related stories
Most recent Sports stories