Estimated read time: 5-6 minutes
This archived news story is available only for your personal, non-commercial use. Information in the story may be outdated or superseded by additional information. Reading or replaying the story in its archived form does not constitute a republication of the story.
SALT LAKE CITY — One player does not make a football team.
As important as a synchronized offensive line, a playmaking wide receiver, or an every-down running back can be, it takes 11 players, working in sync, to produce a good football team.
But there's a reason why a team's quarterback is always listed among the offensive leaders.
The 2017 Utah high school football season was no exception. Four of the seven honorees in the KSL Game Night Live postseason awards show are quarterbacks, led by record-shattering Player of the Year Cammon Cooper of Lehi.
The rise of offseason specialty clinics, 7-on-7 tournaments and special training given to signal callers fueled unprecedented results for the quarterback class of 2017.
"Most of them are going to camps in the offseason, and 7-on-7s, and that's helping them out a lot," said Cooper, who plans to sign with Washington State during the early signing period Dec. 20. "Teams are also passing a lot more, too.
"Improving in the offseason is really helping the quarterback play."
It wasn't just the record-setting Cooper, either. Fellow signal callers Zachary Wilson (Corner Canyon), Zachary Hoffman (Juan Diego) and Kael Atkinson (South Summit) were also honored with MVP seasons in 5A, 3A and 2A, respectively.
Cooper's stats speak for themselves: 4,762 yards as a senior, a single-season record in state history; 118 career touchdowns, another record; and no fewer than nine Utah High School Activities Association records.
Most importantly, Cooper led the Pioneers to their first state title since 2000, culminated by a 55-17 rout of crosstown rival Skyridge in the 5A championship game at Rice-Eccles Stadium.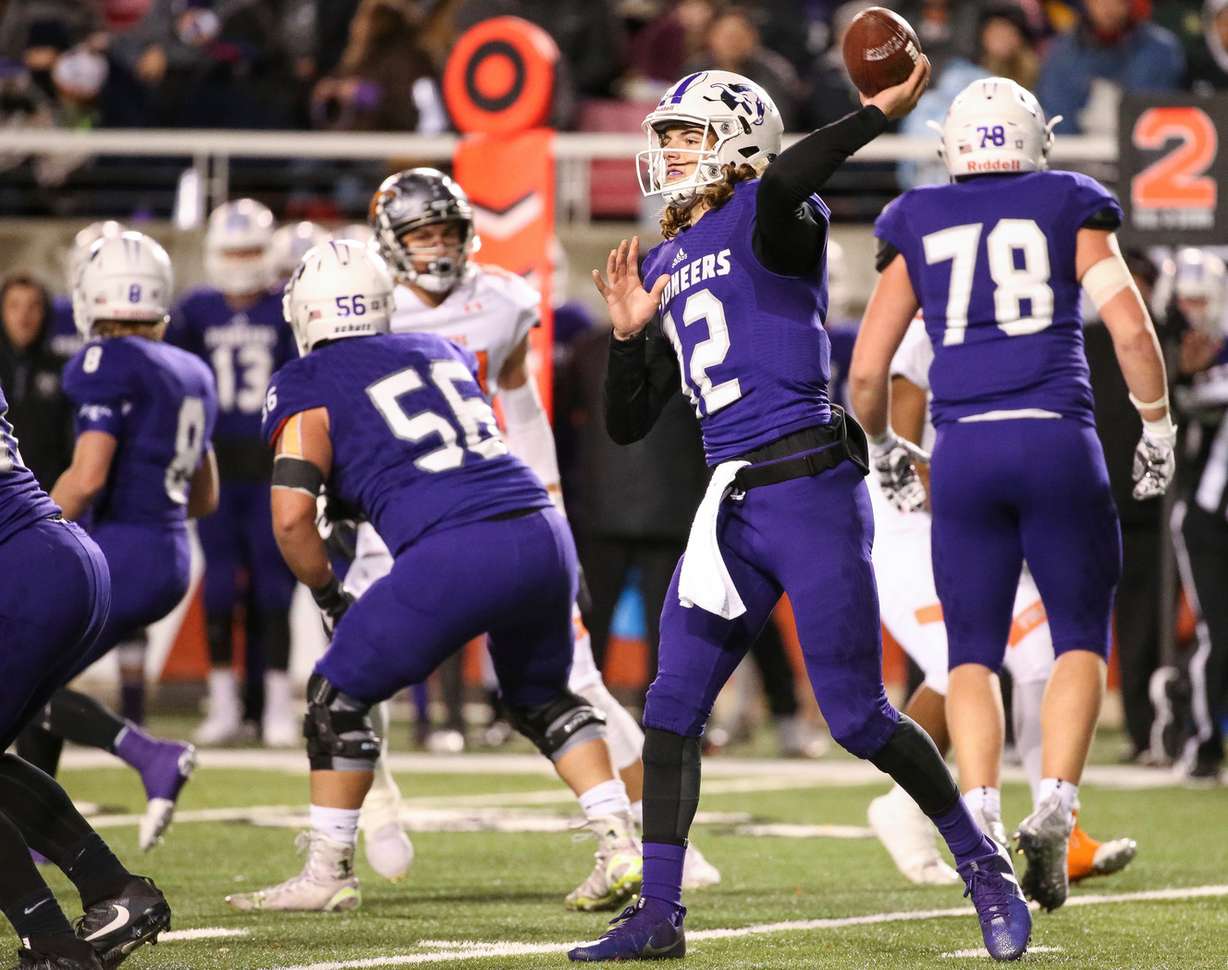 "The stats don't lie; he's the best quarterback in the state and even the whole U.S., in my opinion," said teammate Dallin Holker, who has committed to BYU. "He's awesome. He's amazing."
Teammates, camaraderie and community made for a memorable senior season for Cooper.
Finishing it off with a championship made it perfect, despite the two-loss final record.
"It really was. It would've been nice to get two other wins. But to finish off with a championship against a rival team was really special," Cooper told KSL Sports. "My senior class since Little League was special. They were my best friends, and it was really good."
The same community is also what 5A MVP Zach Wilson, who led Corner Canyon to an 11-1 season, will miss the most.
"I hope people know that we didn't have as many transfers as a lot of other schools, but we bought in as a team," said Wilson, a former Boise State commit who is choosing between the Broncos, BYU, Iowa, Colorado State and Cal, among others. "I hope they remember how good of a team we were.
"My brothers on the team were with me, helping me, and I hope to see their next stage in life, too."
6A MVP: Simote Pepa, DE, Bingham
The junior nose guard recorded 78 tackles, four quarterback hurries and three pass deflections in leading the undefeated Miners to the inaugural Class 6A state championship — their fourth title in five seasons.
At 6-foot-3 and 330 pounds, Pepa's college recruitment is just beginning. But what isn't beginning is his big-play ability in the Miners' most important games of the season: in the regular-season meeting with rival East, he totaled 12 tackles against the triple-option offense. In the second meeting — in the state championship, no less — he registered nine tackles in the win.
As a whole, Pepa anchored a Bingham defense that held to 10 points per game, on average, including 35 total points in the 6A playoffs en route to a 13-0 season.
5A MVP: Zachary Wilson, QB, Corner Canyon
Wilson completed 57 percent of his passes for 2,976 yards and 24 touchdowns, and ran for 719 yards and eight scores, in leading the Chargers to a spot in the 5A semifinals.
The 6-foot-3 dual-threat signal caller finished his prep career with 6,691 yards, 54 touchdowns and 19 interceptions in 32 games.
4A MVP: Puka Nacua, WR/DB, Orem
The Tigers' offense was a big part of winning its first state championship since 1994, and a lot can be traced to quarterback Cooper Legas.
But the elite playmaking ability of Nacua was a nice complement to have.
Nacua tied the state's single-season record with 24 touchdowns receptions and finished third all-time with 1,691 receiving yards. He had nine games of 100-plus receiving yards and scored in all 12 games he played in.
3A MVP: Zachary Hoffman, QB, Juan Diego
The Soaring Eagle's offensive resurgence has come at the quarterback spot, including last year's 3A MVP Ryan Baker, who now plays lacrosse at Bryant.
Hoffman is an appropriate standard bearer in the line.
A dual-threat quarterback, Hoffman rushed for 1,170 yards and 22 touchdowns, and also passed for 1,000 yards with eight scores en route to back-to-back championships for the Soaring Eagle.
2A MVP: Kael Atkinson, QB, South Summit
The Wildcats' pass-first spread offense has been lighting up scoreboards since Atkinson was in grade school.
But in the junior signal caller, South Summit found something special — the leader on an undefeated championship team.
Atkinson threw for 3,155 yards and 42 touchdowns, and added 541 yards and seven touchdowns on the ground, en route to the Wildcats' 13-0 record and its first state title since 2014.
1A MVP: Ty Netto, RB/DB, Milford
Longtime Milford coach Thane Marshall called Netto "probably the second-best quarterback in 1A."
To have him as a two-way standout tailback and safety was even better.
Netto ran for 1,002 yards and 17 touchdowns, and added 72 tackles and four interceptions at safety, in leading the Tigers (11-1) to their first state title in 24 seasons.
×
Photos
Most recent Sports stories