Estimated read time: 6-7 minutes
This archived news story is available only for your personal, non-commercial use. Information in the story may be outdated or superseded by additional information. Reading or replaying the story in its archived form does not constitute a republication of the story.
PROVO — It's official: BYU has a new offensive coordinator.
Former Cougar offensive line coach Jeff Grimes was announced Thursday morning as the program's next offensive coordinator, replacing Ty Detmer after going 13-13 in two seasons as offensive coordinator.
"Jeff has great leadership ability and outstanding experience mentoring young men at the highest levels of college football," BYU head coach Kalani Sitake said in a statement. "He has vast experience working with exceptional coaches and programs during his career, including here at BYU, and we welcome his return to Provo to oversee our offense."
The hire was first reported Wednesday by Football Scoop and the Baton Rouge Advocate.
A 1991 graduate of Texas-El Paso, Grimes has 25 years of coaching experience, including 10 years as an assistant head coach and run game coordinator. He has been the offensive line coach at Louisiana State since 2014 when he arrived after a one-year stay at Virginia Tech.
Grimes will coach at LSU through Jan. 1, splitting time between the Cougars and Tigers until after the Citrus Bowl against Notre Dame, according to LSU beat writer Ross Dellenger.
"I recognize that with this position comes a great deal of responsibility to all of Cougar Nation," Grimes said. "I not only welcome this but consider it a privilege. My family and I are looking forward to returning to Utah and are ripe with anticipation for many great Saturdays in the fall in LaVell Edwards Stadium."
The 49-year-old native of Garland, Texas, also coached at Colorado, Arizona State, Auburn, Boise State, Texas A&M, Rice and Hardin-Simmons during his well-traveled tenure. He was the offensive line coach for the Cougars from 2004-06 and was one of the few position coaches retained by newly promoted head coach Bronco Mendenhall when Gary Crowton resigned following the 2004 season.
The 2004 BYU team finished fourth in the nation in total offense, averaging 465.5 yards and 36.6 points per game en route to an 11-2 record, a Mountain West championship and the No. 15 ranking in the final Associated Press poll.
"I felt like he did such a good job of preparing the offensive line, and I know they all appreciated the way that he communicated," said former BYU quarterback John Beck, who played quarterback at BYU from 2003-06. "Sometimes poor communication can lead to misunderstanding, and Jeff made a big push to make sure everybody understood what their role was. When they have that understanding, then they can perform their best."
After the 2006 season, then-Colorado head coach Dan Hawkins lured Grimes away from Provo to become Colorado's offensive line coach, run game coordinator and assistant head coach.
Grimes also spent time at Auburn from 2009-12, leading the offensive line to the 2010 BCS championship under then-head coach Gene Chizik.
"I'm excited to see what Jeff is going to bring back to Provo as he comes back. He's a great man, and does a lot of things right," Beck told BYUtv.
During his time in Baton Rouge, Grimes helped lead a resurgence on the offensive line. The Tigers had two linemen drafted in the NFL from 2007-13, but doubled that mark in three drafts under Grimes, including center Ethan Pocic, who went in the second round of the 2016 NFL Draft to the Seattle Seahawks.
In all, Grimes' linemen have been tapped to all-Southeastern Conference teams seven times and helped pave the way for three-straight 1,000-yard rushers, including current Jacksonville Jaguars rookie Leonard Fournette.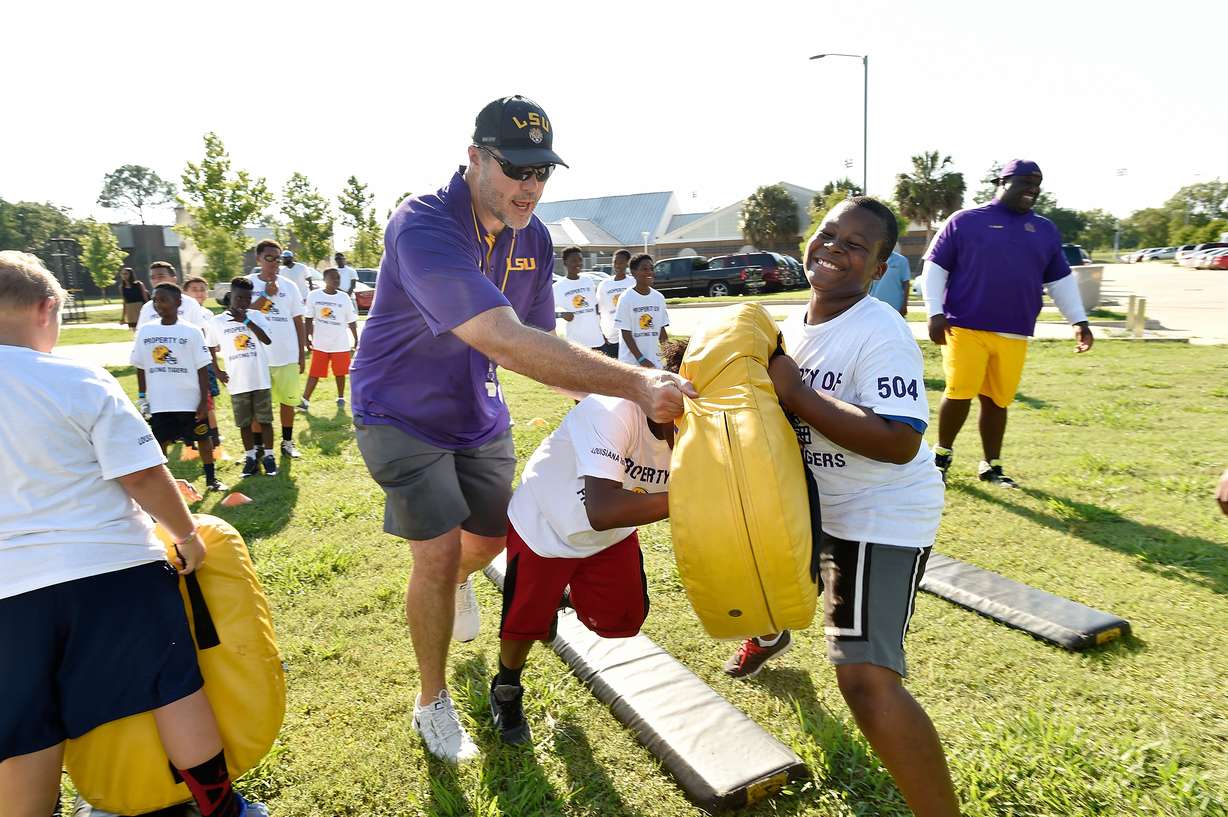 BYU will be Grimes' first role as an in-game play caller, though he has held various run-game coordinator titles in the past. The tenured assistant coach has reportedly held offers from multiple Group of Five-level schools as an offensive coordinator, but he's waited until 2018 to take a chance on BYU — just as the Cougars are taking a chance on him.
"He's not going to come in and say he's been calling plays for 20 years," Beck told KSL Sports. "The people he brought him in believe that he's capable, and now they will give him the opportunity that he's been waiting for."
In Baton Rouge, Grimes was also known as a master recruiter. His current crop of LSU commits includes three junior starters on the offensive line — center Will Clapp, guard Garrett Brumfield and tackle Toby Weathersby — have requested NFL Draft evaluation grades from the league's advisory committee. The current recruiting class, which opens an early signing period next Wednesday, includes four offensive linemen and the nation's No. 1-rated junior college tackle.
Grimes was in the final year of a contract that paid him $550,000 annually, according to the Advocate.
A four-time letter winner at UTEP from 1987-1990, Grimes was coached for two seasons by former BYU offensive lineman and current Kansas City Chiefs coach Andy Reid.
"Coach Grimes is a great hire for BYU," former BYU tight end Char Lewis said via Twitter late Wednesday night. "He has toughness, experience, respect and smarts."
Grimes and his wife Sheri are the parents of four children.
Detmer was dismissed as offensive coordinator two days after a 30-20 win at Hawai'i capped a 4-9 season, the Cougars' worst season in more than 50 years. BYU finished in the bottom of the Football Bowl Subdivision in most major offensive categories in 2017, ranking 119th in total offense.
The Cougars were 123rd nationally in scoring offense, 117th in passing efficiency, 104th in completion percentage, 91st in passing offense, 104th in rushing offense and 124th in turnovers lost with 27.
Not all of the team's offensive troubles can be pegged on Detmer, a former Heisman Trophy winner and arguably one of the school's most famous football player in program history. The Cougars lost starting tight end Moroni Laulu-Pututau to a foot injury during fall camp, starting quarterback Tanner Mangum played less than half the season at full health due to a foot injury that led to a season-ending Achilles' tendon injury, and by the time of the Hawai'i game, BYU was down to its fourth-string quarterback in walk-on Joe Critchlow and running back Austin Kafentzis, a converted quarterback who effectively started the season at No. 7 on the tailback depth chart.
Still, with production numbers like the ones the offense boasted, change was in the air.
"I know where we sit and I know how to get the fix and how to improve," Sitake said during the final week of the season. "That's the goal: to improve."
Grimes will make decisions on the offensive staff in the coming weeks. While Detmer was dismissed as offensive coordinator, he was retained under contract as the program's quarterbacks coach. Other members of the offensive staff include line coach Mike Empey, who worked with Grimes in 2004; wide receivers coach Ben Cahoon; running backs coach Reno Mahe; and tight ends coach Steve Clark.
Additional names that have been linked with BYU coaching positions include Weber State offensive coordinator Fesi Sitake, a close cousin of Kalani Sitake, and Snow College head coach Paul Peterson, who has experience as a quarterbacks coach and offensive coordinator at the Football Championship Subdivision level.
Contributing: Josh Furlong, Rod Zundel
×
Photos
Related stories
Most recent Sports stories