Estimated read time: 4-5 minutes
This archived news story is available only for your personal, non-commercial use. Information in the story may be outdated or superseded by additional information. Reading or replaying the story in its archived form does not constitute a republication of the story.
SANDY — Cindy Boyer is passionate about improving Utah's air quality. As an active member of the PTA at Altara Elementary in Sandy, she spearheaded idle-free awareness for Canyons School District.
"It all started with just my hate towards this air," Boyer said.
As a mother, she makes sure her four active boys know the health dangers of bad air. On unhealthy air days, the boys play inside, and wear masks to and from school.
"I don't like that that's their new norm, but I'm a mom, and I'm trying to protect them and keep them healthy," she said.
Boyer pays close attention to the Air Quality Index numbers. But with no air quality monitor close to her home, she's wished for more exact data for her own neighborhood.
"It changes within different areas. One is yellow, one is orange, so I'm like, 'We're a yellow-orange,'" Boyer laughed. "I wish we could actually get devices throughout our community so we can see what we're breathing in."
More targeted air quality measurements have been the goal of the new KSL Air Quality Network.
"We get asked all the time, 'What's the air quality in my neighborhood?'" said KSL Chief Meteorologist Kevin Eubank. "This gets it right down into the neighborhood, right down to the school, right to the parents, the teachers, the kids."
The network of sensors will help fill in the air quality measurement gaps.
Scientists at local universities and the Department of Environmental Quality have been monitoring Utah's air quality for decades. To meet federal standards, the department monitors cost tens of thousands of dollars.
"That equipment is pretty expensive to be able to deploy," said John Horel, a professor at the University of Utah Department of Atmospheric Sciences. "So we can't monitor everything around the Salt Lake Valley."
Also missing in the measurements: How air quality changes at different elevations.
"We want to be able to fill in those gaps to be able to see the difference between a low valley elevation and a mid-valley elevation and a bench elevation and a mountain elevation," Eubank said. "Without the sensors, we don't really know what the air quality looks like. If we're not identifying what the bad air is and where it is, we don't know the health impacts. This gives researchers the tools to be able to do that."
Some enterprising students at the University of Utah came up with a solution: small, relatively inexpensive sensors that can be installed at schools and businesses.
"This is an awesome grass-roots effort that was literally formed right here in Utah," Eubank said.
The sensors can be purchased through a company called Purple Air. While not as sophisticated as the regulatory equipment, "the basic technology is the pretty much the same," Horel said. "It can give us a lot of information that we haven't had before."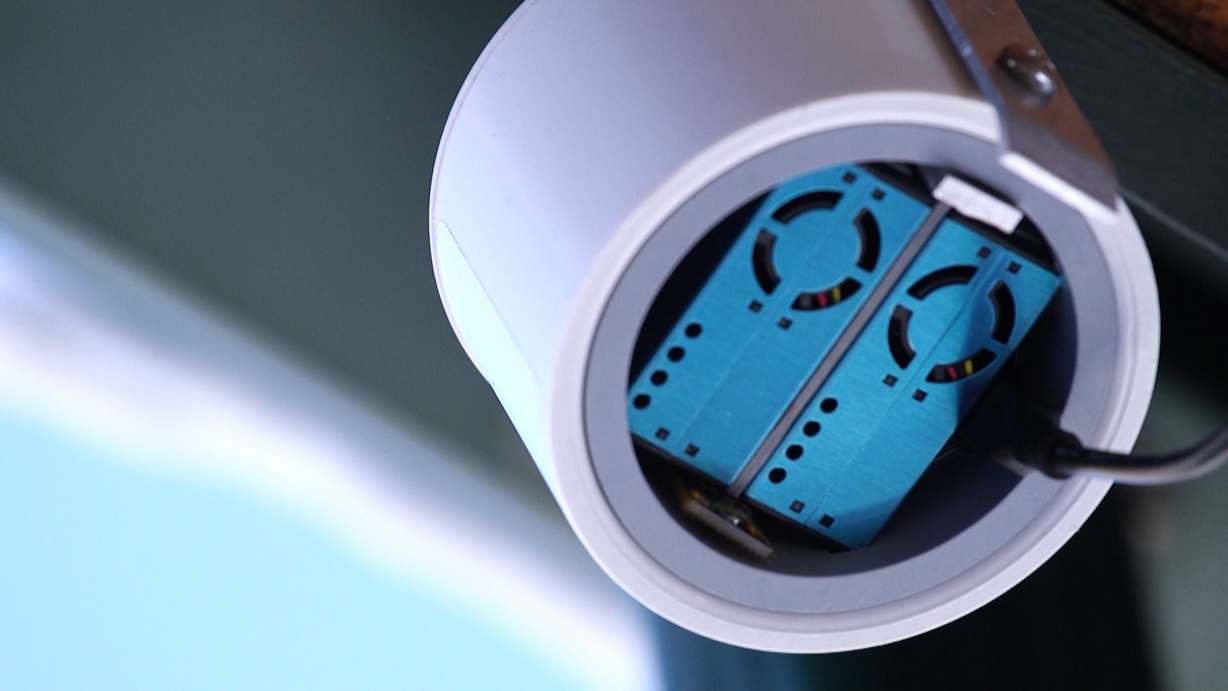 The small sensors need Wi-Fi and a power outlet to work. Once installed and connected to the network, they send real-time air quality data to the network, and dot the map with air quality readings. You'll find those measurements on KSL.com. Click on the Weather tab, and select "Air quality" in the drop-down menu to view the interactive map. Click on any monitor on the map for current, one-hour, six-hour, 24-hour and one-week readings.
"Our goal is to get a sensor in every county across the state," Eubank said. "As these sensors get placed in more areas, we will get a real, dynamic look at what's happening with the air quality, how it ebbs and flows."
As more Utahns purchase the monitors, and the gaps are filled in across the state, Eubank said, the resulting data will be powerful, "because then you can make daily decisions about how that's going to impact you and your family."
Schools can use a monitor to make better decisions about recess. Researchers can better understand Utah's unique air quality conditions, and the health impacts of prolonged inversions. And families can make decisions on whether to play and exercise indoors.
Boyer is looking forward to seeing more monitors in her neighborhood.
"It would be nice to have more widespread data of where our neighboring communities are at so we can be better prepared," she said.
"Data helps tell the story," Eubank said. "Without the sensors, we don't really know what the air quality is around you. This is a great solution for what we believe is a major issue for us here in Utah, and we want to be a part of the solution and this data allows us to do that."
If you're interested in purchasing a sensor, they can be ordered through purpleair.com. Once they are active, it will take several days for them to appear on the KSL Air Quality Network. If you don't see yours on the map, email weather@ksl.com so they can search for your sensor.
×
Photos
Most recent Utah stories