This archived news story is available only for your personal, non-commercial use. Information in the story may be outdated or superseded by additional information. Reading or replaying the story in its archived form does not constitute a republication of the story.
SAN JUAN, Puerto Rico — The lush, green vegetation is beginning to return to the island of Puerto Rico, offering hope to those recovering from Hurricane Maria.
But life is far from normal here. It's been 71 days since the storm slammed into the island with winds upward of 155 mph. Over two months later, most people are still without power and clean water.
U.S. military veteran and Puerto Rico resident Ronald Acosta said that living through the storm was like nothing he'd ever experienced.
"I've never seen anything like this," he said. "I've seen some bad things in war, but this I can't compare it. I'm still in shock and it's going to take a while for us to get back on our feet."
As the storm ripped apart the island, a small group of friends in Utah began texting each other wondering how they could help. Vince Dilley from Park City was celebrating his daughter's birthday when he got a text from his friend Jarem Hallows from Salt Lake City. Both had served LDS missions to Puerto Rico. They quickly invited others who had served as missionaries to join the effort.
What began as a text stream among friends blossomed into a full-blown humanitarian effort known as Light Up Puerto Rico.
"We thought initially we would raise $10,000 to come out and hand out some lights, and it's turned into so much more than that because of a lot of giving hearts," Dilley said.
As word spread, their ability to offer aid increased. Light Up Puerto Rico partnered with Tifie Humanitarian and other humanitarian groups and concentrated their efforts on bringing light, shelter and other necessities to those who hadn't received aid yet.
Utah companies Goal Zero and Barebones provided solar lights, solar generators and sturdy tents at cost. To date, the group has raised over $400,000; and has purchased 86 solar generators; 75 tent shelters; 3,500 solar lights; 100 pallets of food, water and hygiene kits; and 300 water filtration systems
The Utah Governor's Office gave a public endorsement of the group. And, in mid-November, a delegation of 40 Utah volunteers was organized to help deliver the supplies.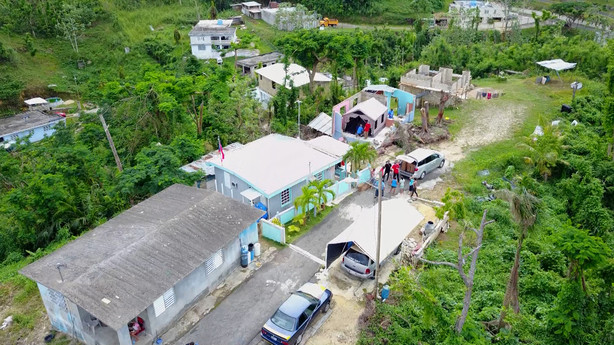 Lt. Gov. Spencer Cox was among the group that traveled to the island.
"I'm the Lt. Governor, but I'm just here as me," he said. "I feel very blessed that I speak Spanish and that I get a chance to come down here and share some of the goodness of Utah with the people. Our hope is that it will inspire others to donate. To continue with this great cause."
Many of the volunteers who joined the group had also served LDS Church missions to Puerto Rico or other Spanish-speaking areas. Ogden City Fire Battalion Chief Hal Van Meeteren was among this group.
"When I saw this opportunity to help the people I grew to love 33 years ago, it was just something I had to do," he said. "When you give a person a simple light that hasn't had light in their house for two months, you know that it's all worth it."
The group spent five days on the island delivering supplies in the sweltering heat and helping with cleanup efforts. Each Utah volunteer took two large suitcases filled with solar-powered lights and other supplies. Large shipping containers full of more supplies had been sent ahead of the group and were waiting in San Juan when they arrived.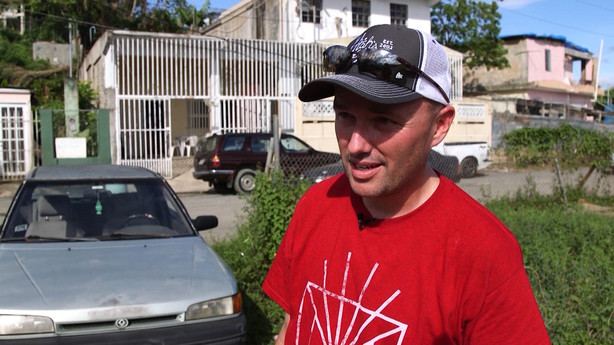 While on the island, the Utah volunteers went house to house delivering supplies. They visited some of the hardest hit areas on the island — areas where FEMA aid has been slow in coming.
Todd Santiago from Vivint Gives Back was part of this group and was instrumental in helping to gather donations. His son had been serving an LDS mission on the island when the hurricane hit, and he felt compelled to help in any way possible. While in Puerto Rico, Santiago visited some of the people his son had taught before he was evacuated from the island.
"We would just cry together, and I would bring them some food and some water, and light, and that connection was pretty amazing," he said. "You know, we can box this stuff up and ship it out. But when you actually get to see the people … meet with the people … talk to them and listen to their story and see the tears in their eyes, it just changes everything. It's changed me."
This one-on-one, grass-roots effort was not lost on the Puerto Rican people. Many expressed gratitude to the strangers from Utah who were willing to come to their aid. After the trip, Hallows shared some reflections about the experience.
---
When you give a person a simple light that hasn't had light in their house for two months, you know that it's all worth it.
–Ogden City Fire Battalion Chief Hal Van Meeteren
---
"Everyone involved served with a single purpose: to help the people of Puerto Rico. And everyone served with a single motivation: the pure of love of Christ, charity," he said. "People set aside their egos and their agendas and threw themselves into service. We all came from different walks of life. Some have closer ties to Puerto Rico than others. But we all came together in a unified way that has been unique and special to witness."
Due to the generosity of Utahns, organizers from Light Up Puerto Rico plan to take additional volunteers and return to the island several more times in the coming months. Each trip will focus on helping with the immediate needs in some of the hardest hit areas of the island.
For more information, visit:
×
Photos
Related Stories