Estimated read time: 4-5 minutes
This archived news story is available only for your personal, non-commercial use. Information in the story may be outdated or superseded by additional information. Reading or replaying the story in its archived form does not constitute a republication of the story.
PROVO — Anyone who knows former BYU star quarterback Ty Detmer knows that he doesn't react to any situation with excessive emotion or off-the-cuff, cutting remarks.
The Heisman Trophy winner let his game do most of the talking in college, as well as in the NFL, and he became a fan and media favorite because of his occasionally self-deprecating sense of humor and a Texas drawl that rarely raised itself in casual conversation.
But after a six-game losing streak, the likes of which the BYU football program hasn't seen since 1968, the gloves are off.
Detmer has had enough with an offense that ranks among the worst in the NCAA in overall production.
"He got more riled up," wide receiver Neil Pau'u told reporters Monday. "Normally Ty is calm, cool and collected. Today, he raised his voice. But I think it was very, very necessary. The defense is out there a ton, and the offense has to do something."
No more Mr. Nice Heisman.
Detmer has spoken previously about the need to change an offense that has struggled to adjust to the pro-style philosophy he intends to run. And he's tried to be flexible, even as he's juggled as many as five players in the quarterback spot and just as many in the backfield.
The second-year offensive coordinator hasn't been perfect; he'll be the first to tell that to anyone.
But there comes a time when players also have to accept responsibility for misgivings and shortcomings, according to Pau'u's older brother, linebacker Butch Pau'u.
"That's something we love: Being corrected and seeing what we've done wrong. You want to win, and if you are not winning, then something is wrong," he said.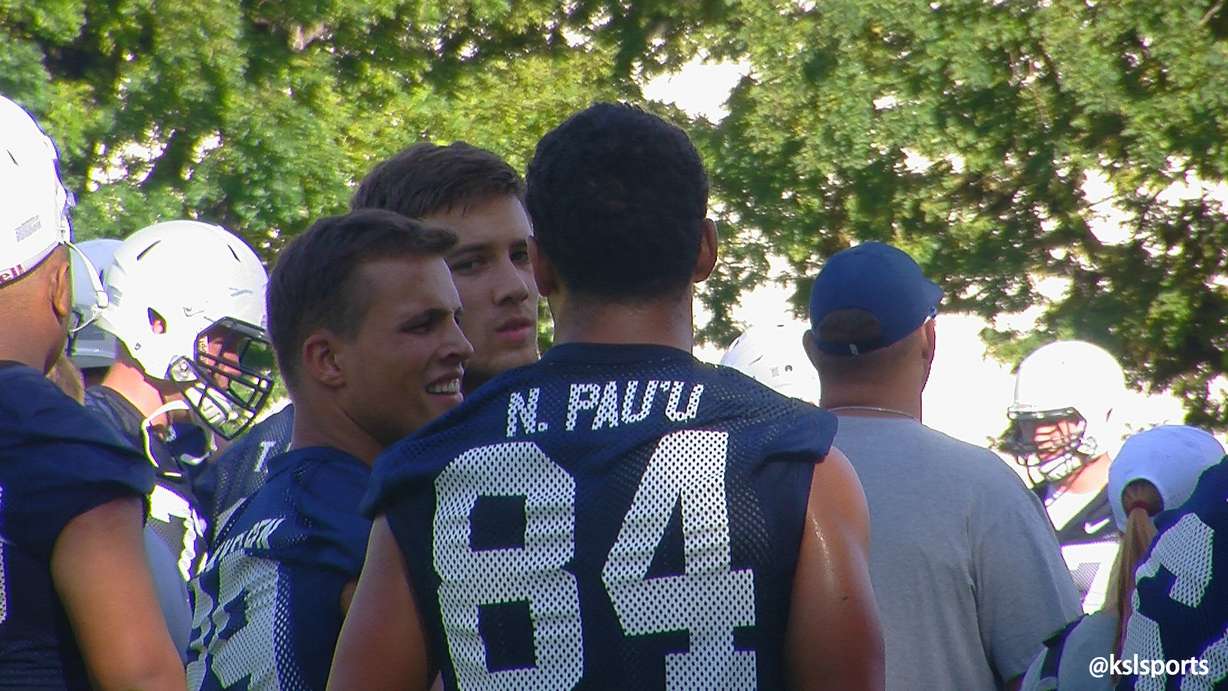 "We've been getting corrected for the past six weeks, in a loving way, with coaches reminding us that we aren't playing the way that we should be. We've been hearing the same thing over and over, and it's getting to a point where we understand that things need to change."
Head coach Kalani Sitake has allowed his assistant coaches to be the hands-on managers with the players. He doesn't mind when the hands-on nature comes with a little extra emotion or raised voices, either, like defensive coordinator Ilaisa Tuiaki did after last week's loss to Boise State.
"Sometimes the truth is the most important thing," Sitake said. "When you gain the trust of your players, I don't think it matters how you say it — as long as it's honest and true. Sometimes you have to be a little loud, get on people and get things to change."
Of course, such a tactic can also shut down a player's confidence. Nobody likes to be called out, even when it might be necessary.
Sitake said that coaches need to tread on such circumstances only after building up trust with their guys and do so in a spirit of correction instead of anger.
So was Detmer's message received this week?
"I think with this game, we'll be able to produce and respond to what Ty has asked of us," Neil Pau'u said.
Home underdogs
For the first time since Game 3 against Utah, BYU enters Saturday's road clash against East Carolina as the favored team, according to the Las Vegas betting line.
The Cougars opened as a 7.5-point favorite in most sports books, a side they haven't seen since being around two-point favorites against the Utes. BYU is 0-7 against the spread in 2017.
Like the Cougars, the Pirates are also 1-6 and rank among the worst offensive teams in the NCAA. But traveling east has rarely paid off for the Cougars, who will kick off at 5 p.m. MDT in Greenville, North Carolina.
"They're fast, and 1-6 like us, so they are looking for a win," Neil Pau'u said. "I'm pretty sure they want to go to a bowl game. We expect a fight."
More injuries
Sitake doesn't discuss injuries with the media unless they end a player's season, and he's worked not to use any injury as an excuse for the team's losing season.
But the Cougars have been bit by a bug that saw injuries pile up as early as fall camp with the loss of tight end Moroni Laulu-Pututau, and include such high-profile players as quarterback Tanner Mangum, linebacker Matt Hadley, defensive tackle Tevita Mo'unga and running back Squally Canada among the double-digit losses for at least one game.
"It does limit you in what you can do," Sitake said. "You'll have some mistakes along the way, but our job as coaches is to find ways to get the best 11 on the field."
×
Related stories
Most recent Sports stories