Estimated read time: 10-11 minutes
This archived news story is available only for your personal, non-commercial use. Information in the story may be outdated or superseded by additional information. Reading or replaying the story in its archived form does not constitute a republication of the story.
SALT LAKE CITY — Police are crediting an observant librarian for the capture of a man suspected of shooting and killing a University of Utah student.
Shortly after police finished searching the hills above the university Tuesday afternoon, a librarian at the Salt Lake Main Library spotted a man matching the description of the suspected shooter, Austin Boutain.
Library spokesman Andrew Shaw said the librarian greeted Boutain as he stepped off the elevator. He recognized the suspect and called security.
"He was doing everything he needed to do," Shaw said.
Johann Gonzales-Rubio, a security guard at the library, said Boutain was arrested in a third-floor bathroom, as he was coming out of the stall.
"He just said, 'Hey, man, I just need to use the bathroom real quick and then you can arrest me,'" Gonzales-Rubio said, adding afterward he "turned around and put his hands behind his back."
The police were grateful for the help.
"In the communities we serve, there is not a better partner than the citizens of Salt Lake City. They are our ears and eyes," Salt Lake Police Chief Mike Brown said as he thanked the librarian during a press conference.
Brown did not know how long Boutain had been in the library before he was spotted.
University of Utah Police Chief Dale Brophy said Boutain was taken to the U.'s police department for questioning and would be booked into the Salt Lake County Jail — where his wife is already being held for investigation of theft by receiving stolen property, drug possession and possession of drug paraphernalia. He was booked just before midnight Tuesday for investigation of aggravated murder, attempted homicide, aggravated robbery, aggravated assault and other weapons charges.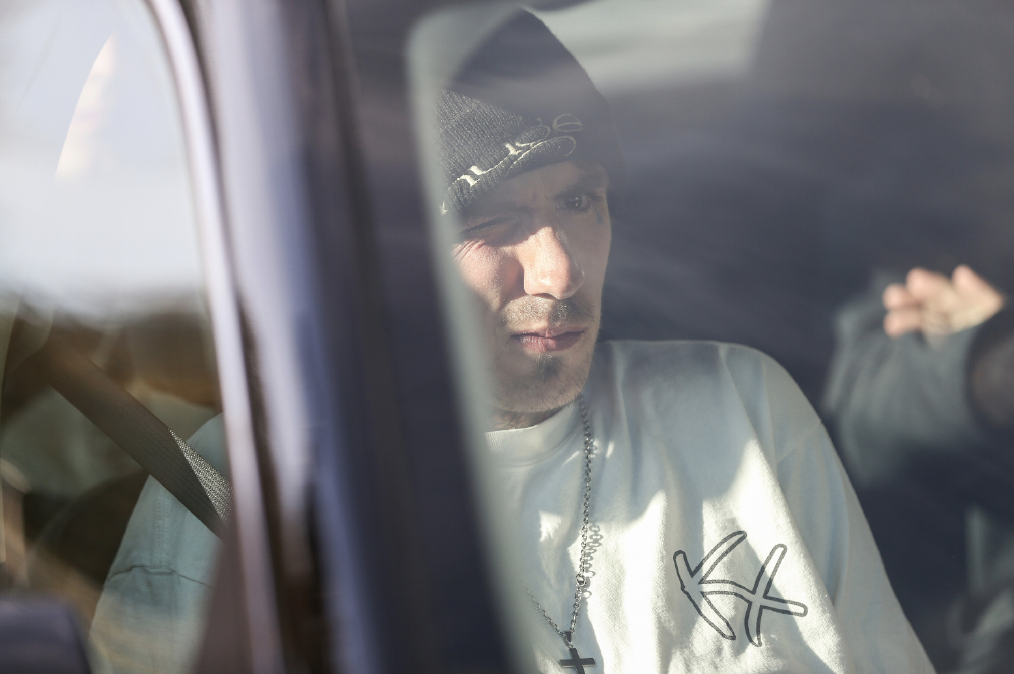 Boutain is suspected of killing ChenWei Guo, 23, during an attempted carjacking Monday night near the gates of Red Butte Garden. He has not been charged in court.
Boutain admitted to the shooting, according to a probable cause statement. He also said he intended to take the car, and then fired two rounds at a woman whose name was redacted in the statement, saying he sought to kill her as she ran away.
He told police he had stolen three guns from a Colorado home, traded one of them for an ounce of marijuana, hid the firearm from the shooting in a crevice of a brick wall "near the homeless shelter" and found it was gone when he returned, according to the statement. He brought police to his camp in the canyon, where officers found a holster and ammunition.
Brophy said Boutain, 24, and his wife, Kathleen Elizabeth Boutain, 23, are also "wanted out of Golden, Colorado, for a homicide that occurred there within the last three to five days."
Based on information gathered by Utah authorities investigating the fatal shooting at the U., detectives contacted police in Colorado about 12:30 a.m. Tuesday to conduct a welfare check on a resident at the Clear Creek RV Park. Inside, officers found the body of Mitchell Bradford Ingle, 63, according to a statement from Golden police.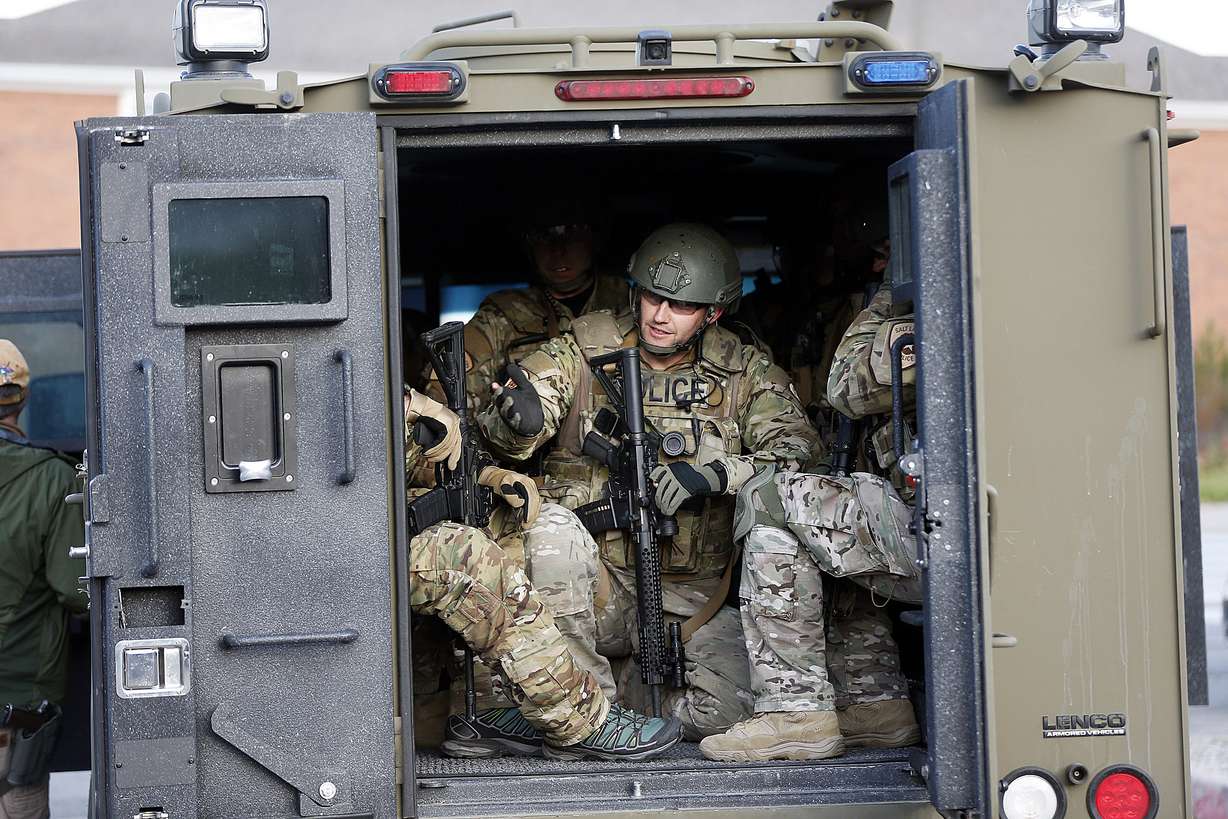 "Preliminary investigations indicate that the man had been deceased for a few days," according to police. "Because of the information received from Salt Lake City police, Golden police have reason to believe there are ties to our investigation and the ongoing investigation of the homicide on the University of Utah campus."
Authorities believe the Boutains fled Colorado in Ingle's pickup truck to Utah, where they had been camping in the foothills above the U. campus for the past day or two. The pickup truck had not been found.
Brown said a campsite believed to be used by the Boutains was found in the foothills Monday night. Ammo boxes with bullets still inside were discovered. Brown said a rifle was also found, but investigators were still trying to determine whether it belonged to Austin Boutain.
Brown said police used a "strongwall search" Tuesday morning, with officers standing 15 feet apart and methodically moving through the foothills, going over every inch of the thick brush in their search for Boutain.
Two sniper teams were dropped off by helicopter on the hills above the area as an overwatch, Brown said, and two armored vehicles accompanied the officers on the ground.
The wide search area included the area east of Red Butte Canyon Road, followed by the area north of that. Officers ended their unsuccessful search by midday.
Campus 'in shock'
Classes at the U. were canceled Tuesday in honor of Guo. Police say the student had been on the canyon road, above the amphitheater parking lot, when he was shot. Brophy said Boutain did not take Guo's car, though details about why the carjacking was not successful were not revealed.
Police declined to say whether Guo was inside the car when he was shot and whether he was with anyone.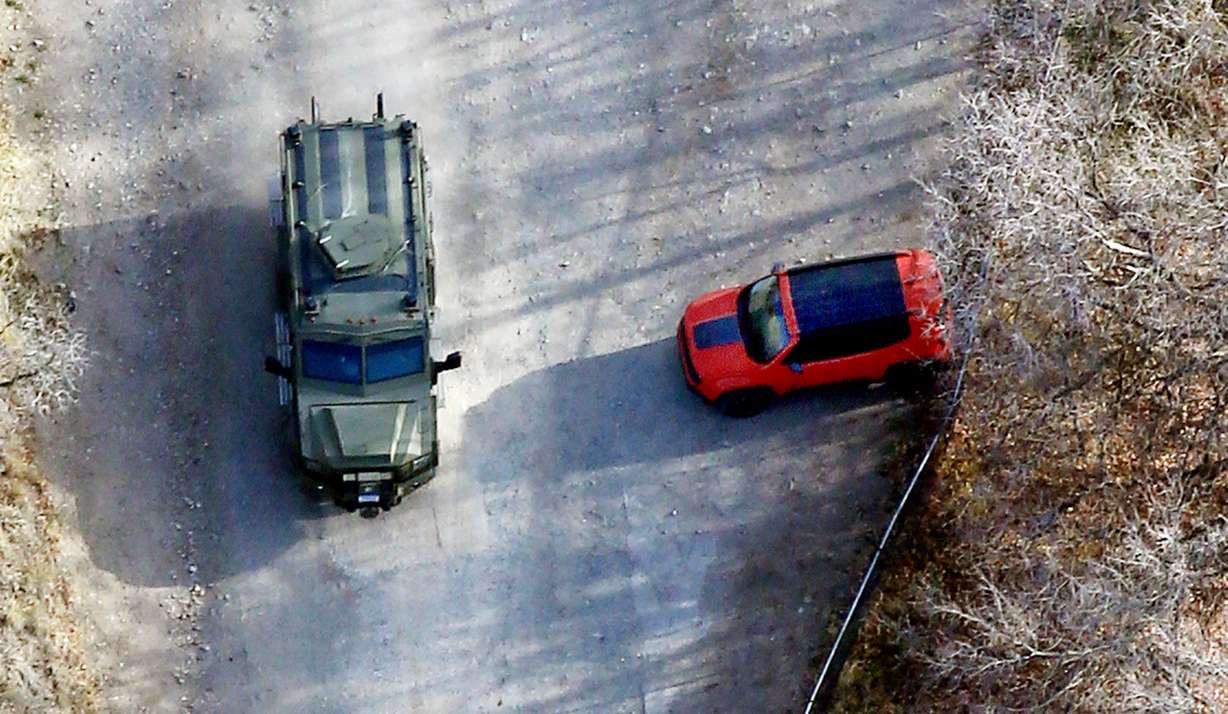 Police say the incident began about 8:30 p.m. Monday when Kathleen Boutain came down from their campsite to call police to report that her husband had assaulted her during a fight, Brophy said. She told officers that Austin Boutain was still up the canyon and possibly armed, he said.
While speaking with police, Kathleen Boutain said she had come to Utah in a stolen vehicle and that the vehicle had stolen firearms in it. She also had a bottle of prescription drugs with the label torn off, according to a Salt Lake County Jail report, and drug paraphernalia.
As police were planning how to approach Austin Boutain, dispatchers received a second call of a shooting about 9 p.m.
The shooting prompted a massive police response and a lockdown of the entire campus. Brown said officers from at least nine agencies responded to help stabilize and contain the area. All developed areas from the Bonneville Shoreline Trail to Mario Capecchi Way were searched.
Both the Utah Department of Public Safety helicopter and a plane from the FBI searched the area using infrared and heat sensing technology, Brown said.
But as details about the search for Boutain became public Tuesday, Jennifer Cheng, a graduate student at the U., said that police learned about the armed fugitive as early as 8:05 p.m., nearly 30 minutes ahead of law enforcement's timeline.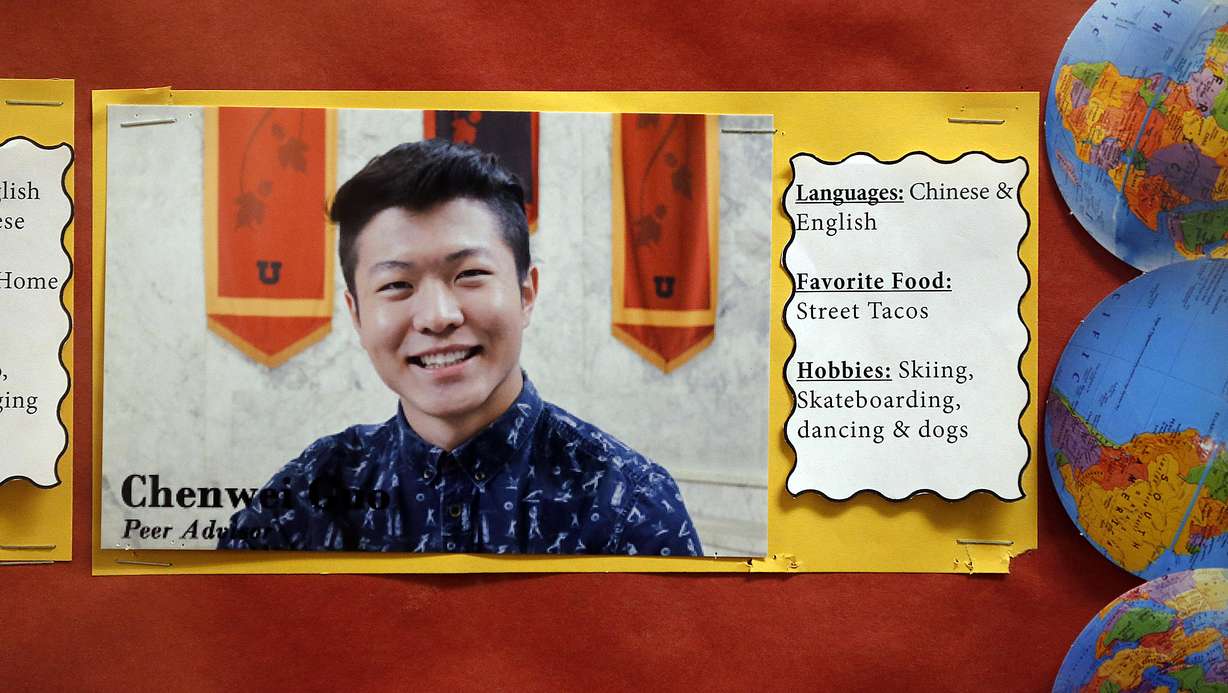 At the time, Cheng said campus security was shuttling her to her car when she heard reports about Boutain on the vehicle's radio.
"They talked about how a woman had just called in, how her husband who was a fugitive from Colorado was in the Red Butte area and that he had a gun," Cheng said.
Within four minutes of hearing the report, Cheng had sent off text messages to friends warning them to avoid the Red Butte area, where they sometimes park.
One of Cheng's friends replied immediately, asking "Why the hell hasn't the U sent out a campus alert?? All of those students in the dorms should be locking themselves in!!!"
Another hour had passed and Guo had been shot before Cheng received a safety alert on her phone at 9:07 p.m. An email warning came another hour after that, she said.
"The campus alert system definitely isn't doing its job, and I can't help but feel like this guy doesn't have to be dead," Cheng said.
U. President David W. Pershing called the shooting a "senseless, random act of violence."
"Our campus is in shock," he said.
Pershing and Lori McDonald, U. dean of students, praised both the efforts of law enforcers, and the actions of students and staff members on campus Monday. Pershing said there were many examples of students helping each other, such as the 170 who sheltered in the campus library until early Tuesday.
Officials react
Mayor Jackie Biskupski said Salt Lake City and the U. communities "are strong and united" in the wake of the deadly shooting.
She also expressed gratitude to the first responders "who at great personal risk brought a sense of calm to those impacted" during the fear and confusion that followed.
Gov. Gary Herbert applauded the "immediate action" of law enforcement, saying that may have helped avoid "the potential of maybe further action" on the campus. "I think there was a significant response, and that was good."
Today I join the @UUtah community in mourning the loss a remarkable student, ChenWei Guo. My heart is with his family and friends.

— Gov. Gary Herbert (@GovHerbert) October 31, 2017
Rep. Mia Love, R-Utah, said it was a relief the suspect was in custody.
"I would like to express my respect and admiration to all law enforcement involved in capturing the man involved in the Red Butte shooting last night," Love said.
Sen. Orrin Hatch, R-Utah, said he was "deeply grateful for the bravery and professionalism of Salt Lake law enforcement officials. They deserve our thanks and recognition for acting quickly to apprehend the shooter and prevent further violence."
Sen. Mike Lee, R-Utah, "is grief-stricken by the loss of University of Utah student ChenWei Guo and is grateful to law enforcement for capturing the suspect," Lee spokesman Conn Carroll said.
Other reactions to the shooting from the political world included statements posted to the Salt Lake County GOP's Twitter account questioning how a convicted felon was able to obtain a firearm.
"This young man is dead because an out-of-state felon illegally obtained a firearm and came to our state. None of this is OK," read a post Tuesday morning by @slcogop that included a photo of Guo as an LDS Church missionary.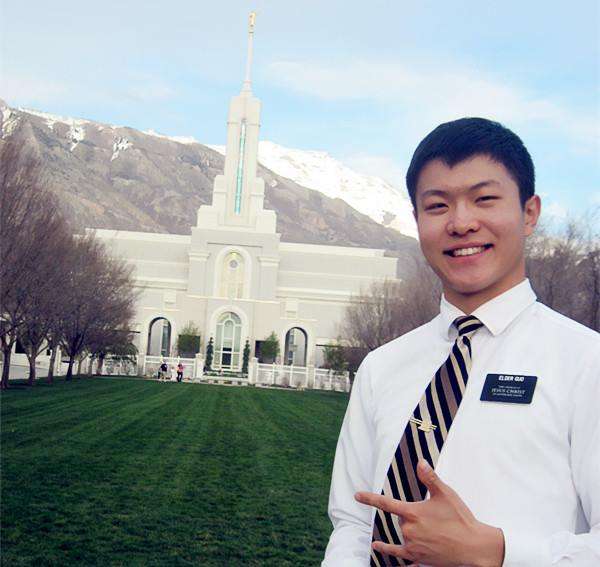 Salt Lake County GOP Chairman Jake Parkinson said if there are "meaningful laws" that can be passed to help keep guns out of the hands of felons, it's time they should be considered.
"I personally get annoyed when people say we can't talk about these things," Parkinson said. "As far as a party goes, we're trying to have conversations people aren't used to having. We're trying to show people we're thinking about this."
Colorado investigation
Golden Police Capt. Joe Harvey said the Boutains and the deceased man knew each other briefly and had "some type of a friendly relationship," which police are still working to sort out.
Police are considering the man's missing truck — a green Ford F-350 pickup with Colorado license plate No. 460DZX — as stolen, Harvey said. There may also be firearms missing from the trailer, he said. Anyone with information about the truck is asked to notify police.
Harvey stopped short of calling the Boutains suspects in the man's death until investigators have more information. For now, he said they are considered persons of interest in the case. The couple are not Colorado residents, he said.
A detective from the police department, as well as the district attorney, traveled to Utah on Tuesday to interview Kathleen Boutain, Harvey said.
Boutain's past
Boutain appears to have a criminal history spanning multiple states.
He was arrested in 2015 in Cincinnati after police there said he fled from officers attempting to stop him in a hospital, according to Cleveland 19 News. Boutain later pleaded guilty to obstructing official business while a charge of disorderly conduct was dismissed, going on to serve one day in jail but failing to pay a $110 fine.
At the time of his arrest in Cincinnati, police wrote that Boutain "thought he was wanted out of Mississippi," according to the TV station.
The Alabama Media Group also reported that Boutain has been charged eight times since 2015 for offenses including theft, manufacturing of a controlled substance, attempting to elude police, and failing to register as a sex offender. He has pleaded guilty to the theft and sex offender violations, the outlet reported.
The New York Daily News reports that Boutain's brother, Lee Boutain, told reporters there that he hadn't heard from his brother "since he skipped parole in Wisconsin" several months ago.
Following Boutain's arrest, his parents issued a statement sharing their gratitude that their son was in police custody and offering condolences for Guo's family.
"We are thankful and relieved for the peaceful apprehension our son. We grieve his irrevocable choices. Our hearts are broken for the victims' friends and family …can't even fathom the level of shock and grief they must be experiencing.
"We thought we knew what losing a child was all about but this enters into a whole new realm of heartbreak. … there are just no words. Instead we send up our earnest and heartfelt prayers for all involved and encourage everyone to support the victims families in this time of need."
Contributing: Lisa Riley Roche, Nicole Vowell, Annie Knox
×
Photos
Related stories
Most recent Utah stories