Estimated read time: 2-3 minutes
This archived news story is available only for your personal, non-commercial use. Information in the story may be outdated or superseded by additional information. Reading or replaying the story in its archived form does not constitute a republication of the story.
Salt Lake County opened 15 early voting locations today. According to the county clerk, it's the most ever for an election.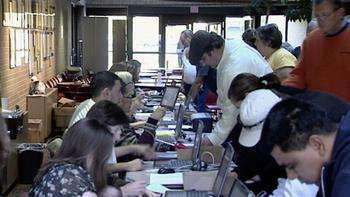 When the clock struck noon, poll workers found themselves swamped. "I am surprised to see so many people turned out so early," said Chris Amundsen, a University of Utah senior.
The University of Utah Student Union Building is among the most popular early voting locations, according to the county clerk. At least 300 people voted there by the end of the day.
Across town, at Taylorsville City Hall, poll workers are having a hard time keeping up. "We're trying to keep track and get people out in 20 to 30 minutes," poll worker Marty Garcia said.
In some cases, it was a 45-minute wait in Taylorsville. But that didn't stop a lot of voters. "I want to get it off my mind, make sure I get in there and do it," voter Jeanette Murphy said.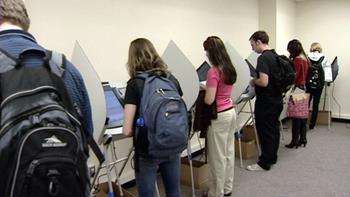 Early voting is actually a first for the University of Utah, and this is an example of more young people participating in the process -- like first-time voter Alan Shephard.
"I've watched the presidential election for years now and have always been really passionate about these issues, because I know they do hit my family. And I've wanted to come out and vote, so this year, I registered early, came out here and voted," Shephard said.
According to the county clerk, more than 4,000 votes were cast today. That brings the total to more than 10,000 early votes in Salt Lake County.
If you would like to vote early in Salt Lake County, see the list of early voting locations below.
Early voting locations:- NW Multipurpose Center - 1300 W 300 N, Salt Lake City
Murray City Hall - 5025 S State St, Murray
Holladay City Hall - 4580 S 2300 E, Holladay
Kearns Improvement District - 5350 W 5400 S, Kearns
Taylorsville City Hall - 2600 W Taylorsville Blvd (5330 S), Taylorsville
University of Utah Olpin Union Building - 200 S Central Campus Dr, Salt Lake City
Sandy Fire Station #35 - 8186 S 1300 E, Sandy
Sandy City Hall - 10000 S Centennial Pkwy (170 W), Sandy
Gale History Center - 10300 S Beckstead Ln (1600 W), South Jordan
Draper City Hall - 1020 E Pioneer Rd (12425 S), Draper
West Valley City Hall - 3600 S Constitution Blvd (2700 W), West Valley City
Riverton City Hall - 12830 S 1700 W, Riverton
Midvale City Hall - 655 W Center St (7720 S), Midvale
WJ Fire Station #53 - 7602 S Jordan Landing Blvd (3900 W), West Jordan
Magna Chamber of Commerce - 9145 W 2700 S, Magna
All Salt Lake County locations are open weekdays, Oct. 21 through Oct. 30, from noon to 7 p.m. They will also be open on Oct. 31 from noon to 5 p.m.
You can get more information, including a list of early voting locations statewide, at the links on this page.
E-mail: gkennedy@ksl.com
×
Related links
Most recent Utah stories