Estimated read time: 1-2 minutes
This archived news story is available only for your personal, non-commercial use. Information in the story may be outdated or superseded by additional information. Reading or replaying the story in its archived form does not constitute a republication of the story.
SALT LAKE CITY (AP/KSL News) -- President Bush has arrived in Salt Lake City. The president is speaking to the American Legion tomorrow morning and attending a fundraiser for Republican Senator Orrin Hatch.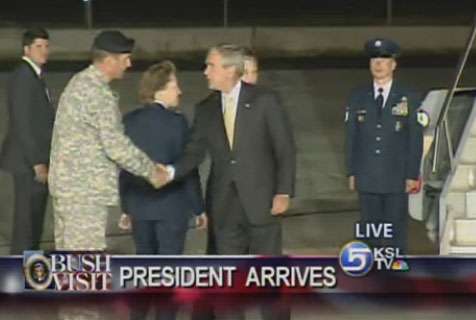 Tonight, Bush waved to an enthusiastic crowd of invited supporters at the National Guard Air Base after he got off Air Force One.
Bush seemed to preview the speech on the war on terror that he is expected to give in the morning.
"We will stay on the offense and defeat the terrorists abroad so we do not have to here at home," President Bush said.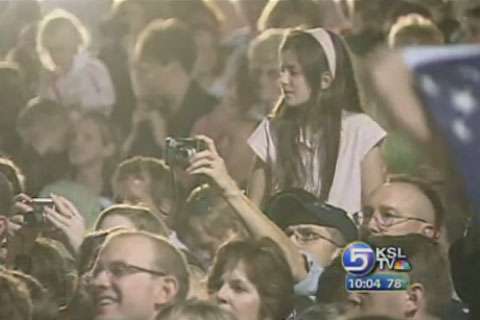 He says victory in Iraq will be a major ideological accomplishment in the 21st century. He says he's proud to be a commander in chief for a group of such dedicated troops.
"I believe there's an almighty and I believe the great gift of the Almighty to every man and woman on the earth is the desire to live in freedom," Bush continued.
Bush and his secretary of defense, Donald Rumsfeld, and secretary of state, Condoleezza Rice, all have presented a similar theme in recent speeches.
In Nashville, Tennessee, earlier today Bush linked success in Iraq with the future safety of America. He said that withdrawing U-S troops too quickly would lead to a terrorist state more dangerous than Afghanistan in the grip of the repressive Taliban regime.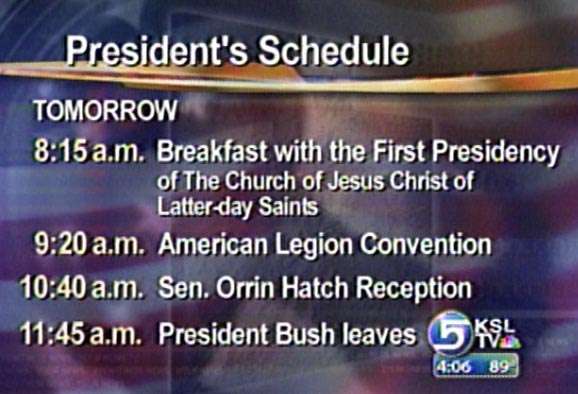 Bush will begin his day tomorrow with a meeting with the First Presidency of The Church of Jesus Christ of Latter -day Saints.
Then at 9:20 a-m, he will speak to the American Legion National Convention.
After that, the president is scheduled to make some remarks at a reception for Senator Orrin Hatch.
He'll leave just before noon.
(The Associated Press contributed to this story.)
×
Photos
Most recent Utah stories