This archived news story is available only for your personal, non-commercial use. Information in the story may be outdated or superseded by additional information. Reading or replaying the story in its archived form does not constitute a republication of the story.
PROVO — As prosecutors seek to take the case of a Spanish Fork man to trial for murder after they say he helped a teenage friend kill herself, testimony in court Wednesday detailed what they say showed criminal intent behind the man's actions.
Tyerell Przybycien, 18, is charged in the death of 16-year-old Jchandra Brown, who was found hanging from a rope near Maple Lake in Payson on May 6. Prosecutors say Przybycien helped Brown prepare to kill herself, then recorded her on a cellphone while she did, never trying to help the girl.
Przybycien is charged with murder, a first-degree felony, and desecration of a human body, a class B misdemeanor.
While Przybycien's attorneys are challenging the murder charge, Utah County deputy attorney Chad Grunander maintains the case against Przybycien fits Utah's broad statute, specifically when it comes to the intent they say has been shown as he helped Brown take her own life.
"We think it fits," Grunander said, noting that the case appears to be "a first" for the state.
Both sides will submit additional written briefings and present arguments in court on the issue Oct. 10 before 4th District Judge James Brady. Based on those briefings and Wednesday's testimony, Brady must determine whether there is probable cause to support the charges against Przybycien and advance the case toward trial.
In his briefings, Neil Skousen, who represents Przybycien, said he intends to argue that the murder charge does not fit the painful situation, asking that it either be dismissed or reduced.
"We're arguing that this tragic story, that the young lady who passed away, was a suicide, and that my client's actions didn't rise to the level of murder or a lesser equivalent offense," Skousen said following the hearing.
Utah County Sheriff's Sgt. Josh Chaplin testified Wednesday that as police searched the area around the site where Brown's body had been located, he met a man, later identified as Przybycien, crying on a trail nearby.
Chaplin said Przybycien asked if he wanted to hear "the whole story."
As they talked in the sergeant's car, Przybycien told Chaplin he had picked up his friend from work the night before, purchased the rope and drove the victim to the location where she took her own life.
At first, Chaplin didn't view Przybycien as a suspect in a crime, he said.
"Based on what he had told me, he had witnessed a traumatic event, and I was concerned. I wondered if we needed to get him help," Chaplin said.
Worried about Przybycien's mental and emotional state, the sergeant said the young man was given a ride to the department, where an interview began. At the first break, Chaplin got word from a detective that a video had been found on the phone left near Brown's body.
At that point, Chaplin said he was unsure whether a crime had been committed, and if so, what one.
Utah County sheriff's detective Quinton Fackrell, who had contacted Chaplin, testified Wednesday about the scene where Brown's body was found, including a short handwritten note from the girl that concluded, "Watch the video, it's on my phone."
Once he began watching that video, "I knew that this wasn't your everyday situation."
The approximately 10-minute video, shown in the courtroom Wednesday, begins with Przybycien asking Brown to "say something, please." As the girl's body becomes quickly still in the darkness, Przybycien records steadily, taking deep breaths or sniffling at moments in the background.
Przybycien spoke at moments during the video, asking "Um, are you there? Move or something," and, "Thumbs up if you're OK."
Toward the end of the recording, Przybycien calls out more forcefully, "Hey! Hey!" About the 10-minute mark, he speculates "that's when the brain stops getting any oxygen," and concludes, "I guess I'll just leave this here now."
The phone used to record the video, as well as a spiral-bound notebook open to Brown's message, were found among items left in two plastic grocery sacks near Brown's body.
Investigators said they also found Brown's work uniform and a receipt for the purchase of the rope with Przybycien's name and account information on it.
On cross-examination, Skousen pressed Fackrell on whether there is any evidence in the video or the surveillance footage that Brown was acting against her will. Fackrell acknowledged there was not.
Skousen also introduced a second letter written by Brown, which Przybycien had delivered to her family's home. Investigators intercepted the still-sealed letter from the family's mailbox.
That letter, addressed to Brown's mother, concludes with Brown emphasizing, "Again, this was my decision," Skousen noted.
Brown's mother, Sue Bryan, listened quietly in the courtroom, her hair dyed blue as a tribute to her daughter.
"She always dyed her own hair and it was beautiful," the mother explained.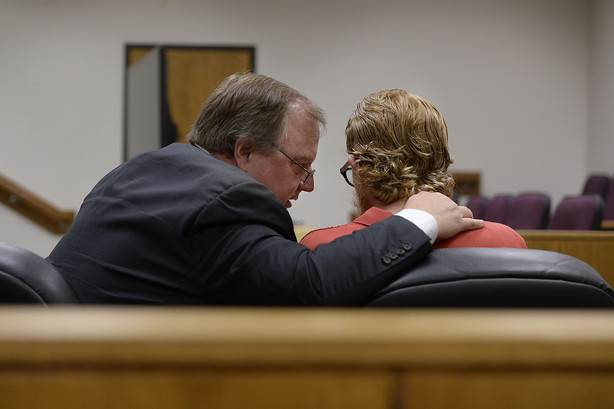 Bryan said she believes her daughter was "groomed" by Przybycien to carry out the suicide. As the case advances, she said she will trust in the judge and, if it reaches trial, a jury.
"I just want love and justice," Bryan said. "And the last trust is in God himself. He will be the final judge."
Brown's aunt, Polly Mejia, was more pointed.
"Her problem was she thought she'd found a friend and instead she'd found a monster," Mejia said.
Two of Przybycien's friends were also called to testify.
An 18-year-old man who described himself as Przybycien's best friend testified that on May 5, Przybycien messaged him wanting to talk and drove to pick him up from his house.
"As soon as I got in the car, he asked if I'd ever gotten away with murder," the man said.
The man said he also drove Przybycien back up the canyon the next morning to confirm he hadn't "imagined it all."
A 16-year-old girl described receiving a message from Przybycien in April, asking what she would do if she knew a friend was considering suicide. The girl replied she would "try to talk them out of it."
Charging documents indicate Przybycien's reply to the girl was, "The thing is … I wanna help kill them. It be awesome. Seriously im going to help her. Its like getting away with murder! Im so (expletive) up. I'm seriously not joking. Its going down in about a week or two."
Recordings of three police interviews with Przybycien were presented during the hearing. Przybycien asserted during those interviews he asked Brown multiple times whether she indeed wanted to kill herself, but pressed by investigators, conceded he didn't try to talk her out of it. He told police he had helped Brown tie the rope and checked that it was secure.
Police also questioned Przybycien about whether Brown believed he, too, intended to kill himself. He said he had, in later weeks, believing the guilt of helping Brown would push him to do so. He also acknowledged he was "curious" about seeing someone die.
During conversations with police, Przybycien talked multiple times about feeling guilty for his role in Brown's death.
"I helped," Przybycien told police. "I feel guilty, I feel like I did murder her."
Przybycien and Brown were both students at Spanish Fork High, though school officials said at the time of the girl's death that Przybycien hadn't attended since March.
Przybycien is also facing charges in a separate, ongoing case. Police who obtained a warrant to search Przybycien's phone after his arrest reported they found child pornography and he was later charged with five counts of sexual exploitation of a minor, a second-degree felony.
The Utah Department of Health offers suicide prevention help at utahsuicideprevention.org/suicide-prevention-basic. The national crisis hotline is 800-784-2433.
Suicide Prevention Resources
If you or someone you know is struggling with thoughts of suicide, KSL encourages you to call the suicide prevention hotline at 1-800-273-TALK.

Crisis Hotlines
Utah County Crisis Line: 801-226-4433
Salt Lake County/UNI Crisis Line: 801-587-3000
Wasatch Mental Health Crisis Line: 801-373-7393
National Suicide Prevention Lifeline: 1-800-273-TALK
Trevor Project Hotline for LGBTQ teens: 1-866-488-7386
Online resources
#suicide_prevention
×
Photos
Related Stories